Hunting fish and avoiding a croc

AJAYA'S CRUISE
Phil & Nikki Hoskins
Sat 10 Mar 2012 15:29
In position 09:28.84N, 078:40.55W
We are just over a week into our San Blas cruise and to be honest the weather has been very disappointing so far. The Caribbean weather is in an absolute mess as occasionally happens when you get strong high pressure to the north of the basin combining with low pressure over Columbia. It is winter after all. The south-west Caribbean, which is where we are, is certainly getting its fare share. Currently the wind is blowing at 20+ knots with overcast skies and occasional showers, although these come through mainly at night and last anything from thirty seconds (which is a pain as it takes us that long to close any open hatches) to a few minutes. Not long enough to collect water in the tanks from the deck run-off.
Since arriving in the islands we have managed to lose our forward rubrail insert - heaven knows where that went, and then there was the fishing rod saga previously mentioned. After four consecutive days the reel is back together again and working - sort of! Phil was last seen trying to lift his collection of dive weights which weigh in at 16 pounds to carry out a working test on the drag mechanism. Nothing actually broke despite the rod almost being bent double but it could have been interesting if the line had snapped.
Our visit to Nargana last Thursday and Friday was relatively painless but not that fruitful - literally. Unfortunately with the bad weather of late the supply boats have not been getting through. The village was devoid of any real stocks of food. What there was on display looked dead so we waited for the supply boat that was supposed to arrive the next day. When we mention a 'supply boat' dismiss any thoughts of steel hulled coastal freighters. These are old wooden hulks propelled by a smoky engine with wooden boards hammered over frames to make a covered area aft. Propane gas bottles are piled one on top the other up forward and the hold is piled high with fresh and dried goods but in this instance a lot of the cargo was not destined for Nargana. However, Chuck from Soul Mates managed to negotiate for some onions (2), potatoes (4lb each) and a chicken for them. With two dozen eggs we found in a small tienda ('shop' - another loose term!) nearby, some Kuna bread and a handful of small mangos from some local boys for one dollar we had as much as we were likely to get for the immediate future.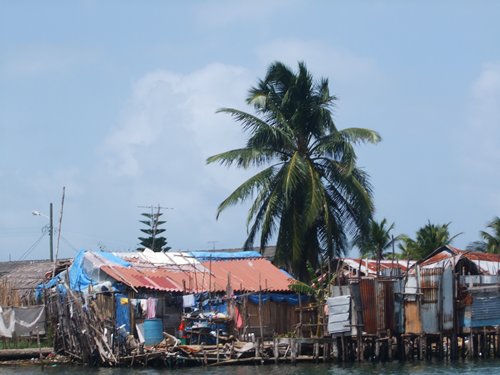 Heading into Nargana for some shopping....... the neighbouring island is attached by a steel bridge
Some of the young locals with a ferry in the background - passengers expect to get wet!
The supply boat with Chuck taking it easy whilst Patty shops Then we buy our fuel !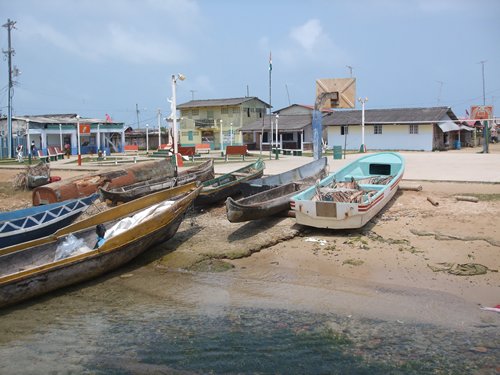 Nargana is a mix of traditional and concrete..................... ......we prefer the traditional
Out in the islands we are occasionally visited by veggie boats - long 'ulu's' with outboards that ply between the cruisers carrying varieties of fresh fruit, veggies, beer, wine, milk, eggs etc. Despite their best efforts the food is often wet from salt spray as it can get very rough in the channels between the island groups. Besides the inflated prices their spasmodic visits are eagerly anticipated. The only alternative is to up anchor and head for a village where there are tiendas taking a chance on what they may or may not have available.
That's the veggie boat that's just left us............ typical San Blas island and a sailing 'Ulu' (there is a boat under those Indians - honest)
On the two good days we had last weekend Phil went spearfishing with Chuck out on the reef. Chuck kindly lent our intrepid skipper a speargun with which to terrify any decent sized fish, and humans come to that. First we visited the reefs nearest the boat. The 'Admiral' duly suited up in her best black wetsuit snorkelled at a safe distance well away from any flying spears fired by the two hunter gatherers. After two sessions the total count of speared fish not including very near misses, was NONE. Not one fish stayed conveniently and patiently still long enough for either skipper to hit the target. On another occasion a more tricky reef was visited and whilst there were a greater number of fish that would look appetizing on a barbecue none were in any danger to their health. Truth is they almost seemed to enjoy dodging the spears flying at them. It was the two hunters that suffered the most difficulty with Chuck becoming stranded on the reef having been washed up high and dry after a particularly large wave rolled ashore. It was all Phil could do to hang on to the coral as the waves crashed forth. Better luck next time boys! Meanwhile, a local fisherman popped by the boat and sold us four twelve inch long tuna for a dollar each..................
The 'admiral' was concerned about this palm falling over......... .......so lent it some support for a short while
We are into our fourth day in Esnasdup. Just to keep the swimmers and snorkellers on their toes we have a crocodile sharing the location with us. This 8 foot long prehistoric log apparently lives here but doesn't appear to have a mate. Panama mainland is full of crocs which inhabit the rivers that flow into the San Blas Islands. Generally they keep to the rivers but they do visit the islands nearer the mainland, this one being one of them. So it's 'eyes peeled' whilst out snorkelling. Nobody has actually been attacked that we know of but nobody is letting their pooch loose on the island either. Last night we had happy hour on the beach, lighting a fire to burn some rubbish and maybe to keep wild animals at bay.
A Happy Hour at Esnasdup.......... .......with some of the visiting catamarans
One of the first items we bought having arrived back in these islands were some really nice Molas which are made by the Kunas. We bought two which were made by Venancio a Kuna Master Mola Maker. Most of the Molas made in the islands are primarily for the tourist trade, are quickly produced and generally show non-traditional subject matter in bright colours. Although still hand-made these appliqué cloths sell for around $20. The better quality Molas can be identified by the fine close stitching, more traditional subjects and subtle colouring. They are quite beautiful and worth the money which we paid after quite a bit of haggling. They took approx 3 months each to make.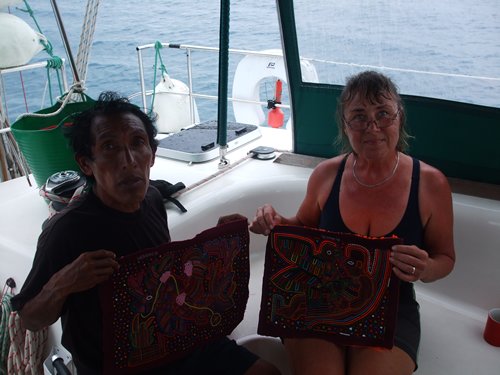 Venancio with the 'Admiral' holding our Molas including the beautiful Dolphin with Mermaid Mola (it's an elderly Mermaid) Business over!
Another of the well known Master Mola Makers is Lisa who comes out from 'her' village to sell to the cruisers. Lisa is a transvestite Kuna Indian and actually quite attractive according to Phil ????? Well it was he that had to deal with him-her when Lisa came calling one morning in her dugout ulu. A visit may last one or two hours as they go through bins full of Molas - and they are very persistent sellers! Having purchased ours already we politely decline their advances. It's just like home really - people cold calling at your front door and not taking no for an answer!
As close to paradise as you can get these days
---