Catching up on Varadero - Cuba

AJAYA'S CRUISE
Phil & Nikki Hoskins
Sat 28 May 2011 20:44
We spent two days 'recovering' and exploring our new surroundings in Varadero. The tourist side gave us the banks, internet office and restaurant/music bar (for our wedding anniversary). The nearby town of Santa Marta, the dormitory for many of the locals who work in the tourist sector, gave us the fresh food market, bakery and very basic shops. All a good 45 minute walk from the marina. As we obviously look like tourists (from a distance at least) every type of taxi and horse carriage and pedal taxi assume that you require a lift and beep or shout loudly behind you at every opportunity. Not good for those of a nervous disposition!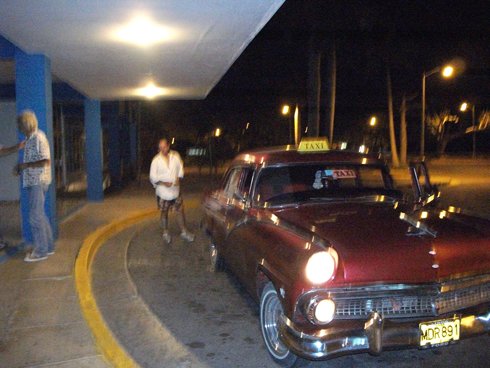 Anniversary meal out with Tom & Chris ......before moving on to the bar at Calle 62 (music, fire eaters and waiters expecting big tips) and back to the marina in an old yank tank
The Marina Darsena is situated on a long protected canal on the inland side of the Varadero peninsula. Google shows this better than any words. Whatever the wind strength (barring hurricanes of course) the berths are secure and made of fixed concrete docks. What is amazing about this place is the incredible amount of fish there are around the boats - uncountable numbers of sardines and fry are permanently congregated which means at certain times of day the most incredible feeding frenzies occur. On several occasions we could clearly see 6ft long Tarpon grazing amongst the massive shoals before the water erupted into another frenzy. We needed a throw net for the sardines which we don't have and Tarpon are useless eating.
The canal is used by many Cubans - fishing mainly, but most days, often at first light we would hear the sound of the rowing cox shouting his instructions to his rowers as they practice speed runs up and down the canal. Maybe it was their Olympic Team practicing!
The vast canal where the marina is situated makes an ideal rowing course provided the cox steers clear of the various obstacles
Whilst there we met up with one of Phil's nieces - Paula and partner Steve, who coincidently just happened to be on holiday in Cuba in Varadero. Their hotel complex was about 8 miles away along the narrow neck of coastline that extends out north-eastwards and so after a day of difficulty in communicating with each other we caught the all-day hop on, hop off tour bus which for $5 takes you along the strip where the hotels, shops and restaurants are located. We met at the reception area having breezed past security and spent a couple of hours chatting over drinks in the open bar which, being a Sandals resort was well up to the mark on facilities and ambiance. They had no reason to leave - everything was pre-paid with direct access to the beach. It was great to catch up with them and hope they had a great holiday. We must have stuck out like sore thumbs in that exclusive location as we are not exactly attired to what typical Sandals 'guests' would be wearing.
The beautiful surroundings at Sandals resort in Varadero and Phil gets a pic taken with Paula & Steve
One quest that continued whilst in Varadero was to buy some butter, margarine or solid vegetable oil - in fact anything spreadable that we could use on bread or crackers. Despite being informed of availability in the whole time we were in Cuba we never set eyes on anything remotely looking like those products and came to realise that as soon as a delivery would be made then it would be bulk bought and disappear as quickly as it had arrived. Yet the many hotels had to have a source from somewhere but it certainly wasn't replicated in the various small poorly stocked grocery outlets we frequented. Although we assumed that there must have been a 'black market' of sorts operating between the hotel kitchens and the locals. However the town of Santa Marta was close by for other requirements with a market place, supplemented on Sundays by a 'Government Market' with even cheaper but not such good quality products, bank, cheap restaurants and fish which could be obtained freshly frozen from a green coloured house in a certain street which everyone seemed to know about.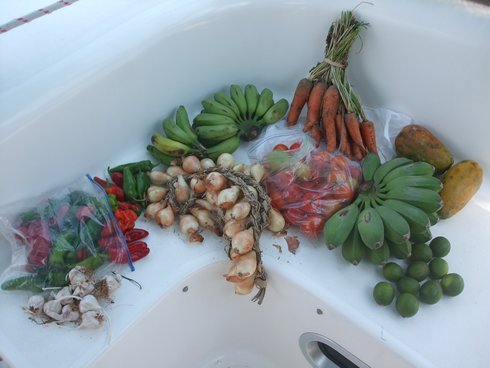 Scenes of Santa Marta with our haul of vegetables bought for just $2 (£1.60p)
Each evening at around 1800 the few of us in Varadero would meet up at a wooden bench nicknamed "The table of too much knowledge" kindly donated by another cruiser. This saved the 'round-robin' our boat today - your boat tomorrow routine. As boats came and went so did the personalities. A Swedish boat arrived with the lady of the boat able to extract good sounds from an accordion with another member of the crew proficient in the ukulele. A British flagged yacht with an ex professional violin player added to the strings section. This meant one of our evenings was full of interesting music - not all recognisable to the trained ear! We duly 'dremeled' our name into the table-top to join the many others already there to leave our own personal mark in Marina Darsena.
Two of our merry band of musicians entertain us during our evening get together and our inscription into the table of "Too Much Knowledge"
As in many marinas there were cruisers that had arrived and never left (except to conform to immigration requirements every so often) and in Debbie we had a Spanish speaking Canadian who could liaise with the marina staff and security and a mine of information on where to get anything you needed locally (except the butter!). So our stay in Varadero was a lot of fun, meeting new friends as well as acquaintances from previous cruising areas. A restaurant on site with very reasonable prices ensured we didn't starve if it was too hot to eat onboard. So life was pretty good in Marina Darsena - Varadero (lack of butter apart!)
---