Birthday celebrations interupted by a Kinkajou and a dodgy tummy

AJAYA'S CRUISE
Phil & Nikki Hoskins
Sun 24 Jun 2012 17:54
'Skip' hit 60 on the 20th. The grand day was celebrated at a restaurant called the Cosmic Crab on Carenero Island just across from where we are anchored. We invited four good friends to share the occasion and were greeted at the dock by a very friendly Golden Retriever called Mango. Nobody was able to alight the dock without a welcome lick which contained considerably less slobber than the gallons of the stuff we received from the two Rotweillers at the Rana Azul Restaurant the previous Friday.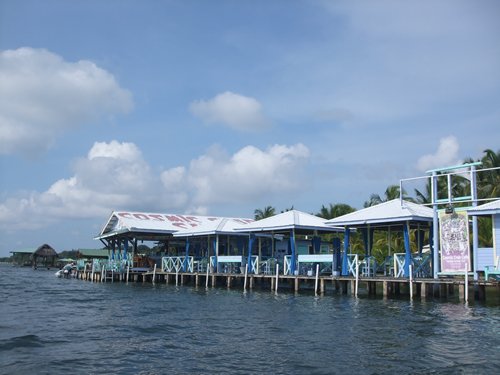 The Cosmic Crab - a seafood restaurant of course and the famous Birthday Shirt back in action again.
We enjoyed a great three course meal costing just $7.95 (around £5 each). The proprietor then produced the star of the evening, a pet Kinkajou otherwise called a honey bear in Central America. They are nocturnal mammals living in the trees and are very rare and very very cute. It took an instant fancy to the 'Admirals' head just above the right ear but refused to go anywhere near Phil for some reason.
and the surprise of the evening - a Kinkajou which has an extremely long tongue and tail
makes his move on the 'Admiral' here I come
Now for some cleaning and preening and the other side
Having eaten and looked at the shop where they have all sorts of 'arty' work for sale we headed back to Bocas Marina for 'Happy Hour'. But not before snapping pics of a Stork acting like a weathervane and interesting sunset.
The stork is real and so is the sunset!
This turned into not such a happy hour for the 'Birthday Boy' who suffered a nasty bout of Montezuma's Revenge requiring a hasty return to the boat to be near the 'you know what'! Pleased to say he was up and bouncing around the following morning but we never did trace exactly what caused the sudden attack of the heeby jeebys and nobody else succumbed. The main money is on the breakfast sausages which had been barbecued three days earlier but suspicion was also aroused over the Birthday Carrot Cake which featured an interesting topping created by her ladyship. Apparently desserts were never a strong aspect of her culinary skills. But lets go with the sausages this time shall we !!!!!!!!! He certainly won't forget his 60th in a hurry.
---