Pesky Macaws! (3)

AJAYA'S CRUISE
Phil & Nikki Hoskins
Sat 10 Sep 2011 15:53
One other attraction at Copan is a visit to Macaw Mountain where visitors can view some beautiful birds both caged (for their own good) and uncaged - as they've promised to be good and not fly off. The information leaflet indicated that this sanctuary can be reached in about 15 minutes by taxi from Copan main plaza but as we had used Tuk Tuks the previous day we thought it would be fun to take them again.
It wasn't! In fact it was a ride of near terror over terrain that any 4x4 would have been challenged on. The road out to the Mayan ruins had been tarmac with the cobbles of Copan being the only real obstacle to progress however the reverse proved to be the case for Macaw Mountain. It wasn't actually a Mountain but it was a pretty steep dirt road. Once off the cobbles of Copan we were raising dust, passing through a shantytown of shacks and breezeblock buildings. We could imagine the torrents of water from any tropical downpour that would be taking the shortest route to the valley below traversing at various times across the dirt leaving ruts and holes in its wake. We were flung around in the back of our three wheeled vehicles holding on tight. At times we slowed to such a speed in the drivers attempts to climb the steep tracks that we were ready to escape before the Tuk Tuk became a Kut Kut and rolled backwards towards town. By a minor miracle and some enthusiastic driving we arrived unscathed at the bird sanctuary and subsequently re-booked the same drivers to collect us in 90 minutes for a faster but equally hair-raising trip back down the hill. 'Barking' springs to mind!
Off we go! - bouncing over the huge cobblestones through Copan and up to Macaw Mountain.
A guide was included in the entrance fee to the bird park which is set in the most beautiful mountainous location, dissected by a fast flowing river cascading over huge rocks and boulders. The brochure mentions the opportunity to swim in the torrents of water but we opted out of a swim on health and safety grounds.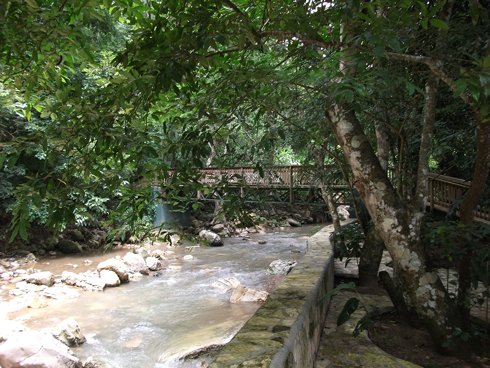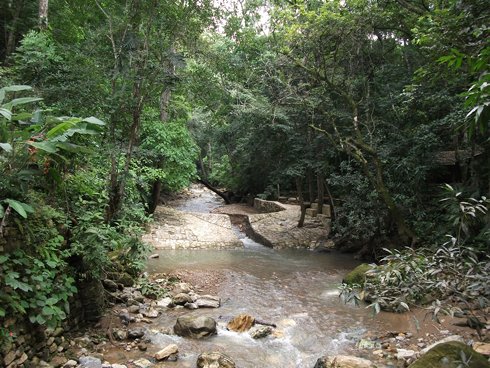 The scenery is stunning - lucky birds! The sounds of running water can be heard all over the park
There's the obligatory green parrot sitting on a perch outside the ticket office to get visitors into the swing of things. Having purchased our passes and been introduced to our guide we set off into the park. The tour started with the caged birds which had been rescued at various times from private homes that for one reason or another were unable to accommodate them any longer.
As well as the usual popular species there were Owls, Hawks and Toucans, surely the outright winner of the most 'ridiculous beak on a bird' competition. It's as if the beak itself came from a large Maine lobster claw which had then been brightly painted and glued onto the Toucan with black mastic. It just doesn't quite belong to the species somehow.
Daft beak !! These birds mate for life with one partner and its hard to sex them as they both squawk as much as each other (unlike in humans)!
The path crossed over the river and then back again making just a walk through the valley enjoyable. Finally we came to the uncaged birds in an area of open cages where a mix of various Macaws, Parrots and Toucans could be seen sitting quite calmly on suspended tree branches. This was to be the 'interactive' part of our tour as our guide gathered one by one some of these bloody great birds and perched them on our respective shoulders and arms. Just some cutlasses and wooden legs would have qualified us all for parts in the next 'Pirates of the Caribbean' movie although being in a Spanish speaking country the catchphrase 'pieces of eight' had not yet become part of their act.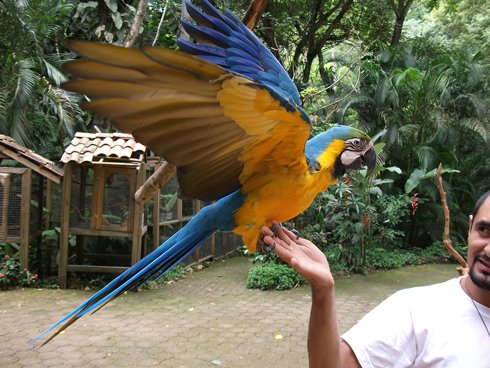 Green Parrot (Common or garden) Blue Macaw
These birds are quite friendly (we were assured) and indeed with such enormous beaks just centimetres from our ear lobes we had to be confident that he knew what he was talking about. They weren't above some mischief-making, as one Macaw proceeded to peck holes in the shoulder of one of Skip's best white T-shirts, much to the amusement of the 'Admiral' whose only scare was to have her hair thoroughly examined by a parrot and then to have each of the birds on her shoulder without warning screech into each of her lugholes.
The 'Admiral' & 'Skip' featuring a parrot, Blue Macaw and Scarlet Macaw. It was the Bluey that damaged the T-shirt!
Next we studied a group of three green parrots one of which had formerly belonged to a football fanatic. Being proficient in mimicry our green feathered friend was able to exactly imitate the commentators shouts of "Goal Goal Goal Goal Goal Goal" !!! This had us in stitches and after we had parted company with our guide we sneaked back to our football loving bird to get it to go through its routine again with some encouragement from us both and with the video function of our camera engaged. Unfortunately, on replaying the video we still don't know if its just our own voices encouraging the parrot to say "Goal" or the parrot itself. We're still studying the footage! One of the attendants then started spraying a hose at the Macaws and parrots who seemed to revel in the water fountain with one green parrot turning in 360 degree circles around the branch it was sitting on! Laugh! - we were splitting ours sides!!
Our 'Goal' shouting Green Parrot (foreground) It's companion stays silent. It's shower time for our feathered friends
They love it!! Now, how many green parrots enjoying the shower are in the picture? (See end of blog for answer)
We sat down for coffee at the little restaurant, taking in the beautiful surroundings until our Tuk Tuk drivers re-appeared exactly on time to re-load us into the two motor tricycles for the hair-raising trip back to town. This time it wasn't the engines we were praying would keep going but the brakes as we careered down the dirt slope as fast as the machines could safely (?) be driven. But it was a morning well spent and recommended to anyone visiting Copan. Just don't wear your best white cotton T shirt!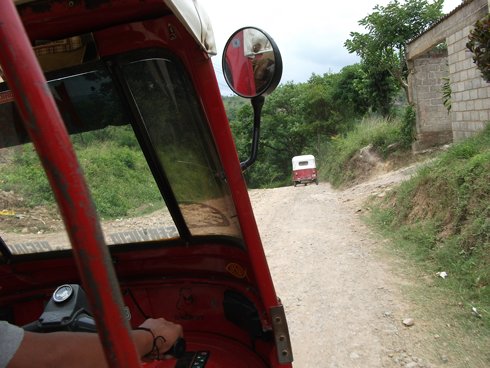 Ride of death take two as we descend down the track back to town
Green Parrots count?
---