Into Eggemoggin Reach and beyond

AJAYA'S CRUISE
Phil & Nikki Hoskins
Sat 31 Jul 2010 00:02
Our second night at Smith Cove was sheer bliss. We were visited by a lone seal which was initially mistaken for a drifting lobster pot buoy by the 'Admiral'. Ok it was well past 'sundowner' time. Although we now dream of lobster pots in our sleeping hours as we wend our way through the many thousands littering the Maine coastline during the daytime. Every so often a plaintive cry goes out on the VHF from a snared yacht that through lack of concentration or maybe just pure bad luck has become entangled in one of these hazards. Few are willing to brave the cold waters to cut themselves free so must rely on professional divers to get them out of trouble. Anyway the seal was entertaining for us - no it wasn't balancing a ball on its nose or clapping with it's flippers - it was just a pleasure to see it surface and dive in our vicinity doing what seals naturally do- hunting.
Time to incinerate some corn on the cob and sausages (faux) Anchorage in Smith Cove- perfect setting for an overnight stay
We had an early start for our trip down the Eggemoggin Reach, a long body of water which links Penobscot Bay with the Mount Desert area which avoids quite a few extra miles circling the lower islands in the bay. However the sound can be challenging as the wind funnels either up or down the reach depending on wind direction. We passed under the only bridge across the Reach, at about 85 ft high it wasn't a hazard for us and ticked off yet another sailing relic from our 'all colour book of Windjammers'. We had a great sail until gradually the islands in the distance became lost in dense fog and out of good sense we took a sharp left turn into the Benjamin River which we just happened to be sailing past at the time the fog rolled in. We anchored for the night which turned quite nasty with a severe thunderstorm passing close-by, with a clap of thunder almost simultaneous with the streak of lightening to prove that the storm was far too close for comfort. The rain was torrential but we were nice and safe with good holding.
Next morning we were on our way again enjoying a good sail down the reach out into Frenchman's Bay and on to Buckle Harbour. The wind was still blowing 15-20 knots from behind as we ran under a reefed genoa - not because of the wind strength but so as to be able to plot a pathway through the pots ahead of us.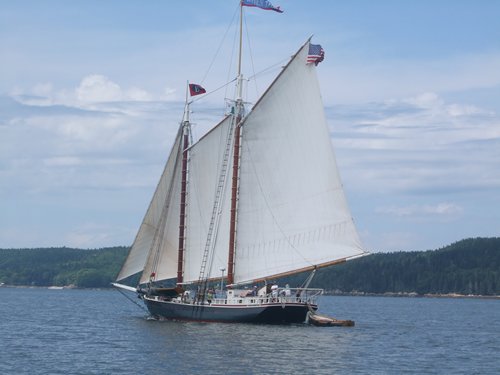 The 'Stephen Taber' passing us on the Eggemoggin Reach - built 1871
The cruising guide states that you will rarely have Buckle Harbour to yourself and of course this was true as three yachts and a trawler were already in residence when we arrived. We anchored in what would normally have been a perfect spot at a respectable distance from the closest yacht although these are small anchorages. All was fine until it grew dark, the wind dropped and the tide changed. Whilst we sat as solid as a rock where we were on our 10mm anchor chain our close neighbour who was anchored using string just thick enough to wrap a Christmas present with started to drift round the anchorage making the best use of its seemingly endless scope to scare us to death - well certainly to guarantee us a sleepless night. So we had to move before even the last mouthful of our evening meal had reached its intended destination. From our new and safer position in the anchorage we could observe the yacht sailing around with the three crew in blissful ignorance down below no doubt spouting stories of daring-do as their yacht tacked back and forth across the harbour unseen by them. It was very frustrating but as the unwritten rule goes - last in - first to move and it was our turn this time.
From Buckle we left the next morning to negotiate another few thousand lobster pot buoys heading for Northeast Harbour on Mount Desert where we wanted to spend time hiking and travelling the island on the free buses provided by the National Park and subsidised by somebody call Mr Bean. Well L.L Bean to be precise which is an outdoor leisurewear company. We were looking forward to what should be the pinnacle of our trip to Maine.
Needs no caption.........
---