Back in the USA

AJAYA'S CRUISE
Phil & Nikki Hoskins
Tue 13 Oct 2009 22:40
Our time back in the UK came to an end - where does 3 weeks go for goodness sake? We saw friends, relatives and treasured love ones. There were many we couldn't get to see this time round so maybe next time we can get together. The tooth was now well and truly fixed. However, a visit to our local medical centre saw us promptly struck off their list! Other cruisers or travellers should note if you are away from the UK for longer than 3 months you should (must?) advise your home surgery who will then de-list you from their database and send your records away to some central location. You have then become an alien - no longer resident in the UK according to the National Health system rules. Even though we still own UK property, are considered 'Resident in the UK' for tax purposes (which we pay) and do not reside permanently in any other country!! The NHS system doesn't seem to cope very well with retired itinerants for some reason. Now denied routine treatment.........Hmmm must remember not to get sick!
We must have set a new world record for arriving early for a flight at the new Terminal 5 at Heathrow - some 7 hours before the flight was due to leave. The M25 on a Monday morning was running smoothly for a change, the car hire return was a piece of cake and cheaper than originally quoted. The shuttle bus to T5 from Europecar was also swift. We walked at a snails pace around the terminal with our luggage which itself had been a cause of much frustration as there is a strict limit of 23kg per bag, so another re-pack was required to get us under that limit. With zips straining we managed to get the main bag to the correct weight. A full English breakfast consumed another hour before heading down the other end of the terminal to buy 2 coffees from the coffee bar overlooking the landing runway. We managed to make the coffees last another 2 hours whilst we plugged into the mains power provided at each seat for some last minute surfing.
It was at security that we finally hit the buffers as our hand baggage was stuffed full of various electronic items purchased for the boat plus an electronic wind instrument we had taken home for factory testing along with a large pack of AA batteries which probably added a sinister edge to the appearance of the x-rays in the scanning area. With 2 security staff peering intently at the screens the conveyor belt was halted as they took a closer inspection at our belongings. Then the trays containing our bags were switched to a branch line on the roller system and we were told to empty out the contents. Out came all the suspicious gear so lovingly packed as each item was scrutinised and re-x-rayed. With a final nod of approval we re-packed the bags, put our shoes back on and walked on into the vast shopping metropolis that is Terminal 5 prior to boarding our flight to Baltimore.
On the 767 we hit a further problem, in that the seats we had reserved had no base cushions - they were in fact round the corner in the staff area drying out from some accident. We were informed by the steward we were to be upgraded into Club Class for our troubles - so with thoughts of mega leg room and being pampered with cocktails for the 6 hour flight we patiently waited whilst the remaining passengers were embarked. They were just waiting for final seating plans to be confirmed. Sadly there were no free side by side seats available in Club so they found us seats across the aircraft from where we had originally reserved - so we were back in 'cattle class' once more!
Arriving in Baltimore we needed to get the 35 miles back to Herrington so it was into a taxi driven by a Ukrainian of all people who had not the foggiest idea of where Herrington was but did follow football much to Nikki's annoyance as the conversation centred on mutually admired teams of the Premier league. We arrived at Herrington thanks to Satellite Navigation and hauled the heavy bags up on deck using some rope. Nikki ventured down below and into the port aft cabin where she walked straight into a large spider's web stretched out across the doorway. The resident spider was subsequently found dazed and bemused on the cabin floor and was promptly despatched to avoid any further repetition of the event. What was noticeable since we had left the boat some 3 or so weeks previous was that it had turned cold - in fact much colder and we were pleased we still had the quilt on the bed as we turned in for the night.
Next day it was on with the remaining out of water jobs. With the propellers re-attached and all systems checked Ajaya was re-launched on Wednesday 8th with an underlying threat of 50knt winds due that afternoon. We had until Sunday to complete any last minute jobs within our complimentary stay afloat period after our 4 week stint ashore. One of the advantages of using Herrington Harbour North Marina. However, our last minute chores had to be compressed into one less day as we were offered a lift into Annapolis to attend the annual Sailboat Boat Show - how could we refuse such an offer!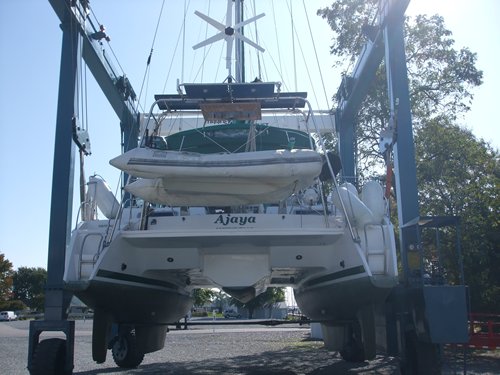 Lift off.....
Off she goes.... Relaunch ! Phil below frantically checking for any leaks!
No leaks - thank goodness! Next on the hoist ... a throbbing beast of a boat capable of 180mph (apparently)
---