Shelter Bay Marina, Colon

AJAYA'S CRUISE
Phil & Nikki Hoskins
Tue 24 Apr 2012 00:01
We have arrived in Colon, everybody's least favourite city in Panama! With just $10 cash left in the kitty we reluctantly left the San Blas with a quick stop at Portobelo to try and obtain some money from the ATM machine there. We opened the door only to wade ankle deep in old receipt slips from previous users. The machine was as dead as a Dodo and later confirmed by a friend not to have been working since before Easter. We heard later that they fixed it the day after we left. The nearest bank or ATM is in Sabanitas a long 'chicken bus' ride away. So we pulled anchor again and headed onwards to Shelter Bay which is situated in the far western corner of Colon Harbour, a safe distance from the thieves, rogues and vagabonds lurking in Colon itself (at least in some quarters of the city). Only recently a yachtsman anchored off the town was confronted by 3 locals in dripping wet underpants in the early hours whilst his crew were off line handling on a canal transit. Needless to say he was robbed of all his cash, computers etc. Naturally they took his dinghy to save getting all that cash and expensive IT equipment soaking wet on a swim back to town. It may have helped if he had not left his front door open - we lock ourselves in at night in some areas. Just like back at home really. He may well start doing the same.
We had only been in the marina for two minutes and already had met up with people we knew and people we didn't know but knew of us. (Worrying!). With the old yacht club now closed across the harbour in Colon town Shelter Bay has taken over as the departure point for most yachts about to transit the canal. The marina operates a free morning courtesy bus (complete with driver wearing sinister black leather driving gloves) into one of the more salubrious parts of Colon. Here you stand a reasonable chance of getting all of your shopping from the checkout and into a vehicle without having it all nicked. Being in the western corner of the massive harbour, the breakwater alone measures a total of 3 miles, means you have to cross the gigantic Panama Canal locks via a small swing bridge. This is where you get up very close and personal to the massive ships as they are eased into the Gatan lock system by the locomotives that still work the canal after all these years.
'Ever Diadem' transits the Gatan locks - and now well on its way into the Pacific
Turbulence from the lock gates as millions of gallons of water escape to the Caribbean as we cross the narrow swing bridge used by traffic alongside the lock gates
Further along the earthworks can be seen of the new locks in construction which will allow for even larger ships to transit between the Atlantic, Caribbean and Pacific oceans.
At the Rey Supermarket there are armed guards in evidence both on the premises and outside. One we spotted tipped the scales at 20 stone if he was a pound and had a handgun in a holster fastened way down his left leg. He just needed an eye patch and he would have passed for a black version of John Wayne's Rooster Cogburn character in True Grit. Seemed very helpful though and we imagine he's part of the scenery.
With the credit card taking a hammering from all directions we had to get all the food and not an inconsiderable amount of booze back into the van, which was full of cruisers doing the same thing. Unlike the journey out this time we caught the lock gates wrong and had to queue for some time. Remember when you cursed being caught at a level crossing with a train due? Imagine waiting for a 100,000 ton container ship, a tanker and the Mearsk Explorer or whatever all puttering out of the locks at 3 knots! Good job we never bought any frozen food!
Shelter Bay Marina is set in the grounds of an old American base which is now part of a nature reserve. The base was called Fort Sherman and has been in existence since the early 1900s forming the fortifications for the Colon area. There are three batteries which used to house disappearing guns which have indeed disappeared over the years....
Remains of the old batteries at Fort Sherman - we didn't venture inside in case of snaaaaakes
You can walk the reserve which is mainly jungle with roads cut through which apparently don't have too many dangerous animals roaming around. There is however a resident crocodile (described as impressively large) living in the marina mangroves which puts the mockers on popping in to do any hull cleaning. It was seen lurking last week next to a Canadian boat owned by a couple we met whilst here which is perhaps not too surprising as they have a dog and cat onboard and maybe the cat looked tasty. Then yesterday somebody casually dropped into a conversation that it was lurking at the bows of our boat 2 days ago - the actual day that Skip nipped in quickly to rod through a blocked anchor locker drain! Sharks one week - Crocs the next. Bring on the Komodo Dragons.
The remains of many of the base buildings are still standing but in disrepair. Near the marina building the remains of the old cinema and theatre lie. The ticket office is clearly visible and just above are the projection apertures through the wall, although the projection room has recently been dismantled.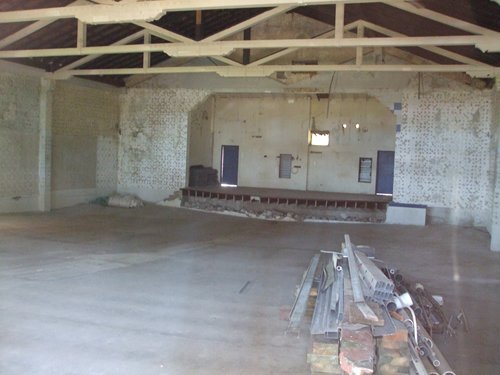 Two halves for the stalls please...... ........... Err, What stalls Madam?
It looks like the Americans rehearsed for the invasion of Iraq before they handed the canal and the base over to the Panamanians as the old married quarters are in ruins. The marina building looks to have been refurbished very tastefully with a restaurant and guest lounge. The ablution facilities are excellent and certainly beats sitting on the back of the boat showering under cover of darkness. Only thing is each shower room - you have one to yourself - has one of those huge combined fan and light fittings, the fans are large enough to power a Spitfire. Whenever we've seen these things the fan is wobbling around so much it looks as though its going to fly off the mounting or worse still bring the whole lot down on you whilst towelling yourself down. Now, we have plenty of fans and propellers on the boat and if they wobble around that much they get tightened up pretty damn quickly!
Many of the yachts are getting ready to transit the canal so it's a last fling in the Caribbean before tackling the 3000 miles between Galapagos and the Marquesas Islands of French Polynesia. With the cost of transiting a pittance compared to taking a Panamax vessel through the lockage it stands to reason that transits are often cancelled at the last minute due to lack of pilots and advisors. This means that a pre-arranged last night out hangover is often allowed to cure itself without added stress when the email arrives to inform you that your transit has been delayed by some days. This means the marina gets to charge you another few nights stay so everyone wins.
We are amongst quality boats here - so our request for a small discount on our berth was no doubt met with side-splitting laughter in the marina office behind our backs
Last Sunday, 15th April, the 'Admiral', wielding her considerable powers, declared it would be a 'no-work' day. Having cleared a mountain of smelly laundry and then hovered the forward cabin in the intense heat it was the least she should do. There are some walks locally through the old Fort Sherman estate which take you into the more jungly areas of the old army base. Just a short distance along the path we encountered White Faced Capuchin monkeys in the trees looking down at us. It was one of those staring competitions as we stood still and they sat still peering through the branches seeing who would be first to move. We were mindful that they were in amongst abundant date palms which we expected to start raining down on us.
A quick Wiki search when we were back at the boat revealed interesting facts about this species. They are the 'Minkey of choice' for street organ grinders everywhere, if in fact there are anymore anywhere. Organ grinders that is - not the White Faced Capuchin monkey, which is apparently under no threat at all being abundant in numbers. Its the organ grinder that has probably become extinct - not his monkey. So, when somebody mentions sarcastically that they want to speak to the organ grinder, not his monkey, there's now an appropriate answer.
One Capuchin monkey looking for an spare organ to sit on
One more interesting fact about these chaps is that due to their superior intelligence they are being trained to work with paraplegics, but Wiki didn't actually expand on exactly how. So we are left to speculate on how the abilities of such a creature could assist those unfortunate people. One fact we do know is that they are a darn sight better looking than those apes we saw at Linton a few weeks back. But their complexions did remind me just a little of Dame Barbara Cartland towards the end of her days when the makeup was being caked on in thick layers giving her a white ghostly look. Think it was also the receding hairline perhaps?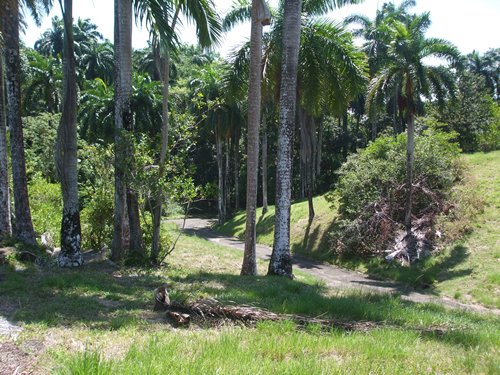 The picturesque grounds of the Sherman estate which is gradually being reclaimed by the jungle
Further on along the path we encountered a group of vultures that were clearly upset to have their midday snack interrupted by a couple of yachters walking along their road. We kept seeing individual vultures (horrible things) flying out of a drainage culvert where, horror of horrors there were the remains of - oh no - a White Faced Capuchin monkey. Well, the vultures have to live don't they? And despite the best efforts of vultures our white faced furry friends have numbers on their side. Fortunately some light relief was provided by encountering a 50 foot long procession of leaf cutter ants that were staggering all over the road under their load of freshly cut leaves which they were leaving in a huge pile near the nest before turning round and walking all the way back for another cutting. As they go to get another one they have a quick chat with those in transit with a leaf - presumably to give up to the minute instruction on where to dump it. Apparently leaf cutter ants have the second most established social structure next to human beings. Isn't Wikipedia just great!
Ant's Eye view of the Fort Sherman Leaf Cutters annual outing
Yesterday, being Sunday again we ventured off for another route march into the jungle, this time ending up at a local beach. We could imagine when the Americans were on site that it would have been kept pristine and raked but now it's littered with the usual detritus of shoes and plastic containers of every size and shape. To arrive at the beach we had to walk along a narrow path through the jungle which was mercifully free of anything harmful although the constant rustling in the undergrowth was quite disconcerting.
A beach to ourselves with distant ships waiting to transit - no Skip's not fishing
Earlier, along the road we were fortunate enough to see yet more monkeys - this time not the organ grinding enthusiasts but a troop of Black Faced Spider Monkeys which according to Wikipedia (again) are an endangered species. Once again we stopped for a staring competition which seemed to work in our favour as having to walk directly underneath them produced nothing by way of a brown 'offering' thrown in our direction. They weren't there when we returned - probably extinct already.
A flying Terrapin..... .....and a huge iridescent blue butterfly with 5 inch wingspan complete our Sunday critter tally
---