Finding a new summer home in the UK

AJAYA'S CRUISE
Phil & Nikki Hoskins
Sun 28 Jun 2015 14:03
We're back in our home country. Three months earlier than usual with the intention of tracking down a UK holiday bolt hole. This will enable us to spend up to five months back in Blighty away from the heat, humidity and thunderstorms of Florida and enjoy more time with family and friends without wearing out the welcome mat. However, we do sorely miss our special friends in Titusville – But, we will be back!!!!
Before we 'blog' out of the USA we really must offer a big thank you to Alan & Ann for collecting two fraught and sweaty cruisers from Westland Marina. Then putting us up in 5 star luxury in their Orlando mansion, feeding us, taking us for nice walkies with their adorable Old English Sheepdog 'Aspen' (which bore an uncanny likeness to 'Skip' in the hair department) whilst making sure we made our flight on time. It was great to see you both and chat over old times. We'll be seeing you again soon.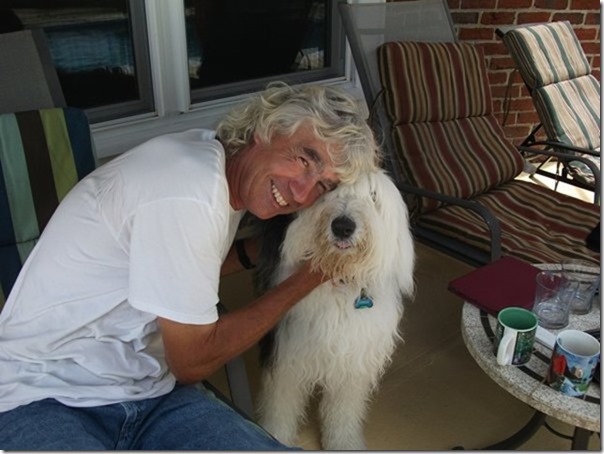 The most adorable doggie imaginable but did she see 'Skip' as a similar shaggy species or just a soft touch for lots of belly rubs!
The flight was smooth, the food indifferent (it's usually better than that on Norwegian) but luckily we had a spare seat next to us – perhaps because our row backed onto a toilet which wasn't indicated on the seat selection plan online. We're not terribly aircraft savvy when it comes to selecting seats. However across the aisle in the centre row of three lurked ghastly cold bugs being distributed by a coughing and sneezing lady flying back from holiday. She certainly managed to blast a few germs our way and no doubt Mickey, Goofy and friends at Disney Orlando are now probably coughing and sneezing into their costumes as well.
After a day at Nikki's Mum's in Guildford to recover from the flight, a day to hire a small Ford car (Ka), buy new phone and internet SIMs we were ready to drive south to the Portsmouth area to look for a holiday static caravan. This made the most sense for us rather than reclaim our rented house just for three to four months. By the end of day four we had secured a deal on a 23' x 10' caravan on a quiet little site on picturesque Hayling Island on the central south coast adjacent to Portsmouth where Phil's Mum lives. By day six we were moving in. It's just perfect for the two of us – one bedroom, galley, dinette, saloon area, shower and toilet. Quite boat like really. One hundred yards walk away is a creek which is part of Chichester Harbour. The caravan site is just a short distance from the marina where we both spent some years working in the boat business. So we're quite familiar with the area.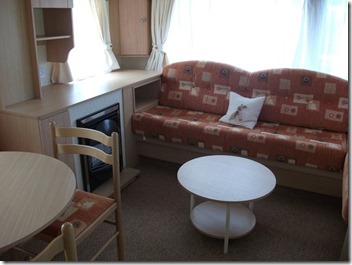 Lounge, kitchen & diner all contained in a space in which only a small kitten could be swung. But we haven't tried it.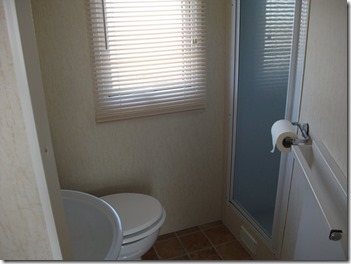 Bathroom of minimal size but a really nice little shower stall. Bedroom has good storage and just enough space to walk round the bed
We're just a short walk from Hayling beach with clear views of the east end of the the Isle of Wight. Unlike it's Portsmouth sister island Hayling has never been developed to the same extent and is home to many retirees and holidaymakers who spend time in the many holiday caravan parks dotted around the place. You just have to remember not to attempt to get on or off the island over the single lane causeway in the rush hour!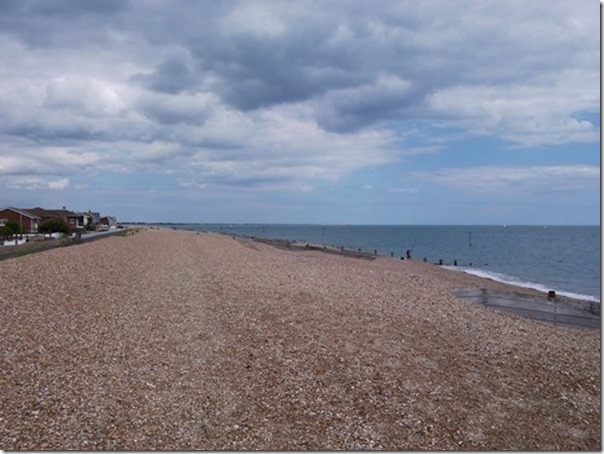 Hayling Island shingle beach looking east and then west – water temperature mid 50's F Brrrrrrr, maybe leave a swim 'til August or September!
Next requirement was to find a second-hand car to tide us over for the next four months. As luck would have it we found a local garage that would sell us a car they'd taken in part exchange which they will buy back from us just before we fly back to Florida sometime in October. The price difference is quite acceptable so, all in all, things are working out just as we hoped. (So far). But it surely can't last!!
---