Side trip to Copan - Honduras (part 1)

AJAYA'S CRUISE
Phil & Nikki Hoskins
Fri 9 Sep 2011 16:47
Two reasons existed for this 4 day excursion to Honduras. 1) Our visa in Guatemala was for 90 days only and officials have become more vigilant about enforcement. The Agent in Livingstone used to 'arrange' paperwork for an extension but no longer offers this service. Solution - head to a neighbouring country for a few days (plenty to choose from - Belize, El Salvador, Mexico etc.) and re-enter Guatemala to obtain a further 90 day visa which would take us through to the end of November when, hopefully, we can exit the Rio Dulce and continue our cruising. The second reason was that we had yet to crawl over any Mayan temples or ruins and Copan in Honduras has one of the best sites in Central America just a kilometre from the small town. Just perfect. With three hotel rooms at the Hotel Buena Vista (complete with pool) booked, the 'Monkey Bay Six' were back on the road again.
Getting there was another matter. We opted out of a gruelling if cheaper means of travel - 'Collectivos' - a minibus system which runs between towns and villages picking up anybody and literally everybody and booked a private 'air conditioned' 12 seater minibus at a cost of $150 each way for the six of us. Not bad considering the travel time was about 4 to 5 hours door to door.
So last Sunday found us packed into our private bus heading towards the central border crossing into Honduras. All went fairly smoothly apart from some very bumpy roads and the odd encounter with bovine jaywalkers being escorted by their attendants. At one time they had us surrounded without even the courtesy of sounding their horns! (sorry).
For goodness sake - moooooove out the way!!! Whoops - a little close for comfort - eeerrr gggrreat horns and just love those ears!
The border crossing was smooth apart from two of our party having mistakenly been stamped 'in' to Guatemala instead of 'out' by the Guatemalan official. This caused some delay at the Honduran immigration office as the stamp in the passports had to be 'amended' before they could be officially stamped into Honduras. This was soon overcome with the cheerful Honduran Immigration officer seeing the funny side of the situation. He even gave us a present of a one Lempira note (worth about 3p) folded into the shape of a sailing boat!
Back into the bus for the last 20 km ride to Copan Ruinas - the official name of the town we were to stay in. In all a journey time of 4.5 hours including a delay in the town itself to allow a funeral possession to pass by. Basically a coffin in the back of a pick-up truck followed by numerous mourners. Then up a very steep cobbled (and we mean STEEP & COBBLED) road to the Hotel Buena Vista which had beautiful views over the whole valley where the town is situated.
Here at last but no bell-boy to see to the bags..... ... just a nice pool waiting in the courtyard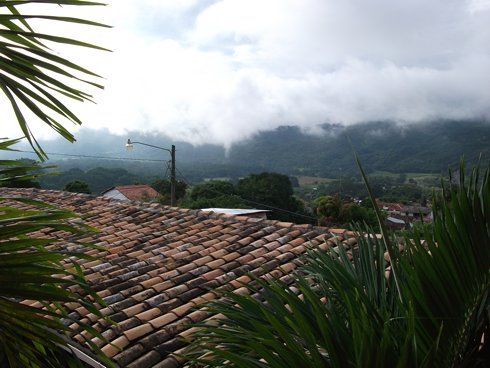 Stunning views over the valley cool relaxing area near reception and of course - that pool
After a brief tour of the town from our representative in Copan we consumed a late lunch at her restaurant followed by a cooling dip in the hotel pool. A pleasant surprise at lunch was the visit of three local girls of tender years selling corn dollies on behalf of local charities. Having bought a couple of the dolls they then entertained us to a moving rendition of the Honduras national anthem. A wonderful memory to take away with us.
Lovely moment as the little girls sing their National Anthem after we'd bought our corn husk dollies from them
That evening as we weren't overly hungry but always of course very thirsty we made for a bar just down the hill from the hotel run by a German (Thomas) who brews his own beers with imported hops etc. all the way from the Fatherland. A German bar in Honduras? Why Yes! He had married a lady from Honduras! This unexpectedly turned into a raucous couple of hours despite just a total of 9 people plus the Brewmeister himself occupying the bar. This included a man called Saul and his son who were taking turns at strumming on an acoustic guitar. It was his son's guitar lesson actually. After a couple of beers we were all singing Beatles and Pink Floyd tunes which his son played with amazing ability considering he had only just taken up the guitar. In between all the jollity Thomas introduced us to his pet parrot which seemed unfazed by our atrocious singing being content merely to peck at some seeds which were poured into the 'Admiral's' left hand. The right hand being full of parrot! (Saul himself, a local teacher serenaded us with other popular favourites which we joined in with making for a great evening. It wasn't the last time we would see Saul either.)
No, not ghostly images - just strong Copanerbeer - and some of us got very carried away but the little green parrot just carried on eating nuts out of the 'Admiral's' hands
Later that evening we received a message from Monkey Bay that our CO alarm had gone off on Ajaya. Not the first time it had happened. It went off again before John the Marina Manager disconnected the battery so as to get a night's sleep. Excessive heat seems to trigger that particular alarm for some reason but better than not working at all! With that news and the plethora of crowing chickens and barking dogs we struggled to get much sleep that first night!
Next morning we were off to the Mayan ruins.
---