Oriental Goings On - Work

AJAYA'S CRUISE
Phil & Nikki Hoskins
Sun 23 Jun 2013 15:46
We are still in Oriental and are likely to be for another few weeks if our progress into the jobs list is anything to go by. Having removed two of the boats windows that were leaking profusely we then waited nearly three weeks for the required Sikaflex primer to arrive which is a vitally important component in the bonding process, thus ensuring they won't leak again (ha ha). The primer, which is considered an utterly hazardous material probably on a par with Uranium or Plutonium, needed to be shipped overland from Florida ( with a police escort no doubt!) to the local distributor somewhere north of here before heading south again and finally arriving at the local marine store. Such was the proprietors embarrassment over the ongoing delay he actually turned up to deliver the bad news of yet another failed promised delivery day clutching a six-pack of local beer. Now that's what we call customer service. Unfortunately the beers, which were excellent, never did get to see the arrival of the primer.
The two leaking windows in question - the rubber mallet, a recent acquisition, is particularly useful for crushing nuts for the 'Admiral's' nut roasts and other things
Now, good quality paint can be quite pricey at the best of times but this liquid breaks all known records, as a small 250mm sized tin which was only 2/3's full on opening costs $80 (£55 in the Queen's money). For the mathematically curious but non metric-minded that comes out at a staggering £960 per gallon. And that excludes the delivery cost. As we are, in the inimitable words of Edmund Blackadder, 'not at home to Mr Cock-up' on this job we also ordered the same sized tin of Aktivator (their spelling not ours) which also plays a part in the bonding process and contains similar dire health warnings on the can. This can was of better value at just $20 although there was barely enough in the container to quench the thirst of a small tree shrew. The pressure on our resident window installer (Skip) charged with using this paint was such that the left hand holding the cans was visibly shaking during application to the window surfaces. And then it rained.......
They look like similar pics to those above but they now have the primer painted on - $100 in those two little tins!
The delay for weather amongst other distractions meant that the primer had been sitting on the windows and GRP frame for about 4-5 days so a quick e-mail to manufacturer Sika USA to check all would be well was answered very efficiently but with mind-numbing bad news. They recommended that we do not re-use the Aktivator we had already bought (at $20 per small can) on the primer as it would not be suitable. We should buy another type of Aktivator presumably at a similar price which would resurrect the primer into doing what the primer should do. Another e-mail to Sika was in order. We suggested that as we had already spent nearly three weeks waiting for the items we already had we didn't have the luxury of time to wait longer for yet another pot of liquid gold. Perhaps we could grind off what had already been applied (at great cost) and apply a new coat of primer. This brought slightly better but also confusing news. As it was now Friday and we had applied the primer the previous Monday it would probably be OK, but if it had been applied the Monday previous to the previous Monday then we were probably pushing our luck a little. However the job remains undone as we've had continuous poor weather conditions since Friday. So we'll probably have to grind off the primer and start again when the weather settles down !!
Talking of jobs outstanding.....most marinas in the USA have a holding tank pump-out system at the fuel dock or, in the case of Marathon they had a couple of flat decked boats that travelled the mooring field pumping hundreds of gallons of err... waste out of peoples boats. The operator proudly boasted that he could accommodate one thousand gallons of the stuff on board. (Nice !!). They are very strict over here and there are even specialist police in boats that hide up creeks and pounce out at full speed and board likely suspects to ensure the relevant toilet valves are set so as not to pollute their waters with human waste. Understandable but maybe a little Draconian especially as one boater 'enjoying' a visit from the 'poo-police' (as they are affectionately known amongst cruisers) ended with the policeman pointing his weapon at the boat owner whilst onboard due to a misunderstanding. In the marina we are currently residing in the system is a little different. If your tank is approaching maximum capacity then a visit to a shed at the root of the dock reveals a two wheeled trolley containing a large plastic tank with lengthy sections of hose and a bag of pipe fittings to adapt to your tank outlet on deck. In our case this is a two person job in more ways than one and whilst 'Skip' holds the pipe in position to form a seal over the outlet hole on deck the 'Admiral' has to pump the handle on the trolley until no more waste enters the pipe. Then it's off to a special place located just a few yards upwind from the marina restaurant where the contents of the mobile tank are pumped into a six inch diameter pipe hidden under a very healthy looking bush where it presumably runs off to some place we have yet to ask about and maybe won't bother to. So far we have negotiated this delicate task on two occasions without mishap, but forget to open a vent valve and have the tank explode and, well, the resulting fall out just doesn't bear thinking about! Of course just wheeling the full tank along the dock needs absolutely no explanation as to what you are up to!
'Skip's Power Pump-outs' - No Job too small... You called Madam?
An unavoidable stoppage in our daily proceedings to allow Tropical Storm Andrea, the first named storm of the season, to swing by inland of us was another lost day of progress. A storm of this category is well below hurricane strength but we still saw 45 knots maximum speed recorded at the mast head. We had already doubled up on our lines but the marina dockmaster had a busy day coping with boats badly tied and in one instance a genoa that became partially unfurled. Not in any way due to lines not made off but to a very loose roll of the genoa round the foil which allowed the wind to get inside the rolls and unravel the top part of the sail. You would not think it was possible but winds of that strength gradually pick at boats gear hour by hour until something gives and then you have the devil of a job getting things under control again. In fact it can get dangerous and in the end it took three of us to drop the genoa and stow it in the cockpit. In the anchorage one boat dragged after breaking it's lines and two others went aground. With the wind blowing from the southwest the water levels in the river dropped by 3-4 feet and we found that later in the day we were also bumping the bottom. Still it was a distraction from the daily grind of gelcoating some repairs whilst pondering how best to deal with the windows.
The shallow harbour is battered by gale force winds although this one tree branch was not likely to cause too much damage when it fell
Off for the first time in five years - our bimini canvas away for re-stitching - the cockpit felt naked without it but they had it back the next day
Mixing up some more filler for the 'hurt' we suffered to the port bow in the Canaries in 2009 - yes we are a little behind on our jobs list
Recently we took a well earned break from our morning lay-ins by piling a ton of boat stuff into two marina carts and walking 300 yards down the road to the local marine store that was kindly hosting a boaters flea market. Not quite Beaulieu Boat Jumble but with just eight or so sellers we were in with a good chance of selling something. The previous night we both agreed that selling $50 worth of bits and pieces would be worth the effort of looking everything out of various places on the boat, pricing the items and laying them out on a tarpaulin for potential buyers to ponder over. The humour at these events has to be experienced and the negotiating would certainly not secure an apprenticeship with Lord Sugar. However, we had exceeded our target after twenty minutes (maybe we did set the benchmark a little low). Once we had stopped yawning we quite enjoyed the event although this has to be blogged under the heading of work rather than play as it was about recouping some dosh!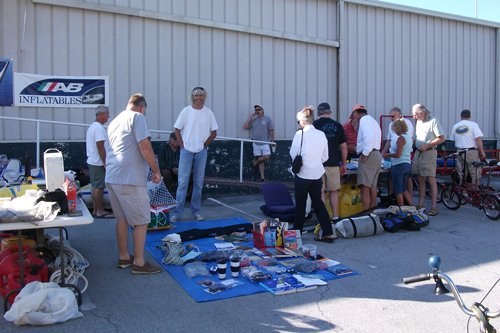 First rule of selling, don't stand with your hands in your pockets! And maybe get a haircut!!!
So, are we downhearted with our lack of progress? No not a bit of it, as we are having a good time in this cruiser friendly town. Which is perhaps where our problem lies. So on to the fun side of things next.........
---