Onwards to Long Island

AJAYA'S CRUISE
Phil & Nikki Hoskins
Sat 28 Jan 2017 00:00
In position 23:21.58N, 075:08.39W Thompson Bay, Long Island (Below the Tropic of Cancer).
We stayed in George Town just long enough to rummage through the ailing veggies in Exuma Markets, visit the liquor store, raid the bank account for some cash and take on some piston juice for the engines. We were heading out of Elizabeth Harbour by 0830 the next morning bound for Long Island. One of our quicker turnarounds.
Depending on where you intend to end up on Long Island will depend on the route to be taken. If bound for the northern end then the course takes you into deep clear blue ocean water. If heading lower down to Thompson Bay then you tend to choose the route across the banks. Deep clear blue ocean = nice tasty pelagic fish. Turquoise shallow banks water = barracudas all day long and we don't eat those. So naturally it was the deep water choice for us as we'd run out of fish to eat.
We headed for Hog Cay, a very pretty location just under Calabash Bay at the northern tip of Long Island. Our fishing exploits again produced results with the 'fish landed' to 'fish lost' ratio evening out this time. Two hooked, one landed. It was a 7lb Mahi Mahi, although we usually catch Tuna on this route. But no complaints from us.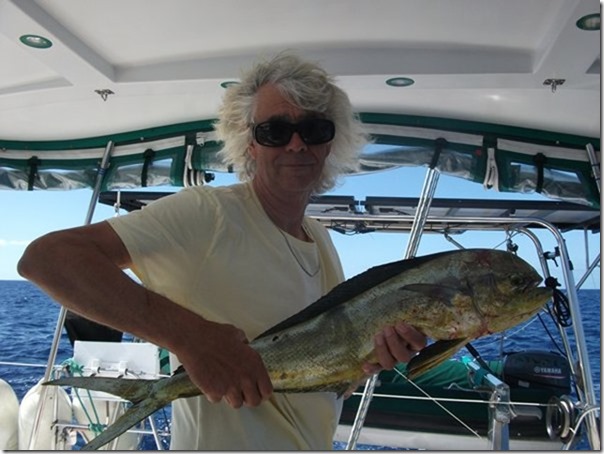 Hmm – not sure about the fish but 'Skip' was obviously having a bad hair day! We just love to catch these wonderful eating fish
Once more 30 minutes of mayhem ensued before the fish was dealt with and bagged up for the freezing process. Same number of meals as the last smaller Mahi but this time bigger portions, by order of the 'Admiral'.
On our arrival we were the only boat to be anchored in Hog Cay but like wasps to a picnic two other catamarans duly arrived to share the location. Unusually for the Bahamas the water was milky with poor visibility but by morning it had cleared to perfection and we could see every grain of sand on the seabed. The hulls were growing their winter beards and it was noticeable that the speed was dropping off when under way especially when only using one engine. So next stop we would get in and start the process of clearing the growth. (That's a royal 'we' by the way). Another cold front was due so we would need to be somewhere to minimise the effect of any south to west wind arriving ahead of the front. Thompson Bay does provide reasonable cover from those directions if you don't mind squeezing behind small Cays in the vicinity. First those hulls, we stopped in Alligator Bay near the settlement of Bains on the way down island. If the water had cleared at Hog Cay it certainly hadn't in Alligator Bay but 'Skip' duly suited up and slipped into water with barely a foot of visibility. In fact never mind one foot he couldn't see either of his feet in the milky murk and could only rub a cloth along the hull by feel, being careful to not rip his gloves from the impressive barnacle growth now hitching a free ride.
Before entering the water and with a shocking sense of timing the 'Admiral' had wondered (aloud!) why it was called Alligator Bay and not perhaps Dolphin or Porpoise Bay or something, especially as we were enthusiastically greeted by a mummy dolphin and babies on arrival. It was nonsense to think there were any alligators this far into the Bahamas. When you can't see your hand in front of your face the imagination delves into the Hollywood horror film archive to unsettle the mind. With an hours rubbing completed it was time to call it a day and delay the cleaning process for another time when visibility was more acceptable and the word 'alligator, crocodile or shark' didn't feature anywhere in the name of the location.
After a quiet night we moved on to Thompson Bay ready to deal with the next front and catch up with friends already there.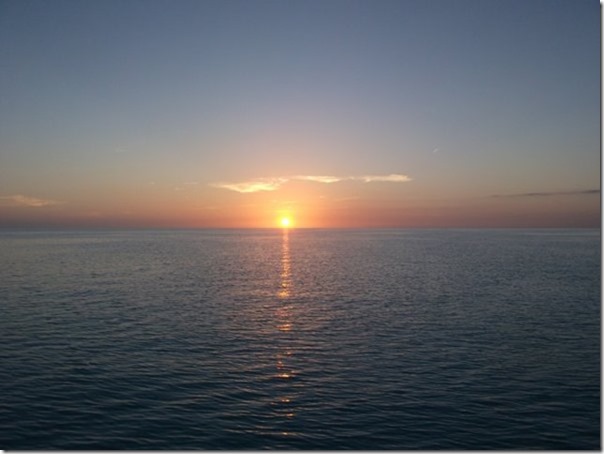 Sunset at Hog Cay produced a green flash moments after we took this.
End
---