Holiday fun time

AJAYA'S CRUISE
Phil & Nikki Hoskins
Tue 2 Mar 2010 00:53
We sat in Harbour View Marina for 4 nights waiting for the winds to abate to a respectable level before heading off to show Ray & Chris the delights of Abacos cruising. Apart from the pleasure of having much loved family with us, their visit meant that we could have a 'holiday' as well, meaning that we would enjoy lots of meals ashore instead of the odd one or two a month and generally engage in plenty of extra curricular activities.
The car hire was a great start but now it was time to move out of Marsh Harbour and first stop was Hope Town on Elbow Cay, where we picked up a buoy in the harbour for a three nights. Memorable events on Elbow Cay apart from two very nice meals ashore, were a visit to the top of the lighthouse to enjoy the spectacular views then realising that Ray & Chris hadn't taken their video camera to record the spectacular scene over the southern Abacos. This meant a quick decent for Ray and Phil then back to the boat, leaving the ladies waving from the outside balcony at the top like the Repunzle sisters.
It's a long way up to the top of Hopetown Lighthouse with great views over the entrance ........ ........and anchorage
Another 'never to be forgotten' event was the golf cart trip down to Tahiti Beach. With chilly northerly winds blowing we really ought to have suggested to Ray that he take a warm top to put over his t-shirt. We were actually close to baking hot on the leeward side of the Abaco Beach Resort when we stopped for coffees and beers but on the way back, when the sun had decided to go in for the remainder of the day Ray was close to hypothermia driving the cart back to Hopetown so opted to ride in the back, with Phil & Nikki providing a wind break in the front seats. He certainly needed his tot of rum on returning to the boat!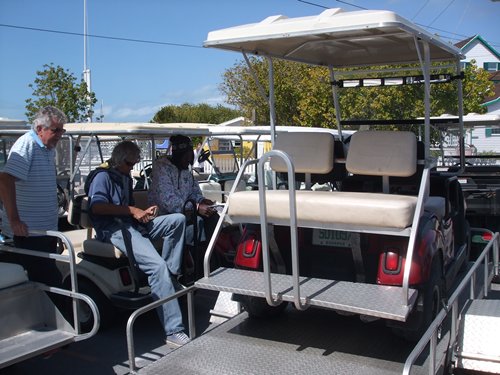 The golf cart arrives on the back of a low loader A hint of the Flintstones perhaps ??? Ray closely inspects a large lump of brain coral at Tahiti Beach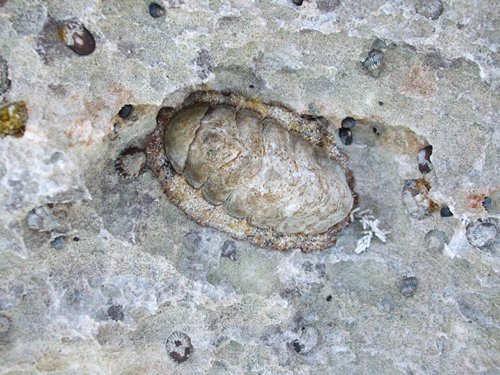 A perfect starfish lying in the sand Skeleton of a Chiton. There were plenty of live examples to see You are never far from a seagull in this world!
Next stop was Little Harbour, and Pete's Pub, one of our favourite spots. A chilly but uneventful trip there, although we actually caught a small snapper a mile or so before arriving AND actually saw a dolphin shortly after mentioning to Ray & Chris that we'd never seen one in the Sea of Abaco. Pete's Pub didn't disappoint - our third visit there, and we love walking the jetsam and flotsam strewn Atlantic facing beach just a half mile walk away from the boat. We collected some beautiful seashells and took a crazy photo of Chris posed behind a plastic statue that had been washed up and Phil found some new headgear.
Fun with flotsam and jetsam Words can't explain how stupid I look !!!
Guzzling down the 'Blasters' at Pete's Pub Life on the outside - a very calm Atlantic day
We were graced with such a benign weather day on leaving Little Harbour that we ventured out through Little Harbour cut into the deep blue Atlantic to go the outside route up to Great Guana Cay, a distance of 20 miles. Trailing no fewer than 3 fishing lures (we were desperate to catch a fish) we were quickly rewarded with the line streaming out on the electric reel and a tuna big enough for 4 on the end of it. It was great to be pulling in bigger fish again, although it was hardly the stuff of Hemingway. Whilst the fish were reluctant to take the lures we did see some tuna jumping clear of the water a short distance away, a large turtle, flying fish, dolphins and the coup de grace - a whale, species unknown, which lazily surfaced 100 yards away before disappearing never to be seen again just as Ray had reached for the video camera. It was a great day out, the Atlantic waters were flat calm and the re-entry back into the sea of Abaco proved to be smooth. We finished off a perfect day by anchoring in Fishers Bay off Great Guana Cay where we attempted to barbecue our catch.This proved a challenge as the evening turned very cold, necessitating the use of warm clothing on the rear deck. Unfortunately, in an attempt not to overcook the catch and with the gas barbecue having been accidentally turned off halfway through cooking by the 'head chef, the fish came close to being served sushi style.
This smallish Tuna with a liking for pink plastic squids......... took two grown men with head torches to cook it on a chilly night.
Nipper's is one of the most famous Abaco bar/restaurants with great views over the offshore reefs, a deep blue Atlantic sea, two swimming pools, beautiful bright coloured facades and on a Sunday 'all u can eat' pig roast which brings customers in from all over the Abacos. Their house cocktail is called a "Frozen Nipper" and tastes great. The second one tastes even better though!
Like the sign says - NIPPERS this way !! More Nippers marketing en-route Nippers on the outside
Nippers on the inside Two happy Nippers customers ..............and another two more together with their frozen Nippers
We loved Nipperrrrrrs!
With tummies heaving and heads swimming (well mine was) we walked the fabulous beach before returning to the boat for a game of 'Pass the Pigs' - which we played most nights with a glass or three of rum. For anybody reading this not 'au fait' with the game, you have two small plastic pigs and the idea is to throw them like dice, where points are scored depending on the various positions they land in. The game seems to gain in excitement in direct ratio to the amount of rum consumed - so we enjoyed some very good games over the two weeks.
Ray in action tossing the pigs - Chris examines her drink for stray piggies If they land touching you loose all your score!
With stomachs back to normal size and the pigs back in their sty we struck out for Treasure Cay with its famous Crossing Bay, a 3 mile long crescent shaped beach. The weather co-operated by being warm and sunny for the first full day we were there, then lapsed back into cold front-itis again which found us exiting the restaurant in pouring rain and strong winds back to the boat 100 yards away. Whilst in Treasure Cay we had a boules tournament which was aggressively contested as all games between the Hoskins clan are. The 'youngsters' prevailed winning the 3 day event 2-1.
Adjudication - this was serious stuff and dirty play not uncommon. Whilst just a few yards away this was the tranquil scene on the beach.
One final stop after the cold front had passed - Man of War Cay provided an opportunity to see some of the famous workshops that built the boats that ply the Sea of Abaco as well as take in a hearty lunch at the 'Dock 'n Dine' before one last boat ride back to Marsh Harbour ready for Ray & Chris flight back to Nassau the following day. Where did the time go! Despite the generally poor weather from a temperature point of view and the lack of swimming from a pure survival point of view we had a great time, ate some wonderful food, walked beautiful beaches and drank far too much fall-down juice. The boat once again seems somewhat empty, although it was definitely quicker cooking just 4 pieces of toast for the two of us than the 8-10 pieces that seemed to take an eternity each morning for breakfast over the last few weeks.
Just a few more of the stunning Abaco views taken during Ray & Chris' visit to end this blog - no captions required.................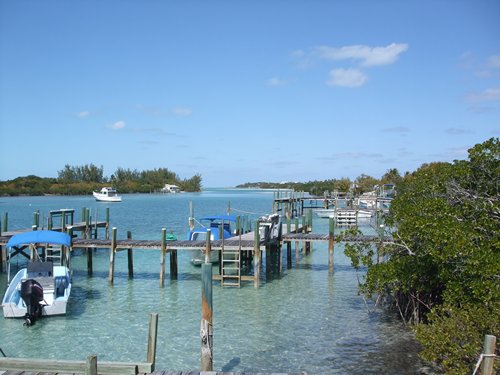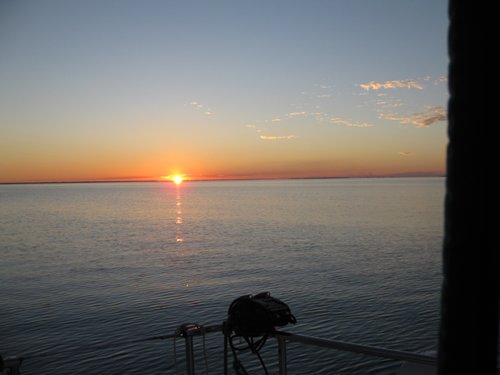 ---