Isla Linton

AJAYA'S CRUISE
Phil & Nikki Hoskins
Wed 22 Feb 2012 17:46
In position 09:33.50N, 079:39.86W
Having re-stocked we cleared Portobello for the San Blas Islands some fifty miles to the east with the intention of motoring eleven miles to Isla Linton as early as possible before the day breeze kicked in and made the going difficult. From there we could wait for another weather window to claw a few more miles to windward or, if very lucky, the whole way to Porvenir the check-in port for the islands.
Approaching Isla Linton area from seaward The small beach with deserted house on the island
Getting east along this stretch of the Panama coast is seldom easy at this time of the year (unless in a battleship). The winter trades combined with high two/three metre swells rolling in from Colombia mean that cruisers often take a beating somewhere along this coast.
Linton Island, like the mainland backdrop, is dense jungle and uninhabited. Well almost, there are some hideous looking monkeys which come down to the dock each day to welcome visitors or rather see what the visitors have brought them to eat. Our guide book suggests that they are initially friendly but can turn nasty when you try and leave, possibly biting you. We decided not to afford them that opportunity and stayed in the dinghy but those that landed didn't seem to suffer that fate, so maybe the monkeys have learnt not to bite the hand that feeds them!
Now, where did I leave that coconut...... ah, here it is, just where I left it............... Now what - I'm trying to eat here!
Look Gertrude, look at what's on the tourist boat just arriving !! There's a sight for a poor monkey's eyes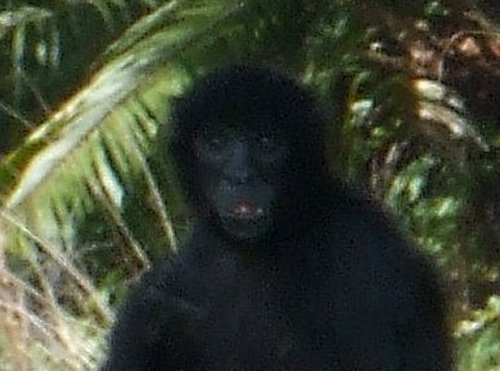 ....and it doesn't do much for the face either !
Late afternoon scene along the mainland shore Looking towards Porto Lindo village..... ....... local rubbish tip/beach? (no the dog isn't dead)
As it has been Carnival weekend along the coast most of the locals, which are of Caribbean decent in this part of Panama have been enjoying the public holidays, getting wasted and playing gangster rap music at a hideous volume. Fortunately we are anchored just round from the village so the noise doesn't quite make it to the boat. Sentimental Thought ........ Whatever happened to the gentle laid-back strains of Bob Marley and his Wailers and the Reggae scene that epitomises the Caribbean culture to faraway folk. It certainly doesn't seem to exist anywhere we've been in our travels. As for steel pans? you can forget those unless arriving by cruise ship.
---