Heading southwards - at last

AJAYA'S CRUISE
Phil & Nikki Hoskins
Mon 18 Oct 2010 21:28
In position 38:19.87N, 76:27.53W
After two weeks of solid graft on the boat both ashore and a week afloat we left Herrington Harbour North and headed to Solomon's Island, 30 miles to the south. The lift-in went perfectly and we were thankful for the free days provided by the marina both before and after launch, i.e if you lift in on a Monday then you have until the following Sunday without charge to sort any post-launch bugs - but more about bugs later.
The repaired keel area newly coppercoated and off she goes back to the water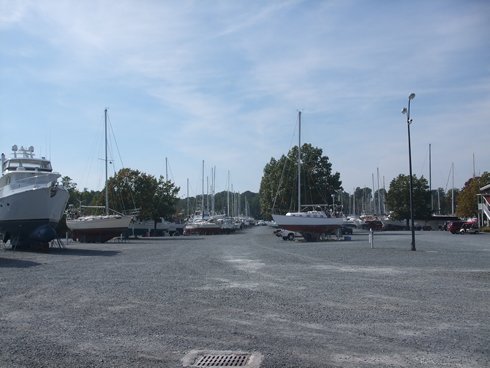 Just one of the two similar sized boat parks at HHN Ajaya about to splash once more
Being back on the boat after three weeks of visiting family and friends in the UK we found in our absence that we had been invaded by swarms of stink bugs. These critters about the size of a 5p piece apparently came over to the USA, as do most things these days, from China and have been reproducing at an alarming rate causing mayhem with vegetable crops in the central east States. As winter approaches they feel the need to hibernate which is where we come in as they find boats quite easy to gain access to. We had some last year as we found out when hauling up the mainsail. Loads flew out which seemed quite funny at the time. This year we are not laughing as we fight an all-out war to eradicate them from our lockers, from clothes, shoes, book spines, under beds and even one from the furry posterior of one of the bears in the starboard aft cabin! Today we unzipped the mainsail cover and were confronted by 100s lying peacefully sleeping within the folds of the sail - they were in for a rude awakening and a chilly dip in the Chesapeake Bay waters as they are not great flyers. Phil battled for 90 minutes with a broom thwacking away at the sailcover and playing deck hockey with the bugs to shift them overboard. We suspended operations with a battle won but an ongoing war still to be fought. The air around the boat was foul from the smell emanating from the bugs which can be compared with strong almonds which is a shame because we used to like the smell of almond. We estimate that we have a kill count approaching 400 now but God knows how many we are harbouring under headlinings and difficult to get-to places of which boats have many. At least we seem to have cleared most of them from our general cabin area although the habit of sleeping with our mouths open - it's an age thing, does carry certain risks for the time being.
The long jobs list became quite a bit shorter over the two weeks - new accumulators for the fresh water system, new inverter, two replacement propellers slightly smaller than the previous ones, curing of some diesel leaks, new coppercoat to the keel area damaged in Maine and so much cleaning as well as the 'de-bugging'. One problem that has come back to haunt us again is the malfunction of the day fridge which was working perfectly when we left for the UK but has now become like a spoilt child, working for a day then de-frosting meaning we are constantly switching perishables between the two fridges onboard. It's a problem we need to resolve before we hit warmer weather further south. So, it's typical boating - you fix one thing and another problem arises. But it's autumn in the Chesapeake, the mornings are chilly and the migrating Canadians are arriving in numbers and we don't just mean geese!
Stink Bug pic found on the internet and just a few of the hundreds found on our bimini top having been ejected from the sail cover
---