Treasure Cay to Elbow Cay then on to Little Harbour

AJAYA'S CRUISE
Phil & Nikki Hoskins
Wed 27 Jan 2010 17:39
26:19.59N, 076:57.71 (Hope Town)
Having spent a couple of idyllic days at Treasure Cay whilst another (weak) cold front passed by, we set off for Hope Town on Elbow Cay, making the passage with a combination of sails and engines arriving early afternoon in the crowded harbour. Hope Town is easily identified from a distance by the red and white painted lighthouse that sits near the entrance. This is still a manned operating beacon and open to the public. It's Kerosene lamp is hand wound and is the only manned lighthouse operating in the Bahamas. Hope Town itself was first colonised in 1785 by Loyalists escaping from the American Revolution.
Hope Town was busier than Treasure Cay as it seems to have a resident population of cruisers that pay for a mooring buoy for the season, due no doubt to its perfect all-round protection. Walks ashore in the quaint narrow streets, an 'early bird' meal at the Harbour's Edge Restaurant and a golf cart ride all the way down to a windy Tahiti Beach provided plenty of amusement. A tasty seafood platter on the way back topped off a great day. Well, actually ice creams came later on before retiring back onboard to one of the skippers lethal curry concoctions!
Leaving Hope Town yesterday (after yet another front had passed by) we motor sailed southwards down to Little Harbour, getting slopped about by the incoming seas through the ocean cuts on the way down due to the windy conditions from the previous day. As before, Little Harbour proved to be a haven of tranquillity and we went ashore for a quick explore and sundowners at Pete's Pub.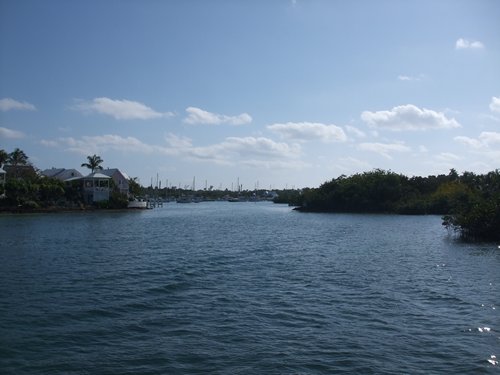 Entering Hope Town Safely in ! That lighthouse
Anything goes at 'On Da Beach' - we presume Not a great snorkelling day The hair gets longer by the month
The cart - fully air conditioned, seats four, 0 - 15 in 3 seconds Coffee stop overlooking White Harbour 'Skipper' avoiding flying coconuts on Tahiti Beach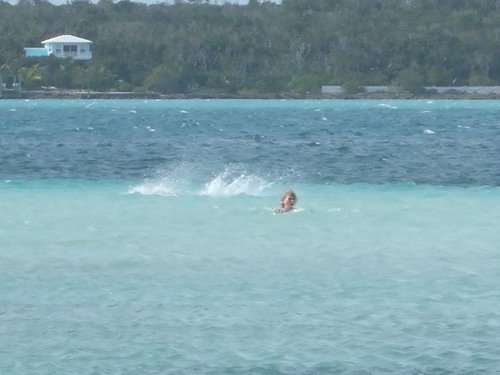 Sheila hotly pursued by 'Great White' Steve Heading to Little Harbour 'Blasters' at Pete's Pub
---