Back in the Solent.....

AJAYA'S CRUISE
Phil & Nikki Hoskins
Tue 1 Sep 2015 10:49
Well, the English summer has kicked in and we now have to wade through inches of water to access the car which is parked right next to the van. Fortunately, like most static vans, we are perched almost three feet off the ground. Even allowing for some global warming we should be OK even if we have a typical English Autumn on top of the typical summer rain we're now 'enjoying'.
Courtesy of good friends we did manage to get out into the waters of the Solent a few weeks ago as it was reported that three J Class yachts attending a regatta were going to be racing around the Isle of Wight. The three attendees were Valsheda, Ranger & Lionheart which would make a fine sight sailing in all their glory eastwards down the Solent. The only problem was that the race was starting very early meaning we'd be tumbling out of bed at an hour starting with five in order to drive to where the boat was. We made the rendezvous but unfortunately the J's didn't race as expected which was a shame. It was also bloomin' chilly out there even though it was July. But we did see some stunning classic yachts and some Maxi 72's whilst bobbing around in the early morning chop and were rewarded by a jolly nice cooked breakfast once back on a mooring in the calm waters of Portsmouth Harbour. Well worth the effort of an early pit exit.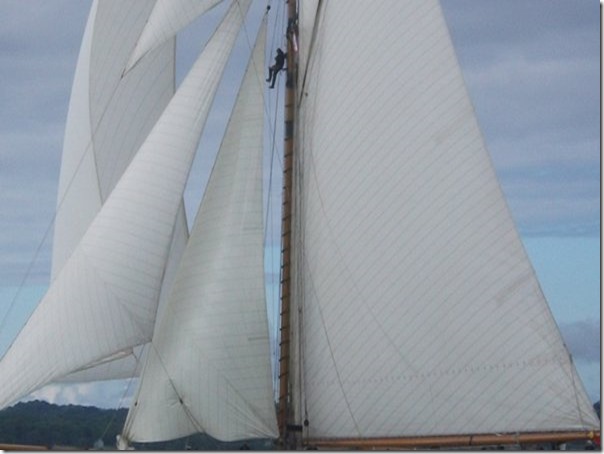 The classic 19 metre yacht Mariquita which, until a few years ago languished in a mud berth on the UK east coast until rescued by the present owner. The crewman aloft seemed to be enjoying himself
Two USA Maxi 72's battle it out gybing their way eastwards through the Solent. Maybe they'd raced across the Atlantic together?
Just a little chilly – it was July for goodness sake! Cheer up my 'Admiral' Meanwhile another classic sails by heading eastwards around the I.O.W
Thanks again to our sailing friends for providing us with the opportunity to get out and about on our local Solent waters where we both learnt to enjoy sailing.
---