Catching up - Marathon

AJAYA'S CRUISE
Phil & Nikki Hoskins
Tue 11 Jun 2013 15:14
Although we've arrived in Oriental, North Carolina, we've become lax with the blog once again. The main excuse being that we have a number of jobs on the go and with good friends around us the social calendar has become quite full. Time to address the missing details.
First, Marathon, one of the larger Florida Keys about 30 miles east of Key West and a major boating destination when the northern winter becomes too chilly to comfortably endure. Marathon is to Florida as Georgetown is to the Bahamas. A boating Mecca. Marathon's advantage over Key West is that it's land locked mooring field protects 100's of boats from the vigorous cold fronts that penetrate southwards from the winter weather systems further north. Despite most peoples concept of Florida it can still be pretty nippy in winter when these systems pass through. However, if it is cold, further north is much worse, so Marathon quickly fills up around October-November time.
Our rather out of date Florida guide indicated that we would need to time our arrival in order to coincide with the bridge opening which spans the entrance to the lagoon. Usually you would call the bridge tender on VHF to announce your imminent arrival so that they can prepare to stop traffic and activate whatever mechanism opens the bridge. Well, its as well we didn't call the bridge tender as there wasn't one anymore. The opening span had long since been removed and judging by the state of the support structures the rest of the bridge wouldn't be far behind it. Had we called on VHF we would probably have heard the guffaws of laughter from boats already in the lagoon.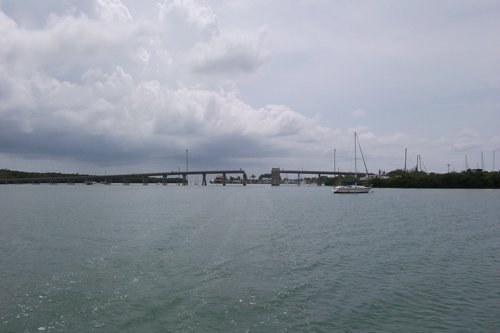 The bridge that doesn't open anymore.... ....and the extensive mooring field accommodating 100's of visiting boaters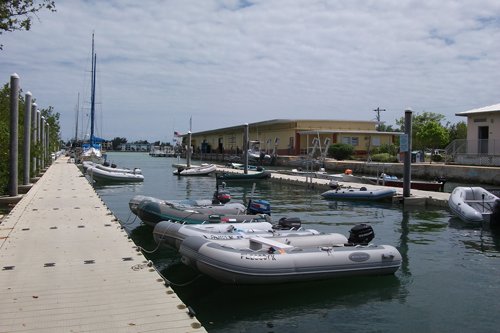 Not one, but two dinghy docks are required here.... the ex-fish warehouse - now the cruisers 'play-room'
We didn't quite 'connect' with Marathon as we did with Key West. Yes, it's a great place to stop on the way through the Keys but neither of us could imagine sitting on a mooring ball for 6 months cheek by jowl with many other boaters that make the annual pilgrimage south. It's redeeming features are very good shopping opportunities and a great social life at the City Marina, which is very welcoming to transient boaters. We suspect that if you like pot luck dinners most nights of the week then this might just be utopia. The reception area is housed in a large converted fish processing shed where tables and chairs are laid out. There is a large book swap library and at one end 3 booths with comfy chairs and flat screen televisions where cruisers can sit all day and browse through the endless choice of channels, something we came cruising to escape from to be honest. Then there are some tables and benches end on to one of the walls with electrical sockets brimming with plugs and cables supplying power for the many computers taken there by cruisers. Unfortunately the wifi doesn't carry out to the mooring field which means fighting for space if you need prolonged access to the internet. There is a 'project' area and storage lockers. Another building houses modern shower & laundry facilities - all for $22 a day or considerably cheaper the longer you stay!
Walking out of the Marina for a short distance you are on the main highway that threads its way through the Keys and over long bridges from Miami to Key West. It's busy as you would imagine as nearly all the supplies to the Keys are transported by road. It has two lanes running in each direction and was a little like strolling along the side of the M1 on a holiday weekend. There was no waterfront area where an evenings stroll took in the busy bar and restaurant activities that make Key West so much fun.
Straight as far as the eyes can see.... ...in both directions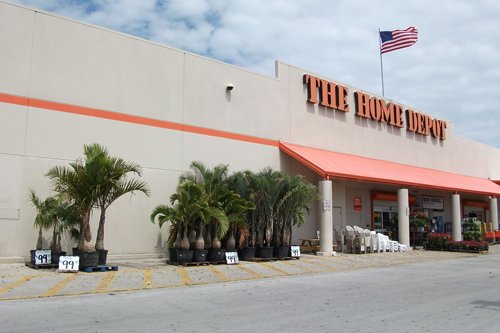 The 'power of the Home Depot'.... but we spent far more at the fuel dock!!
We paid for a mooring ball for a few nights before refuelling and spending our last night there amongst the anchored fleet of permanent residents. We should have guessed that the most suitable spot to bed the anchor in was closest to an antisocial idiot who decided that those boaters within a 200 yard radius should enjoy his music at maximum volume. We were relieved that we were off the next morning to attempt to make Beaufort some 600 miles further north in one hit. Looking at the forecast we were in with a good chance of riding the Gulf Stream all the way.
---