To Southport, North Carolina in position 33:55.03N, 78:01.67W

AJAYA'S CRUISE
Phil & Nikki Hoskins
Wed 3 Jun 2009 13:38
Our night in the Waccamaw river anchorage passed without further incident and the morning was surreal, with fascinating bird calls the only sound to be heard. The water was like a millpond with just the odd broken branch drifting past the boat. We were up and about and on our way just before 0700, but were the last of the 4 boats there to get going.
The Waccamaw river transit was over as we motored into the outskirts of Myrtle Beach. The thick wooded banks gave way to huge clapperboard properties with their own waterfront access, many with speedboats up on hydraulic racks to keep them safe from passing boat wakes. We were again passing under bridges and had a small delay with a swing bridge whilst the bridge keeper waited for some school busses to go over before opening for us.
We were closing back in on the coast again - you could smell the sea air. Traffic on the ICW became more frequent as we were rocked constantly by fast powerboats - there is no speed restriction on the waterway. Some slow down for you, others don't, but we wave at them all although many wave first.
Our nights stop was at Southport Marina just before the junction of the ICW with Cape Fear inlet. A nice marina with, just a few minutes walk down the road, a fishing community, with shrimpers docked along the waterfront. We ate at 'Fishy Fishy' a cafe which served err... Fish. Nikki had Grouper and grits. Phil had fishy cow (sirloin steaks). Great meal, we'll return in the winter when we migrate south again.
When the ICW splits your golf course in 2 this is how you get across with your clubs!
Properties fronting the ICW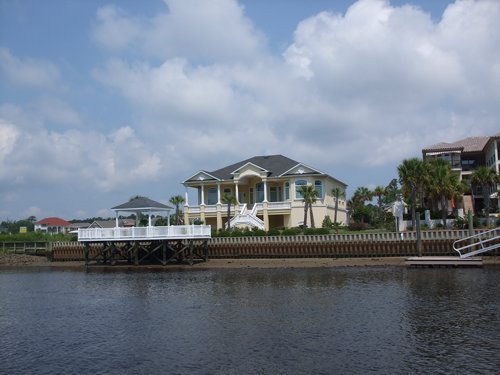 Coastal inlet into the ICW with beachside properties
At Southport Marina - our hulls near the waterline are stained from the tannin from the
Waccamaw River water. Hope it comes off!
---