Visit to the Filadelfia Coffee Resort - Antigua

AJAYA'S CRUISE
Phil & Nikki Hoskins
Mon 1 Aug 2011 17:43
Tourism is the mainstay of the economy in this area but coffee is also a major contributor with many plantations in the locality. Four of us booked a tour to a nearby plantation which provides coffee beans to Starbucks of all places as well as exporting beans as far away as Japan. We were given a free cup of coffee at the end of the tour and also purchased a coffee jam preserve which is made from the outer fruit of the coffee bean that is hand picked as a mature red berry.
First we were picked up in town by the plantation's own transport which comprises a small fleet of Mercedes (army style) trucks which seat about 15 visitors. If we'd been made to ride through town on penny farthing bicycles we couldn't have felt more conspicuous than being stuck high up in the back of one of these trucks. The suspension, working in conjunction with Antigua's cobblestone roads, ensured we would not nod off along the route as we bounced and jerked our way through town. Once out of the main cobbled area the roads became a little kinder as we passed through the village of San Felipe close to the plantation until we arrived at the front gates of the Finca Filadelfia. There is also a resort hotel on site which looked to be a great place to stay. Reading the reviews on the internet confirms that suspicion - all guests rated it highly. You'd certainly get a good cup of coffee in the morning!
View from our transporter as we arrive at the ornamental security gates to the plantation
A short ride through the grounds brought us to the reception area where we discovered that not only were there tours of the plantation available but you could go mountain biking, take a canopy tour using a zip line through the higher slopes (like a human cable car really), mule trekking and if that wasn't enough adventure there was paintballing for those with more violent afflictions. A perfectly preserved American WW2 jeep parked nearby belonged to the plantation owner and we learnt that he was a bit of a war memorabilia buff - which went some way to explaining the origins of our back jarring trip through town and we weren't finished with the truck yet! Once cleared through reception, introduced to our guide and sporting paper wrist bands we climbed into the back of the truck once more and bounced our way around the narrow roads of the estate periodically making the most absurd turning manoeuvres over undulating muddy terrain just to keep us on our toes but barely in our seats.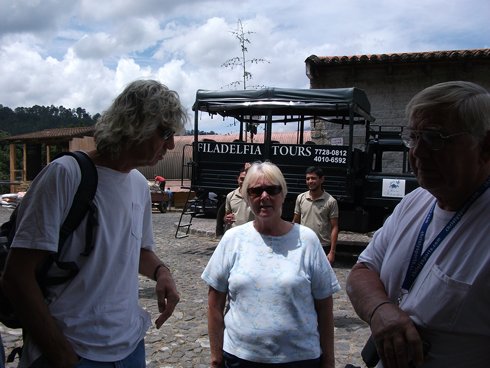 Truck in the background Owner's toy bouncing merrily through the plantation
The chorale Not sure who they were but made a nice piccy
Our guide, a local called Roberto, was a bit of a lad really but he knew his coffee facts. Just to check that we were soaking up the finer details he occasionally sprang some little tests such as identifying weak or strong young coffee plants and having to go off into the bushes to find 'the perfect red coffee berry'. Phil checked that any undergrowth he might be walking through wasn't snake infested, to which the answer from our whiz kid guide was something like - well no poisonous ones - they are mostly on the lower slopes (well we never knew that the Fer de Lance, abundant in Guatemala and one of the worst pit vipers on the planet to be treading on, didn't have a head for heights). Incredibly Phil came top in the test finding a near perfect red bean almost at the roadside (still not confident that there wasn't a hiking viper visiting from the lower slopes) whereas Nikki was accused by our guide of just picking up a bean that was already on the ground - well it was a bit ropey.
Unripe coffee 'berries' on the bush and ............. ........... showing the shade trees towering over the coffee plants, often Acacia or other suitable fast growing trees. (All the wood in the foreground is sold to locals for cooking with).
Roberto continually kept us on our toes as he bombarded us with so many facts that we couldn't retain them all. We certainly learnt something about growing coffee. A side query about 'decaffeination' brought a look from Roberto as if we'd questioned his own parentage. Obviously not a big fan which would account for his animated enthusiasm as he is allowed to drink as much coffee as he wants - on site. On this plantation they graft two types of seedling together to produce one variety of bean that has both great flavour and high strength of growth. Yet another test was set as one of our tour party was appointed to splice two microscopic young shoots together using a razor blade to form an incision along one of the stems. Despite Nikki offering to give it a go he selected a younger member of our entourage who would no doubt not end up being rushed off to hospital with a severed artery from the sharp blade - sensible really as we had trouble even seeing the stem let alone cut a slit in it!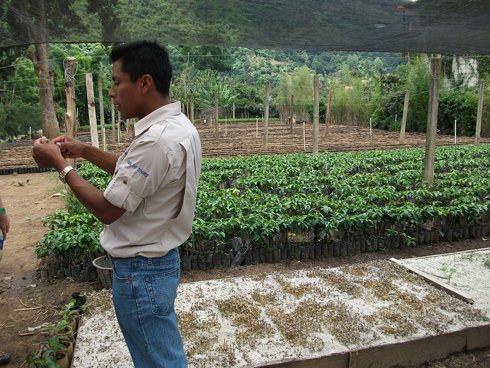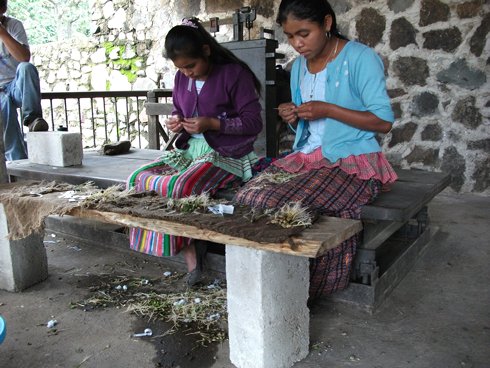 Roberto demonstrates how they select the suitable new shoots, the ladies spend all day grafting the stems to one another
Pots for next season and young coffee plants hardening off
As this was not the picking season, that's during the winter months when about a 100 people from the north arrive to harvest the beans, there was little activity amongst the bushes except for the bird life. This was also one of Roberto's interests, often suddenly stopping and pointing into the trees whilst we all struggled to make eye contact with a small bunch of feathers on a tiny branch in a distant tree. One bird fact that did sink in - Guatemala has no 'native' species as such. They are all 'passing through' or transient as the seasons change according to Roberto - even the Quetzal, Guatemala's adopted bird. When not taking coffee tours Roberto conducts 'twitching' expeditions - and maybe even does the odd bird impression you know.
Back into the 'troop carrier' and the final part of the tour - the warehouses where the coffee is washed processed and graded.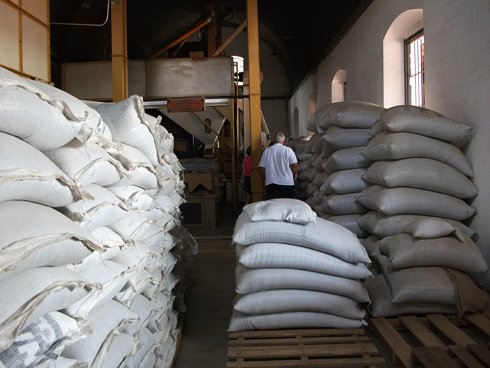 err - lots of machinery beans ready for shipping abroad
Most goes overseas as raw beans to be roasted by the end producers and suppliers. The Finca Filadelfia also produces a certain amount of it's own roasted and ground coffee for the local market. Finally after a couple of hours we got to select our preferred cup of coffee from the various grades with Roberto sitting attentively with us to ensure we had absolutely no more questions for him. Having assured him we were at an end to our curiosity he promptly produced a form for each of us to complete - no, not a final test of our knowledge but an appraisal of his time spent with us. He came out of it pretty well we think. The coffee was superb although Phil spoiled his by adding milk. The views from the terrace restaurant were simply fantastic - it was such a relaxing place to visit.
Having finished the tour, bought our jam and of course a bag of Guatemala's finest it was back to town in a last spine-jarring truck ride re-uniting with survivors of the zip-lining and paintballing activities. All in all it was a few hours very well spent. We thoroughly recommend it.
---