Summing up Cuba

AJAYA'S CRUISE
Phil & Nikki Hoskins
Sat 4 Jun 2011 16:12
Whatever anybody's opinions are on the Castro regime, these days Fidel's brother Raul Castro is running the country, the people of Cuba have endured many many years of hardships, isolation from neighbouring countries, embargoes and a lack of freedom to travel and expand their own horizons, something we in the 'free west' take so much for granted. Whilst there we, or the boat to perhaps be more precise, were closely 'watched'. In fact at Marina Darsena, Varadero, there were four shifts of five security guards working 24 hours per day to ensure that no locals gained access to any form of water craft. They were all incredibly friendly and took turns to walk the dock once an hour, but spent most time sat round a table in the entrance area chatting. Nobody left or arrived without their attention being attracted. Similarly, travelling by road in Cuba meant traversing various control points along the way manned by military personnel. They would occasionally stop and check passing vehicles although we were never waved down or prevented from moving around by road.
By sea was a different matter. The north coast stares straight across at Florida or the Bahamas and few boats traverse this stretch of coast without close scrutiny from Cuban gunboats that will arrive at great speed to check on unidentified radar targets. Nobody is allowed to leave this country except by very special arrangement or good enough reasons i.e given a sponsor in a foreign country a passport can possibly be obtained in a few years with luck. Whether you can come back to Cuba is another matter! But, we are privileged to be able to travel as tourists and with the demise of the USSR which propped up Cuba for so many years tourism has become a vital part of its income. It is cashing in on its uniqueness and the outside world's fascination with all things Cuban - and why not, otherwise the country will continue to suffer from the dire shortages. In place of the elderly smoky Russian lorries and buses that were formerly used to transport people around the country (and still do in the more rural provinces) fleets of less smoky buses procured from China now undertake that duty. It's firmly on the tourist map and by land there are few restrictions to hinder the more adventurous except perhaps the appalling state of the roads. We were so glad we were persuaded by friends to make the effort to spend some weeks here. It's not everybody's idea of holiday paradise by all means but it has all the necessary ingredients, especially if you choose to go it alone which is by far the best (and most challenging) way to see this fascinating country.
Here are some pictorial memories that will remind us of our month in the largest and surely most fascinating of the Caribbean islands.......
Typical farmhouse Typical road obstructions & pothole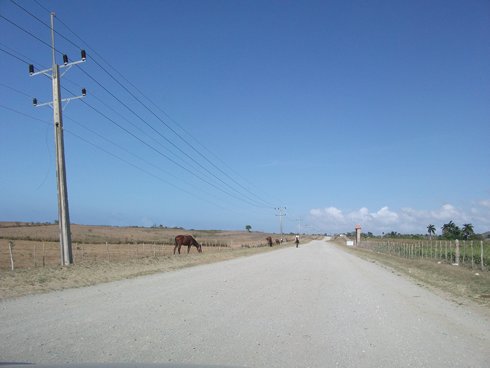 The plains & fields of sugar cane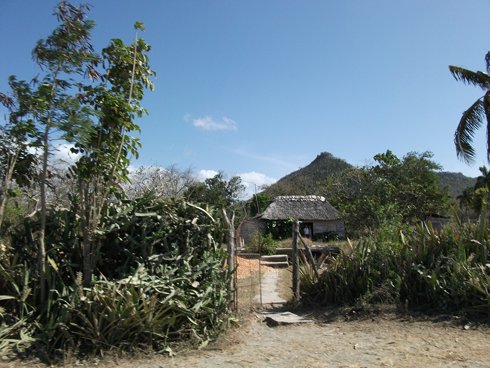 Country farmhouse Narrow gauge sugar plantation railway
Surprisingly still in use - despite the wavy rails Bananas & pineapples 'guarded' by bulls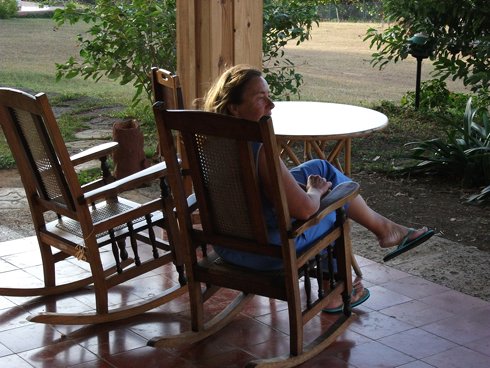 Relaxing at Cayo Saetia Gathering plantains using oxen to pull the sled
Quiet village life Always remembering the revolution
Our room in Baracoa ... ...with the Geeley parked outside
The hallway looking towards the front door The Taino Indian burial site
Views over Baracoa Hill slope village
Baracoa harbour - with wreck Mountain views..........
The Caribbean sea - southern Cuba
Our hostel accommodation in Santiago da Cuba The entrance hall with our room on the right
Collecting the thrown coins........ Bayamo chess school
(More track! - Ed) Melting ice creams
The local grocery store White sand beaches of the northern coast........................
---