George Town - anchored off Volleyball Beach

AJAYA'S CRUISE
Phil & Nikki Hoskins
Thu 15 Apr 2010 16:51
23:31.02N, 75:45.40W
We initially anchored off Kidds Cove right next to George Town and jerried about 70 galls of water from the dockside supply back to the boat and into the tanks. With our watermaker currently out of action we have been unable to offset the usage by making fresh water onboard from our desalinator. Fortunately we were later able to obtain a rebuild kit for the watermaker pump locally. After all the shopping was completed and we'd bought 10 galls of diesel we motored over to Volleyball Beach to join about 50 other boats anchored off this favourite location in George Town's Elizabeth Harbour.
Phil set about stripping the watermaker pump down. The instructions gave a time of 1 hour, with 3 hours more likely required for a first time rebuild. It finally took about 6 hours in total, although had 2 beers not been consumed around hour 3 then the overall time would have been nearer 4 hours. A more reasonable first time effort.
We are fortunate to be back in George Town with lots of new friends met at Black Point over the Easter and enjoyed a Birthday celebration on the beach for one of our Dutch friends. Afterwards we played volleyball where Phil discovered that not having played the game for about 40 years he wasn't any better than he had been before - and that was pretty awful, although it made for some good photo opportunities for the ship's photographer loitering closeby!
We will probably leave George Town at the weekend after a few days of anticipated windy weather and head towards Roderick Wells and the Exuma National Park via Black Point and Staniel Cays (again).
The Birthday 'Gal' - Isabelle, with a super homemade Strawberry cake demolished remains of the cake after 2 minutes and 15 hungry cruisers later
Volleyball action - Phil on the left in the snazzy trunks............ Spot the moving ball - Phil never seemed to !!!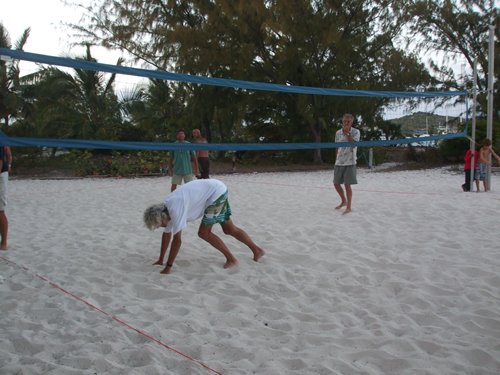 ......... this was an all too frequent position throughout the game - along with the cry - "Brit down!"
---