At Black Point - Great Guana Island for Easter

AJAYA'S CRUISE
Phil & Nikki Hoskins
Sat 3 Apr 2010 18:53
In position 24:06.05N, 76:24.07W
Black Point community is hosting it's 2nd Easter festival and over 40 yachts have descended on the anchorage to share in the celebrations. There is a full diary of events arranged from Cook-outs (not technically correct as the food is cooked indoors but served outdoors and is excellent value), volleyball and basketball competitions, a bottom fishing tournament (read into that what you will), gospel singers and a Junkanoo, similar to a carnival. So there is plenty to see and do. All the community youngsters that are educated away at Nassau during the week are home and strutting their stuff and all the young ladies are dressed up in their best outfits. What is amazing is that they open their doors to a 100 or so additional visitors walking round their village and sharing in their celebrations - this is very much a reflection of what happens everywhere in the Bahamas as the population is so friendly wherever you go.
We have been here since last Wednesday, having sailed south from Big Majors Spot near Staniel Cay where we dinghies to the local beach to meet up with the resident pigs that trot out to welcome new arrivals, with the expectation of picking up some tasty leftovers. If you arrive with nothing to offer then the 'welcome' is short-lived and they trot back from whence they came until they hear or see another dinghy approaching. They must post a look-out in the bushes. The regular tripper boats they actually swim out to meet so as to be first in line for the best morsels which makes for a comical sight as we've not seen swimming pigs before now. We felt guilty about not taking any offerings but those that did were relentlessly pursued until the food was rapidly scattered on the beach and the visitors fled back to the relative safety of their dinghies. Pigs will be pigs!
Spotty pigs at Big Majors Spot island...................
The 'harbour' at Black Point has enough space for a 100 yachts at anchor, which makes for a great sight in the beautiful turquoise water. Many of the yachts we have already met previously and we have also made some new acquaintances, usually at the dinghy dock or in the laundry room. As it was Nikki's Birthday last Thursday we had a leisurely day (well more leisurely than most days). We walked to the local beach on the Exuma Sound side of the island where we collected lots of sea glass which we've been amassing since the Abacos. It gives a purpose to the walk and is good exercise bending down picking up the tiny fragments of worn glass that have been lying in the sea for many years.
The celebratory meal was at Lorraine's Cafe, one of three local eateries, particularly recommended by cruisers for it's wholesome Bahamian food. We shared a table with two Canadians who had been waiting ages for their meal so were glad of somebody else to talk with! It seemed that most of the restaurant were also waiting as Lorraine was so busy. In fact we were invited to go behind the bar to get our own drinks, which we did! Eventually everybody's meal seem to arrive at once from the kitchen and an hour later the restaurant closed for the evening, which is typical in this part of the world. Certainly no after dinner coffee whist waiting for your bill. And difficult to pay by credit card - it's cash only. Ironically, the next day following the Birthday celebration we met up with a couple on the dinghy dock, they had been in the same restaurant celebrating a Birthday as well - another April 1st baby!
We visited the local grocery store to see what was available. A step back into the 50's with rough wooden shelves, boxes of veg on the floor and very elderly tomatoes. The proprietor was a wonderful Bahamian who had just had a new electronic till delivered from Nassau which had been despatched with no instructions and he couldn't get it to work. Alongside the counter was a notice we liked stating that "Mr Credit has died and gone to Heaven - so please don't ask for him!" A nice crossover of business and religion.
Backyard boatbuilding production line Phil tries Tom's hat on Mailboat from Nassau - this arrived with a pick-up truck on deck!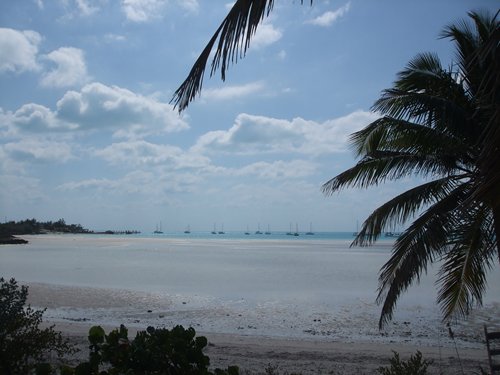 The Black Point 'Nick' Low water in the harbour and a tranquil resting place for one of the residents
We will stay in Black Point 'til early next week but not sure where our next destination will be. We have problems with the watermaker and now our 'day' fridge is playing up. We may head back to George Town to re-provision or head north to Warderick Wells to visit the Exumas National Park. But we have a day or so to make a decision.
---