North Lake Worth, Palm Beach, Florida

AJAYA'S CRUISE
Phil & Nikki Hoskins
Wed 4 Mar 2015 15:46
In position 26:50.32N, 080:23.28W at anchor
We have reached Lake Worth on our travels southwards having spent last night anchored in Manatee Pocket (five years on and still no sign of a Manatee there) after spending six nights previously in Vero Beach where we refueled, topped off the water and became significantly heavier as a consequence. As we have progressed further south the boat traffic along the ICW has increased significantly. Today, between Manatee Pocket and Lake Worth, was a trial by ordeal with so many fast pleasure craft blasting up and down the waterway not really caring too much how much wake or discomfort they caused. It's just a cross you have to bear when transiting in southern Florida this time of year and a good test to see if the newly fitted 'hard-top', of which everybody's probably sick of hearing about now, would stay in place above our heads in the significant amounts of boat wash. Had conditions been better then we would have slipped outside into the open Atlantic waters at Fort Pierce, and sailed southwards, maybe catching another Wahoo like last time (but not be stopped by the Homeland Security patrol boat like last time!). However the wind and seas today were 'on the nose' so the ICW it was and there is certainly no Wahoo to be found there.
Yes, we know it's not finished yet – but the lights work and that's all that matters for now..... it's a bun fight at the bridges.......
with 2 knots of current pushing you forward we don't like to be kept waiting too long. The 'Admiral' took a shine to this one – heaven help us - it's sporting a chimney stack!
....just stick it on the end of the dock if it doesn't fit in the canal last pic of Florida decadence – promise!
Nothing much else to report of late really except that our last night in Vero Beach contained a brief moment of excitement whilst lounging in the saloon listening to some favourite music – may have been Van Morrison, but certainly not ACDC, can't quite remember, when POP !! Woooooosh...!!!! as the noise of escaping air invaded our peaceful evening. Surely it wasn't that Good Year airship making an emergency landing nearby? 'Skip' had an idea what had happened and went forward to the starboard under-deck storage area where he found one of the lifejackets fully inflated. Not for the first time has one of the auto inflate lifejackets decided to blow itself up caused by the moisture sensitive firing pin having succumbed to the recent Florida humidity. POP off it goes leaving us another 33 gram CO2 cylinder short of a full compliment. So it was out with the camera and time for a few silly pics to amuse us and remind us of the event in the future. Just hope the life raft behaves itself in the cockpit locker! There would be no fun to be had from that.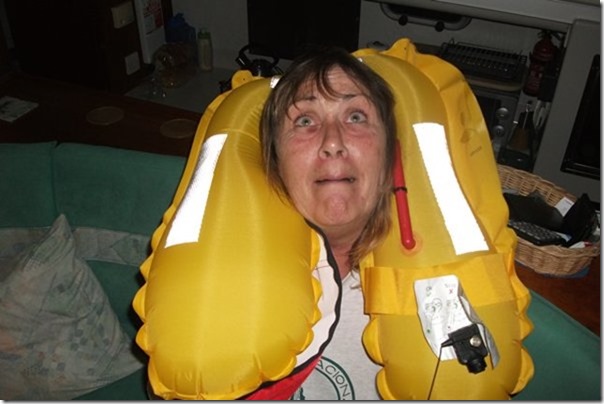 The very latest fashion accessory for the cruising 'Admiral' – the pre-inflated glow in the dark 'Mae West Marine' life jacket..... oh! sir we think the XXL would be much more comfortable don't you think??
So from here we wait for either a weather window to cross to the Abaco (precious few of those in recent months) or a spell of mild north wind to get us further south to Fort Lauderdale or Miami where we would have more options for reaching the Bahamas. What we aren't going to do is continue further down the ICW because if today was unpleasant then further progress will make it seem like a stroll in the park compared with the inside passage southwards. First there's a stretch of water about five miles long called 'The Canyon' although 'Hell's Canyon' would seem a more appropriate name. This is where some comedian decided to stick concrete walls either side of the ICW and not put a speed limit in place – or if there is nobody takes any notice of it. The result is akin to being in a top loading washing machine. Besides we would hit a bridge at some point now that 'Skip's' measured our actual air draft when recently paying a visit to the very top of the 'air draft' in Titusville. Lauderdale would make a change if we don't get a window to move eastwards but the Aussies on 'Jabiru' are residing there at the moment and they probably don't need us messing up their musical social life. Actually we should really pay them a visit as they were kind enough to pop into Titusville when transiting southwards and were rewarded with colossal amounts of Sea Crow guano on their boat as a reward. Anyway – we'll see what the weather Gods bring in the next few days.
---