Cuba & Grand Cayman Memories

AJAYA'S CRUISE
Phil & Nikki Hoskins
Wed 20 Mar 2013 03:24
It's been a while since we posted some pics so not too much waffle on this blog. What is amazing to us is that, divided by just a few hundred miles the wealth and cultural diversity between these two countries is almost beyond belief. Anyway - here they are.
Cuba - Gulf of Batabano.......
The harbour at La Coloma - Cuba and the ancient ice making factory on the quayside
People and machines caught in a time warp
We almost caught a fish! - but the hook just wasn't set properly!
Deserted southwest Isla de la Juventud where two locals spent all day fishing from inflated inner tubes- careful with those fishing knives gentlemen!
............................and where the sunsets were just spectacular
And on to Grand Cayman...............
We approached 'racing' two Carnival Line cruise ships to George Town......... we eventually arrived and cleared in
George Town has a pretty waterfront with fountains and even a good ol' UK Post Box
Grand Cayman is absolutely spotless with statues and just the odd large green Iguana loitering (live ones abound in G/Town - even in the supermarket car park!)
Looking towards 7 mile beach ..........the tourist 'chopper' and views out to the yacht moorings
The open fish market on the waterfront........all driving is on the left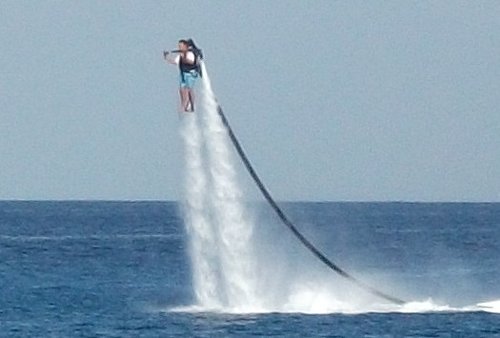 This chap drives wherever he wants ............he was buzzing round most days in/on/up in his fascinating machine........
......and then there were the amphibious buses!! - Disney ship in background (white Mickey Mouse 'ears' on funnels are the giveaway!)
We had to run to Spotts Bay on the south coast due to a cold front ....... and chased the 'Jolly Roger' back to George Town when it had passed
'Jolly Roger' finished for the day with Windship 'Club Med 2' sailing off to Jamaica.........and finally ................ we just loved this one
Time to move on again......
---