Three days in Charleston

AJAYA'S CRUISE
Phil & Nikki Hoskins
Wed 8 Dec 2010 00:00
Charleston was a weather bolt-hole and broke the passage southwards towards Florida. Having safely anchored well clear of other craft all was well until an Aussie boat then anchored approximately 100 yards abeam. This distance in any normal anchorage would have been fine but like many places Charleston is situated on a tidal river with quite a current flowing back and forth. In light winds this doesn't pose any problems as the effect of water over the keel(s) dominates the direction the boat will face. But add a strong wind and things become interesting as the anchorage becomes a mass of craft of different windage and keel configureation sailing all over the place to the limit of their anchor scope. We had the same problem in St Augustine last year and it wasn't funny looking out of the window to see ten tons of boat whizzing towards you, veering off at the last moment as the loose rode finally took up whereupon the boat would veer off in the other direction. This happened again in Charleston and the unwritten rule of 'last in first out' was kindly observed by our Antipodean neighbour who seeing that we were in danger of coming together finally up-anchored and re-positioned.
We didn't go ashore in Charleston as it was so bitterly cold and unfortunately our starboard heater developed a problem leaving just the port side of the boat with warmth (ironically the 'Admiral's side!) However we were entertained at anchor by a Christmassy event that provided plenty of laughs with a parade of boats all dressed in Christmas lights making for quite a spectacle. We had seen persons at the top of masts all day in the strong winds thinking it was strange that so many boats had masthead issues. We realised why later in the day. It was quite an acomplishment in the strong winds and hope there were plenty of people ashore that were appreciative of the efforts participants had gone to. We certainly were.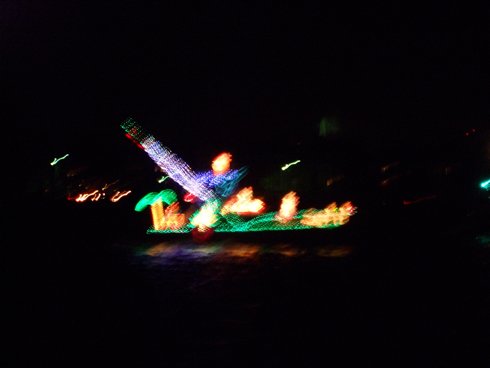 Yacht towing a life-sized 'Father Christmas' in dinghy.... ...and a sports fishing boat amongst many entrants
Whilst at anchor we also had front row seats for any unusual river traffic passing close-by.
This 'thing' spent the night at the marina! (Note the person in red seated in deckchair enjoying the ride and a tinny by the door of his trailer)
Where's the car gone! Is this the shortest 'tug' in the world
Our weather window arrived after three days and we prepared for the 350 mile voyage south to Fort Pierce in Florida. The forecast was for a mixed bag of good breezes, some calm periods and provided we cleared Cape Canaveral by Thursday we would have a nice casual run in sail to our destination with gentle northerly breezes. If we didn't then we were in for some strong wind sailing although it would come from behind. (Best possible wind direction!!) We left Charleston at 1400 Tuesday afternoon, hoping to finally escape the chilly weather that was chasing us south.
---