In Beaufort S.C

AJAYA'S CRUISE
Phil & Nikki Hoskins
Sun 24 Nov 2013 17:43
In position 32:25.20N, 080:39.44W - heading south.....
Ajaya in Oriental looking good and ready for the long trip to the Bahamas
We have arrived in Beaufort, South Carolina which is pronounced 'Bewfort' rather than 'Bowfort' it's North Carolina sister town. They can get touchy if you get the pronunciation wrong. But they are spelt the same hence the confusion for us foreigners. We have a few names like that at home but can't think of them at the moment.
We took an hour's pit stop in Charleston to take on 50 gallons of diesel. Not exactly fast by Grand Prix standards but then Lewis Hamilton doesn't have to trudge half a mile along the Megadock to the little office at the City Marina to pay for his high octane stuff. The staff all use golf carts to get around otherwise they would be exhausted by lunchtime. Parked on the quarter mile long dock, which is the transitory lair of the superyachts, Ajaya looks stupidly out of place and certainly lowers the tone a little. It's also fair to say that the value of our home is probably eclipsed by any of the 'deck toys' adorning these luxurious floating palaces and certainly by the cost of the deck crane used to lower them into the water!
It's been pretty chilly so far and we have travelled most of the way along the ICW totally encased in our cockpit enclosure with the central heating at full blast down below which has made the whole trip a little more civilised. "It's cruising Jim, but not as we know it".
Breakfast on the hoof .... finger licking good .....and dealing with a muddy anchor
The Wappoo Creek Bridge opens it's spans for us just south of Charleston 'Stack & store' is big in the States. Hope boats don't suffer from acrophobia
Moving southwards through North Carolina it was noticeable that a new season was underway. This involves men (generally) dressing up in
camouflage suits and roaring around in camouflaged dinghies to remote locations on the rivers for the sole purpose of.....hunting wildfowl! Ducks to you and I. Yes, it's that time again and it's amazing to witness the lengths to which the hunter will attempt to lure his (or her) unfortunate prey into the area to be pumped full of lead shot. Generally this involves arriving at the hunting site, a duck 'hide' or remote location on a river bank with a dinghy full of wooden duck-alikes. We have to admit they are very impressive looking specimens. Donning their (camouflaged) waders the hunters wade out to a suitable location off the shore to accurately place their decoys, not too deep of course otherwise their waders will fill up with water. They would then be stuck surrounded by all their bobbing decoys and not a single real duck would come anywhere near. Not all the decoys are floating. Some are on sticks 'flying' to give the impression that some 'real' ducks are already arriving at this attractive location where there are potential friends they have yet to quack to. But these are not friends. Nor do they quack. So, having set the trap the hunters sit quietly on their camouflaged chairs or in the duck blind and wait for the real ducks to arrive. They don't seem to use retriever dogs for some reason, thus the waders. Hopefully the real ducks don't show up as we like ducks, cormorants, pelicans etc (except when they poop on our decks) and we shout "don't go there!" if we see any in the vicinity. However, occasionally after we have motored by such a scene we hear "Boom Boom Boom" and realize for certain that ducks are not that high on the intellect scale and are sometimes merely 'oven bound'.
The hunters !!
The hunted..................... ??????????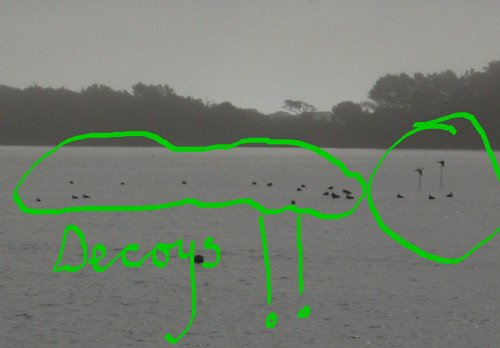 and the pretenders !!!!
Heading southwards another fact of nature becomes apparent. The tidal height and the tidal current has increased. Beaufort, for instance has an 8 foot tidal range which means that when we anchor we need to take account of such a statistic to avoid any embarrassing incidents such as drying out at a ridiculous angle in the middle of the night after the water has drained away. Much the same as at home really except in this life we are rarely in the same place two nights running so we have to read the underwater topography carefully. Now factor a considerable blast of wind into the equation and things become troublesome as we found out a few nights ago in Minim Creek near Charleston. And we really should have known better but memories fade and we've not had to deal with such events for some time now. So, at midnight we became the 'ball' in a bat and ball game between the tide and the wind. The tide was flowing at full tilt out of the creek and the wind was trying to blow it all straight back in. We were in the middle. When the wind, which is never constant, took control we were pushed back up creek to the limit of our anchor and against the tidal flow. When the wind then took a breather the tide took over with a vengeance and hurtled us back at 2 knots down the creek to the limit of our anchor signalled by a terrifying graunching sound as our bridle cleats attempted to restrain 11 tons of boat trying to pull all our ground tackle out of the mud. Then the wind gathered strength again and blew us back against the tide and the whole sorry saga started over again. From above we would have looked like a supermarket trolley flying around a car park in high winds. This tiresome event continued for three hours until the tide had done its worst and the wind assumed overall command and things settled down and we could go to sleep for a few hours. Next time we'll use 2 anchors of course!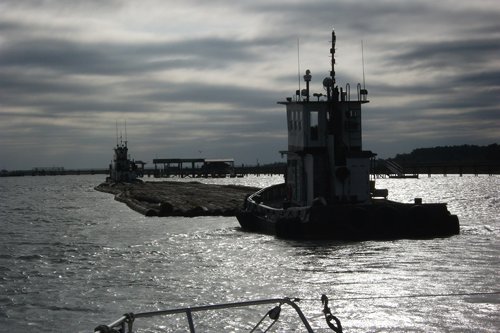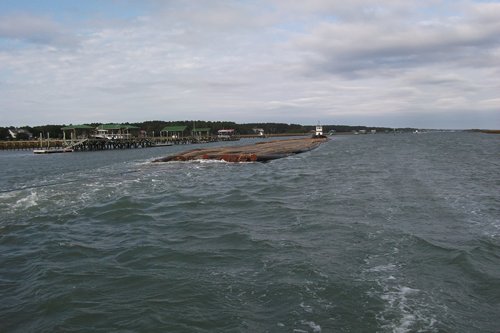 These two tugs were shepherding long dredging pipes day and night through the ICW - we overtook them on a Tuesday and passed them returning home on Friday (without their pipes) one pushing the other - saves fuel you see.
The next evening couldn't have been more of a contrast as we anchored in Tom Point Creek, a location we had previously been in on Thanksgiving Night in 2009. With the wind having subsided we enjoyed a peaceful night miles from anywhere in utter tranquillity. What a difference. And so to Beaufort which sits close to the border between South Carolina and Georgia.
The weather is not cooperating in the slightest for jumping outside for the run down to Florida. We are expecting an Artic Cold Front to arrive shortly from the north with brass monkey attributes. Once this weather event has cleared the east coast we have to turn round and face southwards as a nasty low barrels northwards from the Gulf of Mexico with up to 70 knot winds at it's centre. What on earth is going on here! So it looks as though we may be transiting the creeks and rivers of Georgia in the coming days. But weather being weather we'll just have to wait and see. In the meantime we are now staying in Ladys Island Marina just off the main ICW channel at Beaufort where such aberrations like this exist close-by.....
The sign reads "For nothing is impossible with God" (Including the ruination of a half-decent yacht hull !)
Happy and peaceful Thanksgiving to all of our American friends wherever you are ...
---