An evening at the baseball...

AJAYA'S CRUISE
Phil & Nikki Hoskins
Fri 26 Jun 2015 14:17
The old girl is out of the water again and we are writing this missive sitting in Orlando International Airport waiting for the Norwegian.com flight to the UK. A newly introduced service flying direct to Gatwick, missing out the exhausting extra leg via Oslo from last year.
Since our arrival back from the Bahamas we've met up with our Titusville boat friends once more, tackled the de-commissioning job list and enjoyed a few evenings socialising at various local restaurants. It's not been all hard work. That said, it's been mighty hot and humid over the past few weeks with the arrival of another hurricane season. One sad departure from the boat was Art Gecko who blotted his copybook once to often by leaving little presents around the cockpit which, whilst not that unpleasant were more than we were willing to deal with each morning. He also appeared one evening in the saloon as we were watching television which was totally unacceptable. His fate? well, after being captured in a plastic box 'Skip' took him ashore and gently deposited old Art under the barbecue seating area in the Marina. Hopefully he didn't take up residence in the er...........Oh dear!
Art Gecko off to his new home 'Ajaya' tucked up for the summer months
One particularly memorable event during the pre-liftout period was a trip to a local Baseball game between Brevard Manatees and Dunedin Blue Jays played at the Space Coast Stadium, which is about half an hours drive from the marina. Darrell & Gayle kindly offered to take us to the event as they'd previously been to a Manatees game. First priority on arriving at the stadium, apart from posing for pictures next to a giant inflatable Manatee outside the ground was to buy some tasty fast food to take to our seats. There was an extensive list of available fayre. Chicken and chips (English style chips too!!) was 'Skip's' choice. The 'Admiral' was particularly curious as to what constituted a 'Helmet of fries' so went with the smaller size on offer. She saw somebody's helmet elsewhere in the crowd and wished she had ordered that instead. The choice of relishes was astonishing, a long line of plastic tubs full of ketchup, mustard, mayonnaise, etc. with a pump on top to dispense the selected sauce. Baseball fans take their eating regime seriously it seems. In fact there was barely a moment throughout the game when our nostrils weren't being infiltrated by the aroma of burgers, fried fish and butter popcorn.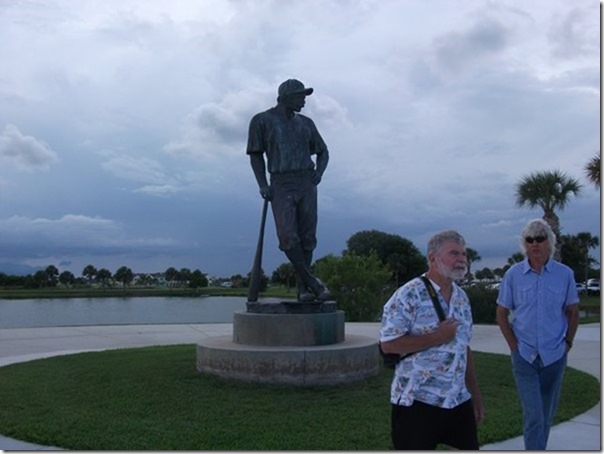 No mistaking the game represented by the statue outside the ground..... or the inflatable mascot at the entrance – no it's not a sea lion!
In we go....... ...now, which tub has the curried honey chili mayo with sour cream ? All too much choice for 'Skip'– just the mayo then
Anyway It was time to take our seats and soak up the pre-match atmosphere, only to discover that there was already a game in progress. This was confusing but Darrell informed us that this was the end of a previous game between the two teams that had been stopped by rain – not unusual in Florida this time of year. The end of this game lasted one and a half hours after which both teams ran off the pitch to change their gear.
He bowls – sorry pitches.... ... the receiver wacks the ball...the crowd roars...and the two fellows behind him seem to get awfully close to each other!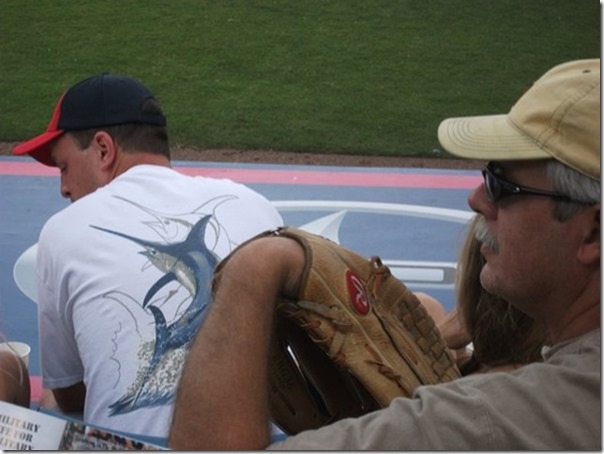 Damn hard to eat popcorn wearing those gloves Our friends both had one. We think they're worn on the left hand to keep the right free for the 'Bud'
We were then entertained by a couple of stick waving Kendo fighters and a race between two people in huge costumes, one a doughnut, the other dressed as a cup of coffee. This was sponsored by Dunkin' Doughnuts naturally. On the pitch a whole contingent of grounds persons (we're sure there was a lady groundsman in attendance) consisting of gravel rakers, line painters and grass waterers leapt into action at break-neck speed to primp (our latest American word) up the playing area. Whilst on one particular floodlight gantry sat a couple of Ospreys in a nest eyeing the proceedings below. They would be enjoying a birds eye view – yes?
They take their work very seriously! whilst two chaps in white pajamas battered each other with long sticks – it was brutal to watch.
It was kind of Gayle & Darrell to take two friends to a game that neither of us knew that much about. OK, 'Rounders for grown men' unfairly comes to mind as there are certainly some similarities in the general aim of the game although when we played rounders in our youth there certainly wasn't a gum-chewing guy in tight trousers winding himself up to hurl a hard ball at you at over 90 miles an hour. Hit the ball? We could barely see the thing from the moment it left the bowlers - sorry, dispatcher's hand. But the man in the mask wearing the huge leather glove always seemed to catch the thing if the hitter missed. Which they often did. And if he failed to stop the thing then the umpire was next in the firing line standing behind the baseball equivalent of a wicket keeper in cricket. He also needs protective clothing, especially if he wishes to sire more children. And talking of children there were a number of quick games held on the pitch during intermissions and one little girl who'd been having cancer treatment met her Manatee heroes as did a few others who had earned the privilege.
It's a big puzzle for these two youngsters whilst a plucky young lady meets her Manatee heroes and runs round the hallowed pitch for a home run
We proudly took our baseball hats with us to wear but our pals trumped us once we were seated, producing real leather baseball gloves of their own. Massive things producing a rich aroma of petrified dry leather. Looking around the stadium we realised that everyone seemed to be wearing a similar glove on their left hand! Was this some sort of baseball ritual? But no, judging by the sliced shots that flew all over the seated crowd and onto the stadium roof these gloves could come in very useful. Our friends didn't need their gloves on to field our numerous questions and were often confronted by confused looking faces in return. During quiet periods of the game a Wurlitzer organ recording could be heard dancing up and down the musical scales to get the crowd cheering again. We just assumed it went quiet occasionally because everyone was troughing at the same time. Further popular entertainment at the interval was provided by the Manatee's mascot who walked the ground waving at the crowd, skylarking with the kids and adults in equal measure. What fun the man in the costume must have on these match days.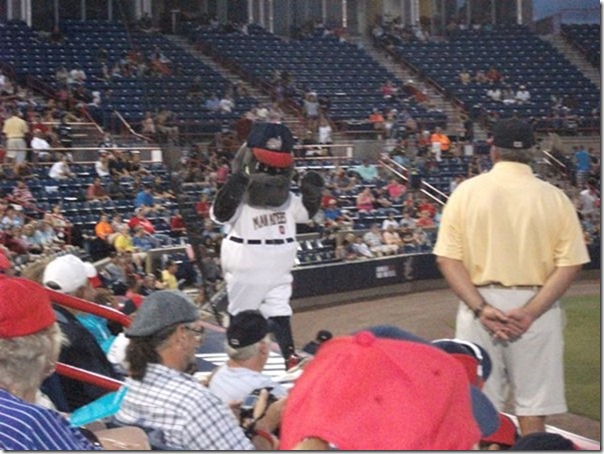 In the 80 degree heat how can anyone wear that suit and keep a sense of humour?
We gradually became more understanding of the rules as the evening progressed but were probably the only members of the crowd that looked surprised when a roar went up, the players embraced and ran off the pitch for the last time. The game was over and it was almost 10pm. That's great value entertainment for $8 each. Looking forward to the next game and sharing a helmet of fries. Thanks for taking us Guys.
P.S As Norwegian.com pride themselves on prompt departures we are no longer at Orlando airport which means we are safely back and finishing this blog in the UK. More to follow as we look for our new UK summer holiday home.
---