Weather window at last!

AJAYA'S CRUISE
Phil & Nikki Hoskins
Wed 23 Dec 2015 17:10
In position 26:32.31N, 076:57.58W Hope Town, Elbow Cay, Abaco
We've been shockingly lax with our blogs since returning to the boat on the 1st November but nothing too dramatic has occurred since the last one. However we've not been without the usual frustrations in getting away from Florida. Of course the boat itself has thrown up the odd wobbly although some close friends engaged in the same activities have faired a lot worse at the start of their own winter cruises.
Now this is going to sound petty but since returning onboard we have been plagued with ants. Yes, ants. Why would ants want to be on a boat for goodness sake? They are probably asking exactly the same question – those we haven't so far squashed to death. They seem never ending. We assume they arrived via the bird droppings that littered the deck before we cleaned it all away. By then the ants had set up a commune in a place we have yet to discover. Possibly in the mast which is inaccessible for us. For the first few weeks they remained outside journeying around the cockpit area being picked off one by one. We bought 'ant traps' for them to go into and feast on some obnoxious compound but even placing these plastic things in their direct path proved fruitless. These are quite feisty ants and can sense danger coming. Upon which they find an extra gear in their legs to escape into drainage wells or lockers should our fingers fail in our first attempt at dispatching them. However this morning they overstepped their territorial boundaries. As we were relaxing in bed having a good read one casually strolled over the 'Admiral's' pillow, bold as you like. Needless to say it's scouting mission came to a grizzly end.
Back to more normal cruising affairs, we finally cast off from Titusville on December 1st with the boat groaning under the weight of one hundred gallons of water, ninety five gallons of diesel and petrol and enough tins of food and drink to set up an impressive promotional display in our local Sainsburys back home. Ajaya felt more like a Thames barge than a cruising catamaran especially having been alongside for a few weeks in Titusville gaining unwanted growth beneath the waterline from the brown soup that is the Intra Coastal Waterway. It took longer than usual to get the poor old girl up to cruising speed and an emergency stop could have been a real challenge. If there was a society for the prevention of cruelty to catamarans then they would be on our case. But we were off and running, a full two and a half months earlier than last season.
First gremlin to surface on our cruise was our back-up navigation laptop which ceased to run shutting down shortly after boot up. 'Skip' bravely opened up the case to find enough fluff in the fan and cooling matrix to grow potatoes in, however the fan had decided to give up it's cooling lifestyle through over exertion and a new fan will need to be procured. We have since pressed our Toshiba Notebook into navigation service with success albeit on a screen half the size of it's predecessor.
Due to weather issues we spent a whole week in Vero Beach, Florida and had fun meeting up with old friends and making some new ones. We will always remember the plastic cockroach inserted into 'Skip's Chicken Gumbo by our fun-loving Texan rascals. We did find some (rarely available in the USA) Cumin seeds for 'skips' curries at the Fresh Market Store along with some other interesting snacks to help soak up the first daily cocktail. Vero was so busy at this time we had to raft alongside another much larger catamaran which made us look small and old fashioned. With a weather window looming in the coming days we moved southwards through Fort Pierce and on to Lake Worth at Palm Beach, a place we always fear being stuck for too long in.
Very early morning on the ICW ..... Pretty convincing plastic critter!
By this time our log (speed transducer) had ceased to work despite having withdrawn the unit through the hull opening it sits in. This is one of the few times on a boat you do not want to be suddenly taken ill by a seizure or something worse with water pouring into your bilge as you try and stuff the blanking piece in while you attend to the little paddlewheel. It's a sobering experience as even a good sneezing fit will admit a few more gallons of seawater to mop out! Anyway, despite the cleaning operation it was still not functioning and didn't for the entire crossing to the Bahamas. Frustratingly, the thing started working the day after we arrived in Green Turtle Cay so we are suspecting a shrimp hitched a ride inside the housing having nipped out when the log was withdrawn for cleaning and nipped back in when the transducer was re-inserted. Yes we live in a pure fantasy world on this boat, especially after 1700 hours each day.
One thing that did function well, in fact too well as we arrived in the Bahamas was our Smart Phone Data connection which had inadvertently been left on since leaving Florida. Now, in the USA we are in what is known as 'Feels Like Home' territory for our '3' provider in the UK. That means we can use our monthly data and phone plan exactly as if we were still in the UK. Unfortunately, as many other souls will testify, once you are into roaming territory there are highway robbers in the shape off mobile towers just itching to connect with a foreign smart mobile visitor and update 'Apps' and in our case download a nice Google map of an area of open water already visible to us on our navigational chip. All this at the princely sum of £6 per megabyte. At the time we were being blindly robbed to the tune of £36 we were blissfully unaware of this connection whilst motoring across the Little Bahama Bank with the phone tucked away somewhere safe. That won't be happening again!
Waiting for an early morning thunder storm to pass in Peck Lake on the ICW and dawn in the Gulf Stream
We cleared in at Green Turtle Cay, always a very pleasant experience despite the reams of paperwork that seems to grow each time we enter. After 30 hours with hardly any sleep those forms seem quite daunting but the Customs lady there is so patient and joyful. New Plymouth the capital of Green Turtle cay was resplendent with its bright Christmas decorations adorning the harbour front. We bought some fresh bread, slept like logs and were up early the next day to motor through the Whale passage to reach Marsh Harbour in good time to visit the BTC office to sort out our Data and Telephone communications. We certainly couldn't afford to shell out any more on roaming charges with the 3 Network we use in the UK and USA!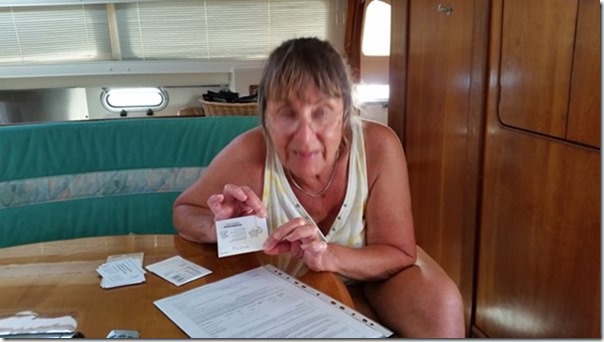 Steaming through Whale Cay cut against the wind (hence the horizontal hair) and the 'Admiral' hiding those naughty SIM cards
After two hours we finally walked out of the BTC office more confused than usual having bought two SIM cards and had our phone prised apart by girls with super-long finger nails (so that's the secret of opening the thing). It was extremely difficult however to obtain very much meaningful information as the girls there are obviously on commission and our queries were not going to add one penny to their salary cheque at the end of the month. The service became patchy due to the office being busy and the sale of a phone was always going to trump our own requirements – so we left and bought another loaf of bread and a 'consolation cake' from the bakery.
Next morning it was off to Elbow Cay to sit out some windy weather forecast to last some days. The small harbour with its secure moorings enables not only the boat to be safe and sound whilst we are ashore but also for us to be able to access the dinghy without the thing bucking like a bronco from large waves as we attempt to climb into it. With the weather as it is we'll probably be on this mooring until after Christmas.
---