A Black Swan passed close by....

AJAYA'S CRUISE
Phil & Nikki Hoskins
Sun 10 Jan 2016 17:31
There are no swans that we know of in the Bahamas. But, the predicted nasty weather we were expecting and touched on in the last blog unfortunately developed into a rare event (thus the Black Swan reference to such occurrences) or more precisely in weather forecasting parlance, a Derecho. A damaging straight-line wind storm of incredible intensity.
Derechos are rare and hard to accurately predict as their formation is uniquely based on certain weather parameters. In fact as the event drew nearer the forecaster we listen to on the USA east coast just wasn't able to predict exactly what would happen where, except that a low pressure system would form along a weather trof somewhere in the Cuba/Bahamas area and would move quickly north east over the Bahamas. So we all knew we were in for some nasty weather. It was a shake of the dice or spin of the roulette wheel as to how we would be individually affected in our respective locations. We were duly warned by Mr Met Man to find somewhere as safe as possible, circle the wagons and standby for whatever came our way and don't move once there. No-one knew it was a Derecho until after it happened!
We chose a mooring in Spanish Wells with good protection with at worst a mile of exposure to shallow wind driven seas from the north to north east quadrant but helpfully protected by shallow sand banks and reefs. An alternative location would have been Royal Island just nine miles to the south but we felt that it would quickly fill up with boats seeking shelter. In a major wind shift the chance of boats dragging anchors on a dark stormy night would have been unpleasant. The moorings at Spanish Wells are well maintained by one of the professional pilots who assists vessels around the Devil's Backbone, a horrible reef-strewn area on the north coast of Eleuthera. We were confident we would be relatively safe as no anchoring is allowed in Spanish Wells harbour. Only the four boats on the moorings would to a danger to each other and then only if a mooring broke loose or a securing line from one of the boats gave way. (Which it did on our neighbours boat but fortunately they had reeved a spare line at the last minute!).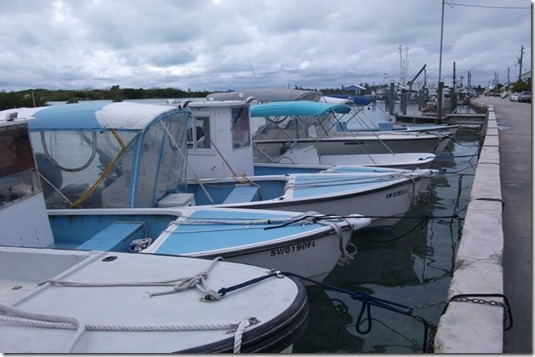 The busy settlement of Spanish Wells – with the arrival of the inter-island ferry – commercial fishing boats large & small (note the heavy sky!) – and playful dolphins
Winds started to increase last Sunday and by the evening we were all quite comfortable in the 20-25 knot winds. By Tuesday there was still uncertainty as to where the low would form. There was no definite prediction for our area, only that if you were south and west of the low then life wouldn't be too bad. However if north and east of the low then things could become challenging! As it turned out the system formed just south of Cuba and blasted northeastwards towards the Bahamas deepening in pressure quickly.
Cruising boats throughout the Bahamas were braced for the bad weather. They had chosen their preferred spots to sit it out expecting a gale with higher gusts to pass quickly by just like a strong frontal system. The Exuma chain of islands to the south of us seemed worst affected. Two boats were washed up at Staniel Cay with wind strengths to 60 knots. In George Town Great Exuma there were reports of winds well in excess of 90 knots with boats dragging within the protected Red Shanks anchorage - a tight area surrounded by savage iron shore and reefs. Reading various blogs and listening to radio reports from cruisers it was to be the most terrifying event of their cruising experiences to date.
In Rock Sound, Eleuthera some forty miles to the south of us our friends also recorded over sixty knots of wind whilst anchored with many others. For them tragedy struck during one fierce gust when their lovely little 14 year old Yorkshire Terrier was literally blown off the deck whilst doing what dogs have to do outside and hasn't been seen since. We were very sad to hear of this incident as we had spent a happy evening back in Marsh Harbour with Kippin and his 'parents' and will remember his enthusiastic welcome as we came alongside in the dinghy. They are still in Rock Sound hoping perhaps for some news or confirmation of the little mite's fate.
In Spanish Wells the winds were now up to a steady thirty five knots. We were wondering if things would deteriorate further or was this 'it'. Late Wednesday afternoon the rain was torrential, literally hammering down at an acute angle in the gale force wind. We had three lines on the mooring, each one thicker than the mooring line itself so there would be no way our own lines would give out on us. If anything snapped now we would have a brief ten metre trip backwards into the mangroves behind us. Not nice but not in anyway dangerous for us personally. The fetch was quite bearable due to the shallow water and the effects over some hours of low tide over the shallow sand banks and reefs.
Then the lightening arrived just as darkness was falling. We were experiencing sudden gusts well above the steady thirty five knots the wind system was showing. In the aft cabins the wind could be heard shrieking through the rigging like a banshee. The electrical storm fortunately didn't pass overhead and was quickly gone as we settled down for another windy night. One plus point was that our nearly depleted water reserves onboard were now being replenished by beautiful soft rainwater helped by the dams we'd created on the side decks next to the filler holes.
Not much room for manouvre should the mooring give way. But it didn't!
The following morning the storm was gone. The sky was rapidly clearing and a cool dry breeze from the north had replaced the gale. Steaming to the north east with a central pressure of 988 Mb it had the intensity of a hurricane but not all of the tropical characteristics of one and was now travelling over cooler water. The forecaster indicated that it could be a numbered or named storm but as it was veering away from land it was doubtful the Hurricane Centre would bother.
Across the flats in Spanish Wells from our mooring – taken the day after the storm
We also steamed away from Spanish Wells in the opposite direction on to Current Island and through into Eleuthera Sound where we spent a blissfully peaceful night anchored in a light north westerly breeze which by morning had died away completely. So onwards to Hatchett Bay floating on a glimmering glass top sea with not a whisper of air movement in any direction. After the last few days that was the least the weather gods could provide for us and we were grateful.
The storm meanwhile is now passing into the central North Atlantic and by Thursday according to the GFS model may arrive in the UK! One of many in recent weeks by the look of things !!!
Isn't nature wonderful – walloped by a storm, drenched with rain and then the reward of the playful dolphins for our own private show
Lastly – Kippin's body was found by its owners a couple of days later and was buried in a nice suitable spot in Rock Sound.
---