Stuck in a Manatee's Pocket

AJAYA'S CRUISE
Phil & Nikki Hoskins
Sun 20 Dec 2009 22:56
27:09.18N, 80:11.76W
There appear to be no Manatees in Manatee Pocket. They've disappeared somewhere else. Maybe Florida is so short of these loveable creatures that they get kidnapped and taken to other resort areas. The most likely reason though is that the poor critters keep getting clobbered by the million odd fast powerboats that inhabit this creek and have sought safer waters, and who can blame them really.
So where are they all? The problem is, we being so intent on continually staring into the water around us looking for Manatees, Phil became alarmed when he thought he saw an alligator sticking it's snout out of the water right next to the dinghy until Nikki calmly pointed out that it was a floating brown coconut. But then she wasn't inches from its 'snout' being still safely on terra firma after just completing an expedition down one of the tiny creeks to a local West Marine store. Apparently, according to the locals, the sure fire way to see one (a manatee that is - not an alligator) is to play a freshwater hose into the water so creating a fresh water pool which they like to come up and drink from. Unfortunately, like many other activities in the 'sunshine state' this is strictly illegal. Spoilsports.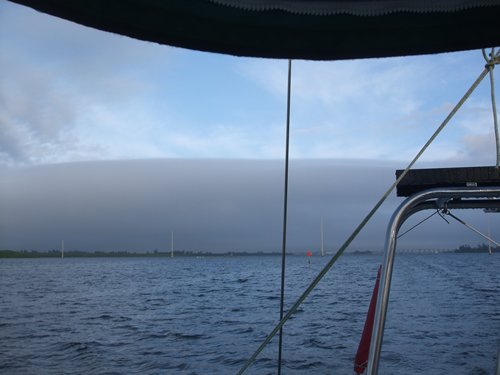 Early morning fog chases us down the ICW........... and a posse of eagles!
We are about to spend our third night here waiting for this latest Gulf low to clear through Florida. We're not alone as there are about 12 cruisers anchored in the vicinity, presumably all here for the same reason. However, civilization is a mere dinghy ride away where the basic requirements of sustaining life as we know it exist a mere stroll over the main road (4 lanes) and across the single railway line. We entered the convenience store and into a different world - nobody was speaking English! The shelves were loaded with tortillas, fajitas, Mexican spices and strange looking objects in the cool cabinet. We stuck with food we were familiar with and bought a pound of shrimp and some recognisable vegetables. Then the usual daft interchange of us trying to speak basic Spanish with the staff replying in perfect English prevailed and we exited the shop just in time to get absolutely soaked in a downpour on the way back to the dinghy. Having then unlocked the boat and stowed 'dink' back on the davits it duly stopped raining, leaving plenty of wet clothing to raise the humidity a tad higher onboard. Still we had our pound of shrimp to look forward to.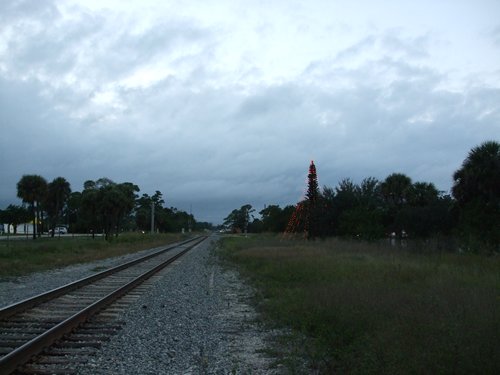 Early morning showers........................ more rain on the line, spot the Christmas tree.................... consolation shrimps.. lots of garlic, wine & herbs yummy......
Since arriving when we anchored north the wind has blown hard from that direction, then from the east, before backing into the south early this morning. Just to ensure we complete the circle it's due to go west later today through tomorrow when we will make our escape back into the Intracoastal towards Lake Worth about 20 odd miles and seven opening bridges further south where we then expect to head back out into the Atlantic to cover the remaining 70 miles overnight to the Florida Keys, hopefully missing out on the delights and vices of Miami. Once in Key Biscayne just south of Miami we are nicely poised to make the 50 mile leap across the Gulf Stream to the Bimini group of Bahamas islands where many yachts check in to start their winter cruise amongst the reefs and clear seas of this beautiful part of the Caribbean.
---