Fernandina Beach to St Augustine - Florida

AJAYA'S CRUISE
Phil & Nikki Hoskins
Thu 10 Dec 2009 23:45
29:53.68N, 81:18.54W
We stayed 2 nights in the Marina at Fernandina Beach to see what would happen when the expected storm from the Gulf of Mexico went through. As happens when bad weather is forecast a calm panic sets in amongst the 'Snowbirds' and space in marinas becomes hard to find. Anchorages also fill up to the point where they can become a danger with boats 'sailing' round their anchors when the wind and strong tide oppose each other. However, this storm proved to be a good example of what might happen and what actually did happen. Very little in fact, compared to the 4 days we were imprisoned at Dowry Creek a few weeks back in 40 knot winds in the remnants of tropical storm Ida.
It did give us a good chance to take in the sights at Fernandina Beach and the first thing to hit you apart from possibly a train as you cross the wide open railway tracks next to the marina, is that this place is big on pirates. Many shops have pirate statues and mannequins outside, the odd one or two with a wooden leg, but not a lot of eye patches strangely enough. The other memento obviously in huge demand in these parts is any number of different alligator toys, just to underline the fact that we are now officially in the 'Sunshine State'. Well you could fool us - we haven't seen the sun since we left the Carolinas so we are not digging out the shorts just yet, as Florida is a longish State and we are currently right at the northern end. The Florida of Mickey Mouse and friends comes later a few hundred miles further south, so for now we have to content ourselves with some local history and folklore to keep the minds active. We have already leant that England's very own Francis Drake of Spanish Armada and bowls on the Hoe fame displayed a very nasty streak in these parts and sacked quite a few places presumably to help procure his Knighthood. In fact Florida changed hands many times over the centuries.
Nikki with new one-legged admirer Typical boy - loves trains and railway lines. Hair is still growing!
We treated ourselves to a pound of shrimps from the local fish market next to the marina and were fascinated to see that it had its own small community of pelicans (our favourites). So we took loads of shots as they seemed happy to pose for the camera. Maybe they were after our shrimps now we come to think of it.
I'll do anything for a shrimp ..... How about one webbed foot slipping off the curb with wings going to fold position - will that do?
Then it was on to St Augustine
We hit St Augustine at just the right time as it was the one weekend each year when they celebrate the British being in control in these parts back in the 1800's. This period in time is 'celebrated' by many local people dressing up in old British army costumes over the weekend - they are in Spanish costumes the remainder of the year as the Spanish influence in St Augustine is considerable. In fact you could almost believe you were in the Mediterranean in some parts of the town such is the style of many of the buildings. But this weekend was our turn and it was British uniforms parading round the fort overlooking the harbour and placing the charges in the canons which nearly blew our eardrums out whenever they demonstrated to the crowds how noisy the canons could be.
Having been to the fort to fire their canons our brave troops still have to cross a busy main road to get back to their camp. It's what their guns are for.
(note lefthand pic - man on right walking in wrong direction carrying a lampost)
Saturday morning though we were treated to a parade through town to celebrate the arrival of Father Christmas (forget the British colonial festivities for a moment). As we were anchored a mere 100 yds from the promenade we had a good view of the procession comprising the usual strange mix of various groups of drum majorettes, vehicles entered by local companies, elderly Hells Angels on Harleys, clowns, small noddy type cars and of course Father Christmas himself - could have been a 'her' perhaps, it was difficult to tell from where we were. But he/she was riding a fire engine.
We had a good view of the Christmas procession No sleigh for Santa here - just a hefty great fire engine
Once we had plucked up courage to leave the boat anchored in the strong tidal stream we dinghied ashore to look round. We'd already been anchored off a day and night sitting out another miserable spell of wet weather. What a wonderful place St Augustine proved to be. Great character, lots of colonial history and not too tacky, although the open tourist trains driving through the various roads with visitors clad in clear plastic cagoules did get close to being just that.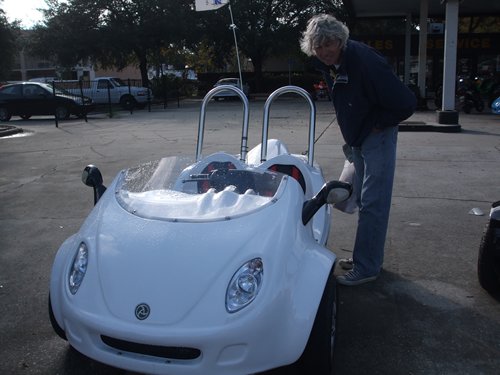 Wouldn't be seen dead in one of these ! or one of these either !!
However, one street runs through the town that is traffic free and so full of character which was augmented by having lots of people dressed in the British period costume, and, just off the street was the 'British' encampment where the soldiers were billeted in various tents, with cooking pots over open fires and Americans gabbling away making small talk in the King's English.
Much jollity and merrymaking at the 'British' camp in the historic part of St Augustine - even tent sharing is encouraged !
Never mind what's hidden under the kilt - look at that Sporran! Ye olde British flag flying over the fort - makes one proud
We went back ashore that evening for a very nice fish meal at O.C Whites before walking back to the Spanish Quarter in the historic district to watch the Night Watch Parade performed by the 'British troops'. This march dates back to colonial days when the military paraded the streets to secure the walled town and discourage any nasty goings on in the dark hours. Afterwards, outside the Governors residence there would be some carol singing with everybody participating.
This proved to be a popular event to cap off the 'British rule' weekend and after some delay the assembled band resplendent in their bright red uniforms marched off with drums and pipes leading the way - well in fact two policemen in blue on mountain bikes with flashing lights actually led the way to clear a path through the crowds.
The escort - Bobbies on bicycles two by two, only with flashing lights. and the march begins.............
Past the church and round the historic town followed by the civilians - on string
Following the band were marching soldiers followed by 'civilians' of the period. It was a fun march enjoyed by all, and back at the Governors residence the assembled crowd listened to the 'British Governor' reading his speech, stating that the town was now secure, God Save the King!! It was time for the carols, which was where things fell slightly apart as not enough carol word sheets had been handed out and many didn't know the words which left the assembled Governor and his aide struggling to hold a tune up on the balcony pretty much on their own, particularly as many of the crowd had already enjoyed much merriment in some of the local bars and restaurants. We didn't fare much better. It was nothing to do with the bottle of wine we'd enjoyed at O.C Whites but that these carols were not generally well known back in the mother country. But all who attended seemed to enjoy the proceedings - we certainly did and will remember our visit to St Augustine for many years to come. Even the Pirate ship sail past in the anchorage
Avast me 'earties - where's me bowsprit gone the ship had pirates telling pirate type stories - we could hear them clearly
The next day was a complete contrast, as the wind changed direction in the crowded anchorage and, with the strong river current in opposition to the strong northerly blowing, anchored boats assumed a demonic quality and started sailing in circles around their anchors almost hitting each other through their individual tendency to react differently to the wind/current factor. It was nerve wracking to be onboard and see 10 tons of yacht sailing towards us dragging its chain with it and veer away at the last moment as it pulled up on it's anchor, or for Ajaya to set off on her own sailing adventure towards another boat. It was a minor miracle that none of the boats - some without their crew onboard, actually avoided hitting each other and finally, after 2 hours of watching these goings on we could stand no more, up-anchored and left to find a more room or a quieter anchorage somewhere else before nightfall set in when it would have been like playing Russian roulette blindfolded! We certainly wouldn't have slept much.
---