Whale watching in Abaco

AJAYA'S CRUISE
Phil & Nikki Hoskins
Mon 2 Jun 2014 23:44
In position 26:39.98N, 077:07.15W Fishers Bay, Great Guana Cay
Having stayed a few days at Highbourne Cay in the Exumas, due to strong winds, the weather gods finally waved a magic wand. The wind dropped to under five knots. Peace and calm reigned long enough for us to continue our progress northwards. We did manage to visit the Highbourne marina store for some essential provisions - bought at eye-watering prices. A small basket of goods came to $90 with one dozen eggs taking first prize at a stunning $8.15 (about £5) or are we out of touch?
Next stop was Ship Channel Cay, a stopover we had last used a few years back. There was a small functioning resort there at that time but it looked deserted now. There was none of the day boat traffic such a resort generates so we had the island to ourselves for the remainder of that day. One other multihull arrived later on and anchored discreetly in the distance.
Peaceful Highbourne Cay, frequented by the rich, but there are a few rules to obey as illustrated by the 'lollysticks' - the first one is information about 'doggy-doos'
From Ship Channel Cay we took a long lazy day motoring across the shallow banks towards Current Island. When the wind stops blowing the banks take on a wonderful unbroken azure blue colour and motoring almost, but not quite, becomes a pleasure. We were mindful of arriving at Current Island on Eleuthera in time to ensure the tide was just right as it's not called Current Island for nothing. A long narrow island with an extremely thin dissecting cut halfway along it's length means that water flooding onto or off the banks has to accelerate to cram through the opening. Getting it badly wrong can either mean motoring at full throttle and possibly going backwards or being swept through on a wild slay ride out of control. It would have served up a good challenge to the Argonauts in their pursuit of the Golden Fleece.
There is much controversy and discussion amongst skippers about tides in the islands. In most cases they are based on the Nassau value plus or minus hours and minutes as appropriate. In reality they can be affected by a number things including proximity to cuts and weather. Looking at all the data we had we decided to drop anchor on the east side for a cup of tea and a ginger biscuit - it was 15:00 after all. Meanwhile, another yacht approaching from further to the north east barged on through. When it didn't reappear we gave it a go. Having no more than a two knot counter current against us we negotiated the cut and re-anchored for the night half a mile from the entrance. Unfortunately, near a breeding colony of vicious kamikaze-like mosquitoes which attacked us mercilessly most of the night completely resistant to the sprays and coils we used against them.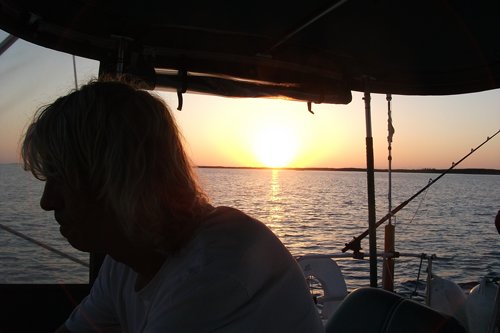 An early start - is he awake yet? passing the old abandoned lighthouse at lonely Sail Rocks
With the wind still blowing somewhere other than in our part of the Bahamas we set off the following morning at first light to motor the fifty plus miles up to the Abaco still scratching our bites. The prospect of catching a fish was enticing as we had caught a large Mahi on the way down earlier in the year. The exact position marked as a waypoint on the plotter. No, we're not daft enough to think they are still swimming around that spot - but, well, you never know do you. This time there was nothing to be had despite trailing four fishing lines astern with regular lure changes. However, with only half the distance covered we spotted great plumes of water about a mile away ahead of us and we realised that we now had whales to contend with. And these were BIG beasts!
Across the banks in a flat calm.......and in somewhat deeper water....... one of the whales (sun-bathing) ahead of us
Initially there were just two right on our track. Perhaps a mother and calf together. They slowly headed offshore as we temporarily altered course. Once they were clear of us we relaxed again but shortly after there were more spouts about the same distance ahead. Whales of these dimensions are great to observe from a big ship but we don't want them anywhere near our small boat especially if they have young ones they are trying to protect. We just hoped that our engine noise would keep them at a distance. One of the original pair now about half a mile away just aft of the beam suddenly raised it's huge tail flukes into the air and disappeared below the surface, with about four thousand feet of water to play with before it would bang it's head on the sea bed. The remainder did likewise and we saw no more signs of them for the rest of the trip. However, the 'Admiral' now on 'big critter' alert did see a shark near the boat (yikes, whales then a shark - no wonder we weren't catching any fish!).
We entered Little Harbour Cut in the south of the Sea of Abaco late in the afternoon. You could have kayaked through it was so calm as there was still virtually no wind. After a night resting up at Lynyard Cay we exited back out through North Bar Cut in a desperate last attempt to catch a wretched fish on the ocean side of the islands but yet again with no luck. We just can't catch a fish at the moment (Barracuda excepted). But we did observe this flying contraption off the Abaco shores, perhaps spotting fish on the surface for a sports-fisher. There was a fishing competition on and the area was widely populated with expensive fast boats whizzing around in all directions with high-tech fishing equipment probably equal to the value of our boat!
What the heck is that ............... ....... Flying dinghies Batman !!
We dropped anchor at Fisher's Bay Great Guana Cay for a few nights having been on the go for some days. We met up with friends again from North Carolina who'd been in the Exumas with us and bumped into some Aussies who had bought a yacht in Florida and had relations onboard that had just happened to sail off on their own voyage some years ago - from Fareham of all places. Small world.
Beautiful world
---