Fun in Key West

AJAYA'S CRUISE
Phil & Nikki Hoskins
Wed 15 May 2013 16:45
After dealing with the formalities of clearing back into the USA we were free to enjoy the lively bars and restaurants that attract thousands of tourists to the furthest Key and, incidentally, the southernmost point in the USA that is accessible by road. Just the one dual carriageway traverses the many Keys that form a line out into the Gulf of Mexico with impressive bridges, the longest being seven miles, linking each island. As well as Key West perhaps the most notable name that comes to mind for us is Key Largo, both locations featuring in numerous film scenes throughout the years. Key West is also served by an international airport for those unable to spend the time driving there. There's also the ubiquitous cruise ship terminal which offloads sightseers by the thousand most days.
Motoring through the western anchorage on our way round to the City Marina mooring field where the marina itself seemed to be full of houseboats......
In the early part of the 20th century there was even a railroad (whoops, railway) masterminded by Henry Flagler, which saw steam locomotives chugging their way along the single track line to Key West where a ship could be boarded for Havana in Cuba. How times change. Travel to Havana now without special permission and you could be in serious trouble with the authorities here!!
Mementos of a by-gone age where all that is left in Key West seems to be the old station, the time-table, an old box car and piece of railway track
We enjoyed our few days in Key West. It's so laid back that it's hard not to like it's easy going atmosphere, especially around the picturesque waterfront that skirts most of the west facing side of the island. Much of the business on the waterfront away from the bars and restaurants is centred on the water with boat charter, cruises and game fishing, with prices to charter a Big Game fishing boat upwards of $1000 per day. At sunset a plethora of cruise boats pour out of the marina to sail out towards the setting sun, with patrons being wined and dined onboard until the sun has disappeared for another day at which point they are delivered back to the dock probably a little worse for wear.
Key West used to be a huge Turtle processing port as the Keys abounded in the apparently tasty creatures. Would, the 'Admiral' eat one Skip asked? Well, not a whole one of course but maybe a piece of one. Is our hard shelled and flippered friend resembling a huge Cornish pasty closer to meat or fish? That was the question. As with so many other sea creatures that mankind has decimated, the turtles are now fewer and further between in the Keys and it's certainly forbidden to kill them. The biggest danger these creatures now face is being clobbered by fast moving water craft that zap round the Keys on the way out to the fishing grounds. Out of curiosity we popped into the Turtle Museum situated on the dock in the marina. Entry was free which will always tempt us through the door. The old restored shiplap style building was being tended by an enigmatic fellow resplendent in hat who delighted in engaging us in conversation about English-American history, highlighting the sins of our English forefathers before suddenly taking his guitar off it's hook on the wall and singing us a song. 'Barking' came to mind here! But to be honest he did assist us on our eating choices for the afternoon before quickly engaging another party of ex pats from the UK and lapsing into more verse whilst strumming his guitar. He was also an author but we avoided that subject otherwise we'd still be there. But he did know his stuff about turtles and American history - we'll grant him that.
'Skip' being regaled with a history lesson before the guitar was brought into action ......... and God forbid we ever hook anything this big! (It's plastic by the way)
Celebrating our arrival back on American soil we took advantage of the very reasonable Happy Hour specials at Alonzos Oyster Bar, where appetizers were half price along with all drinks. Our minds were momentarily overcome by our hungry bellies and we over-ordered, especially on the onion rings! We returned the following day for another stab at getting the order right (same Slovak waiter) and laid off the onion rings this time. Looking around the restaurant on both occasions convinced us we were mere amateurs in this Happy Hour eating lark as some diners just kept ordering more and more whilst no doubt getting bigger and bigger in the process!
Probably the most unhealthy meal we've eaten for a long long time - but we didn't care - Did we Missus?
Key West proved to be a great place to people-watch and spot extra-ordinarily long beards, as well as listen to some amazing music wafting out of the bars and restaurants. One huge difference in our cultures we have noticed is that Americans grow old far more disgracefully than us Europeans and you have to somehow admire them for that. They seem to embrace a second stab at adolescence, buying noisy Harley Davidson motorcycles, with loud exhausts, sporting Woodstock styled bandanas with long beards waving in the breeze. And the older generation is once again enjoying a new muscle car era, with the Mustang, Camaro and Corvette having evolved full circle back into something resembling the way they were in the 60's when this generation were driving them the first time around.
The beard was a good foot long if it was an inch and our attentive 'barmaid' with the frizzy hair was much nearer 65 years old than Skip is - but nobody cares!
Not sure who Michael McCloud is but he sounded good........OH NO! not Tarpon feeding again - can't they catch their own fish?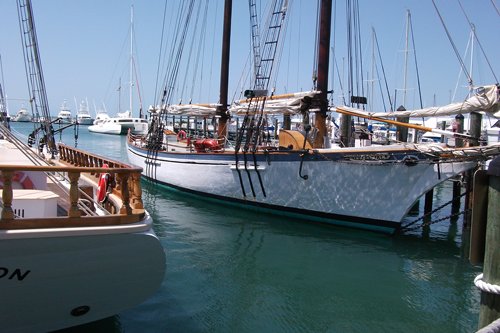 Beauty comes in many forms - and old sailing ships rarely disappoint the eye, wherever they may be
Proving that old cars never die.... they just end up in places like this
The waterfront, being such a focal area to the locals, means that later in the day it takes on a hosting role, including Wedding Receptions, charity events and private parties all of which add to the atmosphere for us bystanders. We were amused at one event where tickets were being sold for we guessed a charitable cause where a large chocolate dog (not a Choccy Lab though) was unveiled from a cardboard box to join the billion callories worth of small chocolate cakes that were already adorning the display. To spend too much time looking at all the chocolate was to invite feelings of nausea as we had just eaten that huge Happy Hour special! But we paused, or should that be paws'd long enough to take a couple of pics and then be off home.
We had Fry's 'Five Boys' when we were kids - remember? But not sure about Dixie Five Guys! But what a handsome looking Chocolate Doggy?
And finally....... a sad note to our day's wanderings was finding this wrecked Prout Snowgoose (slightly smaller sister to our own boat) which had obviously spent some time at the bottom of the water somewhere. It had the look of a boat that had been rolled over a reef. Not much you could do with this except send it for land-fill, which, presumably is what happened as it was not in the yard the following day when we went back for another look.......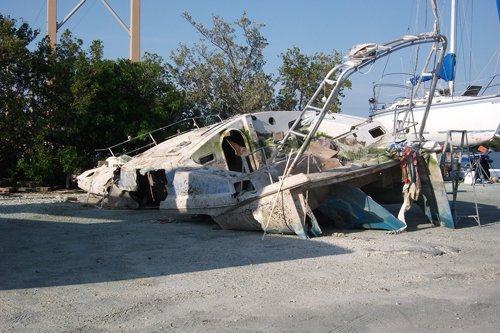 RIP !
Our next port of call is Marathon, 40 miles along the Keys towards Miami.
---