Now in Annapolis via Solomons and the Little Choptank River

AJAYA'S CRUISE
Phil & Nikki Hoskins
Sun 18 Aug 2013 19:41
In position 38:57.74N, 076:28.94W
So, where were we? Just arriving at Crisfield on the eastern shore was as far as we had managed in the last offering. Well, we had to feel sorry for the place and it's residents as it's one of the poorest communities in Maryland but with a mighty proud past. A scattering of more recent multi-storey condos on the waterfront with derelict oyster processing buildings just a block or two back gives the place a 'lost between old and new' feel belying it's historic label as the 'Seafood Capital of the World' back in the 1800s. At one time it even supported a railway to export the harvest to other locations. The railway is long gone and the town is now probably more known locally for its annual 'Hard Crab Derby'! Do the losers always get eaten we wonder?
More recently matters for Crisfield weren't helped by the arrival of Hurricane Sandy in 2012, or to be more precise it's storm surge, which swept up the eastern USA causing devastation in many waterside communities. Crisfield was flooded, and quickly. Faster than many could move their possessions to higher ground, that would be their upstairs rooms, as the whole surrounding area is no more than three feet above sea level. Much was lost in just minutes by residents that could ill afford to lose anything at all. And horror of horrors, Sandy's storm floods even caused buried coffins to float to the surface which must have been awful for the residents!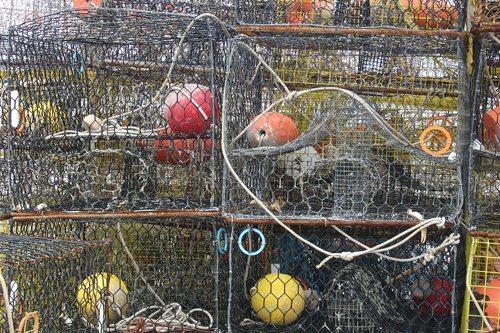 Something Crabby......and the means to catch something crabby........whilst old buildings await their fate
Gritted teeth - it was a tad chilly ashore! (Ajaya parked outside the USCG station)! Whilst Skip window shops at the 'Crustacean Station'
The nearest store of any practical use for us was the 'Dollar General'. It sells plenty of cheap 'naughty but nice' items but unfortunately doesn't stock any fresh produce. We stayed in Crisfield for two nights with just one run ashore walking round the small town with its lines of deserted shops. Some clearly displaying the storm surge level that Sandy achieved before the waters receded. For many businesses it must have been the last straw started by the economic recession.
Next morning we took a long cruise back across the 'bay' to Solomon's Island on the western shores where we've always made a point of calling in on our travels through the Chesapeake Bay. Here again there were more signs of the difficult times. One of our favourite shopping outlets, Woodburns, which had sold delicious deli food and naughty sesame stick treats had been closed down and partially replaced by a public library. The remainder of the building was empty. So it was a mile hike to the 'Food Lion' to stock up with fresh provisions before heading off for a few more days. Even Solomons was quieter than we remembered with just a sprinkling of visiting cruisers anchored around the various creeks. We refuelled and after one more night we motored up the Patuxent River which has become well known for its air base and more recently experimental drone flying. You see some odd things flying around in the skies near Solomons! One such drone recently took off from here and was landed unmanned (what other type of drone is there?!) on the flight deck of the USS George H.W.Bush cruising off the Virginia coast. Very clever, but we bet the flight deck crews were a little nervous when the 'wing-like thing' approached, hoping the man in control somewhere ashore didn't suffer a sudden sneezing fit at his desk.
Our little side trip up the Patuxent River proved interesting as we parked the boat in St Leonard's Creek, the site of a battle between the English and revolting (not literally of course) American forces back in 1814. We often tend to forget that England wasn't just fighting a war in Europe at that time so we had our hands full. Anyway, St Leonard Creek was very pretty showing no after effects from the battle. We awoke the next morning after one of those 'could hear a pin drop' nights we just love at anchor to a mist swirling across the jelly fish packed water. We have to say the last few days has been rather nippy with cool northerly airstreams anchored over the north-eastern USA coast which has kept the bugs where they belong and not on the boat.
St Leonards Creek.......... and our misty morning
From the Patuxent we cruised northwards and back to the eastern shore into the Little Choptank River, anchoring in Hudson Creek. After the attractive St Leonard's we found this location rather uninteresting. We left early the following morning to head off to Annapolis. Our start was made easier to achieve due to the long line crabbers working in the creek. This method of harvesting crabs doesn't involve lifting crab pots which are left out overnight. Instead, a quarter mile long line containing chicken or turkey necks every few feet is allowed to rest on the sea bed between two marker buoys. The crab boat which has a catchment net and roller then lifts the line at the beginning and motors slowly towards the other end of the line with the line rising from the seabed over the roller and back down again to the bed. Any crabs clinging to the juicy chicken necks are caught in the catchment net as the line reaches the boat. The fisherman has a landing net handy should any crabs decide to jump at the last minute. There's no escape from the eventual fate awaiting millions of Chesapeake crabs each year, but we just can't see the appeal ourselves!
Arriving in Annapolis at the weekend is just asking for a serious navigational headache. Hundreds of sailing and power boats pour out of the Severn River and creeks adjacent to the city to enjoy the Bay waters. Our closest comparison is Cowes on a busy summer weekend and you need your wits about you on the way in. Annapolis sailors are made of pretty good stuff. They prefer to sail than motor as soon as they are clear of the dock and will let you know if they are not happy with your actions. Not sure they care too much for live-aboard cruisers either, in the same way we don't care much for 'traveller's' back home. But here we are now anchored in Back Creek, with close-by (also at anchor) the yacht Hooligan which we last saw in Roatan, Bay Islands, Honduras, proving yet again what a small world we all float around in.
Catching Up........
A selection of some of the more interesting sites we've seen since leaving Oriental and not uploaded..
Great Bridge - Virginia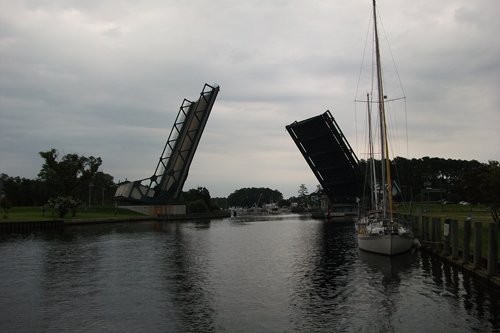 Great Bridge Bridge - a Double Rolling bascule bridge on a four lane highway...... with a rowing or is that sculling boat passing us near the bridge
Norfolk - Virginia
USS Simon Lake - de-commissioned Sub supply ship........... and the Staten Island Ferry (what, in Norfolk???)
Onancock
'Mallards at the Wharf' restaurant where we had dinner with the 'TV sharks' and just a few yards away this crab boat and its pots await their next use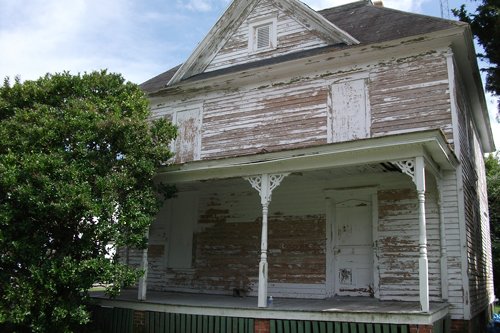 Chesapeake Bugeye in beautiful surroundings...............and ashore in Onancock, this house has seen better days and much more paint in its past....
....whereas others are beautifully tended and preserved
---