A walk to Morgan's Bluff & Back

AJAYA'S CRUISE
Phil & Nikki Hoskins
Sat 15 Dec 2012 21:14
Sir Henry Morgan, that notorious and busy Welsh privateer and pirate of the 17th century, is well known in Providencia (at that time called Providence). He claimed the island and it's close neighbour Santa Catalina for England in 1668. He and his bunch of hard nuts hardly broke sweat in this venture as the Spanish forces, unprepared for such an activity, immediately surrendered all the forts on the island as soon as Morgan's ships had sailed over the horizon. To an inquisitive mind this requires some explanation. Given that sailing ships hardly move at great speed, have no engines and therefore can only approach from a generally windward direction how on earth can anyone in an armed location be caught flat-footed! Maybe they were all drunk?
The story continues that all the forts were subsequently destroyed bar one (possibly realizing the opportunities for tourists to be able to sit astride canons long after his departure) and the town then became the lair of pirates for a while. But not for long as pirates don't make very good towns-folk, much preferring to be on a ship raiding, looting and pillaging rather than being attacked by formidable armies in their home town - so they all up and left, and the island returned to Spanish hands again. Unusually for a pirate Morgan died in 1688, not by the rope or the sword, but to a medical condition or three including but not limited to a liver that could double as a bath sponge.
His presence in these islands could be attributed to why English is widely spoken along with Spanish (Colombia's language) and Creole derived from pidgin English so prevalent in the Caribbean. There's no shortage of references to Sir Henry Morgan around the island. Feeling a dire need to stretch the legs it was to Morgan's Bluff that we decided to hike to a few days ago.
This geological feature can be seen as a rocky promontory on the west end of Santa Catalina island which lies on our port side as the northeast wind blows. Linked to Providencia by a colourful floating bridge called Lovers Lane, Santa Catalina is a sleepy place with homes scattered along the waterfront which in one direction - westward, eventually leads to an old canon next to a plaque stating that this is where pirates, or anyone come to that, met their gruesome death by hanging or burning.
Ornate home on Santa Catalina...........................Oh dear !
The canon with its attendant signpost telling of death by hanging and burning in this quiet spot - nice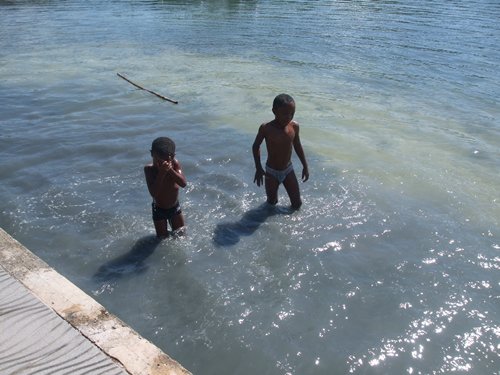 'Ajaya' in the distance - Sea Urchins!
In the other direction along a pretty waterfront with views out to the anchorage and across to Providencia the path leads to a series of steps up to the 'fort' where a couple of recently painted canon look over the sea to the southwest-west. Further along and down another set of steps leads to a pretty beach with another canon mounted on a carriage with one good wheel and one broken one. Handy for placing your towel on when you go swimming.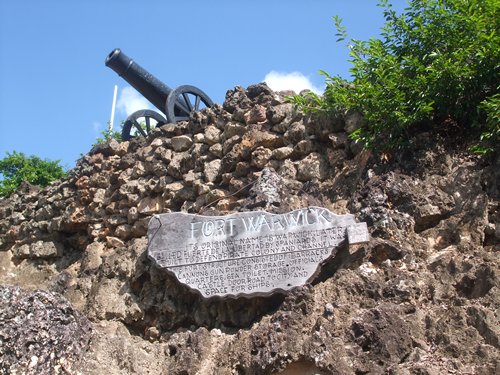 The fort had nicely painted canon ...........................
..... the beach didn't
From the beach the walk becomes more of an adventure, the risk factor determined by long pieces of rope placed where you might expect to slither off the path and plunge onto the rocks below. Not that the rope is that well secured but psychology does play a part in matters of personal safety. Finally, having survived the uneven muddy path with the risk of a coconut falling on your head at any time you come to the real treasure of this trail - Morgan's Bluff. A small saddle of land leading up to the rocky headland named after our local hero Sir Henry. To add flavour to the location a guaranteed blast of wind rips across the saddle able to test the adhesive properties of any toupee glue.
The reward for our endeavours .......... a sit-down for five minutes with some pretty views
He must have been a very ugly man
Walking back along the waterfront some locals were 'dealing' with some huge live lobsters. Having come from the San Blas Islands where the Kuna Indians virtually grab the lobsters out of the crèche these were magnificent specimens which, we were told, are exported from the island.
Dead boats and some soon to be dead lobsters
Our walk to Morgan's Bluff proved to be a very enjoyable hike with no accidents or injuries - just how we like our walks to be.
..........and just how we like our sunsets to be - cheers!
---