Soggy San Blas

AJAYA'S CRUISE
Phil & Nikki Hoskins
Mon 5 Nov 2012 17:08
Two items of interest we forgot to mention on our voyage from Bocas to San Blas ,firstly, numerous visitations from migrating Finches (we think they were - we are not twitchers) which were battling against the strong winds to take them where they needed to go. So, like any weary traveller they sought refuge in any safe place to rest their wings before resuming their migration. Goodness knows how many just flop into the sea and die along the way. The ones that did arrive on Ajaya were very determined not only to rest up but to do it in style by opting for a cosy inside berth much to the chagrin of the 'Admiral' who did not want Finch poop all over the place. It was hard to be cross with the poor things, but after the second intrusion which was met by a tirade of expletives from down below we did have to close the saloon door to avoid further unwanted incursions into the interior. That meant the temperature below went rocketing upwards which along with the oven being on caused more consternation. So of course we then had the birds crashing into the doors instead. They soon learnt! and proceeded to settle down in all sorts of places meaning we had to be careful not to sit on one in the dark on night watches. By daybreak they were all gone and a fresh batch arrived the following evening. We think our own wanderings into the wide blue yonder are sometimes on the edge but bird migration is one of the wondrous acts of nature and we are pleased to play a tiny part in their survival. (But only outside accommodation you little rascals).
Feathers and droppings everywhere - but they were welcome to stay
This one doesn't look old enough to be out on it's own! .... nor this one!
Whilst on a visit up on deck Phil happened to notice that the gooseneck pin had almost pulled through the hole, split ring and all. Quite how this could have happened is a mystery. The gooseneck is always under a lot of stress but we had only experienced light winds since leaving Bocas. A repair was effected to prevent the same thing happening again but we need to pick up a new pin somewhere along the line.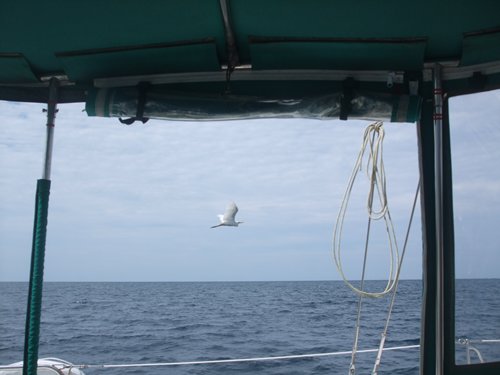 Not a finch of course but it looked a possible landing contender and the problematic gooseneck pin dragging it's broken circlip through the hole with it
Well, you can forget sun kissed palm fringed beaches and concentrate the mind on rain. Lots of it. It's still the wet season here. So, apart from when Hurricane Sandy sucked all the moisture out of the Caribbean to dump it on the East Coast USA, we have had a lot of the wet stuff pouring down on us. All the tanks and buckets are full. It was only yesterday that we set foot on terra firma for any length of time since leaving Bocas nearly two weeks previous. Phil had checked us in at Porvenir but that was just a brief 10 minute excursion ashore to surrender the Zarpe obtained at Bocas. But we have been in the water hunting fish using a newly acquired speargun. The first morning two smallish fish were speared which was just enough to provide an hors d'oeuvres prior to the fish cakes prepared by the Admiral earlier (just in case we returned fish-less). Day two in the water and there were hardly any fish to be seen - news of the deadly fish hunter had obviously spread amongst the sea life and they had vanished into thin air - or thin water!
Skip (red shorts) heading into see the Port Captain in Porvenir .......here come the squalls
Pretty horrible stuff but the sun did put in an appearance in the Holandes Cays whilst Hurricane Sandy sucked all the moisture out of the Caribbean
We visited Nargana to refuel with diesel and buy some provisions - ably assisted by Frederico, a real Kuna character who knows everybody and everything on things San Blas. Unfortunately, there was little diesel but he did walk us round the village visiting his favourite tiendas ('shops' i.e huts with things for sale) where we bought bread, tomatoes, cucumbers, flour (loose in a large bag), as well as some onions and cabbage from the Columbian trading boat docked in the village and some more wine supplies from the bodega which Frederico encouraged the owner to open up for us. With no diesel until Thursday we left for Green Island for a couple of days. It has decidedly clearer water than the awful soup we were floating in just off the town where the only sewerage system in place is what we were anchored in!
Up at Green we joined a group of four catamarans - all larger than us by a mile. It's a pretty spot anchored off a palm tree island although we were told there is now a resident crocodile somewhere although we suspect its the same one that's regularly seen a mile away at Esnasdup. Someone in Nargana said the residents had recently killed a large croc which had swum across from the mainland river close-by. It was rapidly reducing the cat and dog population of the town so it came to a grisly end itself and the meat (tastes like chicken) was divided between any villagers fancying a change in their diet.
Paddling Indian............... and wet Indians
Friday, and still no diesel. Maybe the riots that are affecting Colon have prevented the diesel boats from getting through but it's difficult to tell. It's actually a sunny-ish day today and already hot at 1030 am. The night was punctuated by the sound of thunder in the mainland mountains but we had good moonlight and suffered no ill-effects from the storm activity. With the trade wind season still a few weeks away from Panama we are having to be very careful with our anchoring as it's very difficult to tell where the next squall will come from. One minute we are facing west with ominous black clouds behind us thinking it will miss us by a mile then bingo, round we go on the anchor to face the black stuff which is preceded by gusts to 25 knots before the torrential rain hits us. This is pretty standard weather for November and a big difference from earlier in the year when we could anchor yards from a sandy beach knowing the wind would always be out of the north or northeast.
Depending on diesel availability our plan seems to be formulating into a 350 mile sail to the northwest to Providencia perhaps for Christmas. This island along with its neighbour San Andreas are part of Colombia despite them lying closer to Nicaragua. So they are tourist destinations for mainland Colombians as well as quite a few cruise ships no doubt. From there through the Vivarillos/Hobbies Cays and onto The Bay Islands of Honduras to wait for weather for a trip to the Yucatan Channel and into Florida. All very easy to write of course but no doubt there'll be a few frustrations along the way.
---