Oriental Playtime

AJAYA'S CRUISE
Phil & Nikki Hoskins
Mon 24 Jun 2013 23:18
We've written about Oriental after a previous visit a few years back so will try not to repeat too much except to say that the place hasn't changed. Everybody you meet here is still so friendly and eager to ensure that you enjoy your stay. If you need anything someone will get it for you or will know someone else that can get it for you. You will be offered bicycles and cars (we're always open to offers on any Corvettes or Mustangs) to use by their kind owners for getting around town quicker or indeed escaping from town. Although, it does put us in mind of Patrick McGoohan in that 60's cult spy series 'The Prisoner' as we expect a large pink bouncing ball to chase after us and shepherd us back whenever we near the town limits.
Early on in our visit we launched the dinghy and explored the various creeks off the channel into Whittaker Creek. It's incredible how many large yachts are hidden away in these backwaters. They offer a safer location for a boat to avoid the ravages of any passing hurricanes. Many properties in the area enjoy a water frontage and have their own docks. We did consider renting one but electrical needs for our work onboard were a priority. Few have the 50 amp supply we need to get 240 volts to our appliances so we finally opted for the marina we are now in just inside the harbour entrance.
Serious crime is almost unheard of in this town. To our knowledge in the time we've been here there have been just two attempted break-ins - both failed! That's curious as everyone we meet tells us that nobody in Oriental bothers to lock their doors. So how come there is a problem breaking in anywhere! The local 'bobbies' are not exactly at full stretch solving these failed break-ins and we've yet to hear a police siren. You get the feeling that you could spend a lifetime here and nothing nasty would ever happen to you except to be charged for two avocados when you only put one on the conveyor belt at the local supermarket. In the absence of hardened criminals to report about the town on-line newspaper chooses instead to upload 'name and shame' mug shots of local dogs, cats, hens and other critters that have misbehaved. Now, this is our sort of town. Newspaper is worth a look at
http://www.towndock.net/
if you have a minute to spare.
Soon after our arrival Don & D our Ocean Cruising Club hosts residing in Oriental invited us over for a 'pot-luck' supper with other cruising friends at their place. They are refitting their own sailing boat at the bottom of their garden which backs on to one of those creeks we explored. Good food and interesting conversation dominated the whole evening. Why, we even tried out the fascinating flavour of Nasturtiums which were surprisingly tasty. No, we weren't the worse for wear at the time. Don & D are great hosts and try and make contact with as many passing cruisers as possible, especially from the OCC, and make them feel welcome. There's nothing they won't do to make the visit more enjoyable and our stay here is all the richer for it.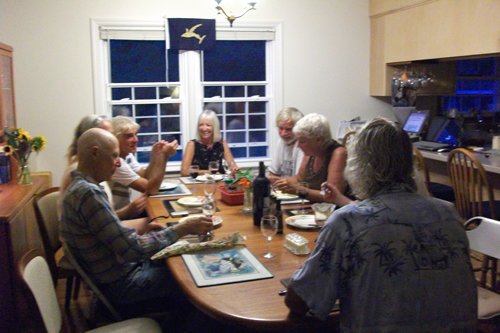 An evening of good food, good company, good fun.....................and flower eating
Meeting up with new friends, especially cruising musicians, gives our evenings out at the local Wednesday 'open mic' session at Silos Restaurant some added spice. The restaurant owner himself is also a musician and runs a local band 'Saltwater Gold' that happens to be pretty good at what they do. When we first arrived they had a Palooza* outside the restaurant where Chris the owner had erected a stage for the various bands to perform on. The restaurant inside has interesting features such as musical instruments adorning much of the wall space - all seemingly playable and at the far end hundreds of LP covers many dating back fifty years or so. Fascinating to browse round remembering much of the music from our childhood days and even our parents childhood days!
As Americans have a lot of these open air free entertainment events they arrive extremely well prepared to comfortably endure the time the event runs for by bringing their own fold up chairs. Given that these items are sold in just about every hardware and major supermarket chain it's amazing as to how many designs exist for these canvas creations. It was great fun seeing those spectators that had consumed rather too much beer for their brain to fully function when trying to re-fold the chairs to pack back in the car. One very frustrated chair folder chappy, having fumbled for ten minutes with two chairs, succeeded with neither, grabbed the tangled mass of aluminium and canvas and stomped off out of the grounds presumably to fold them properly in the privacy of his garage. You could say perhaps they had been somewhat over-engineered. He certainly would! But it was great entertainment value. Of course without any chairs, folding or otherwise we stood for a couple of hours until our backs ached.
We were envious when one solid looking gentleman stumbled from the direction of the bar and collapsed heavily into the chair in front of us - probably the chair's ultimate test of strength. His posterior stopped just short of ground zero as the canvas stretched to the limit. He continued to quaff the remains of a large beer whilst tapping his feet in time with the music. A while later a man arrived and tapped him tentatively on the shoulder and asked if he could possibly have his chair back as he was leaving. It took a while for the large man to struggle out of the chair which was creaking and groaning under his considerable weight much to the dismay of it's owner. Maybe we should have just grabbed a couple of empty chairs ourselves for a while. Laws on serving alcohol in North Carolina are very strict and the drinking age is 21. At events outdoors the bar staff have to issue you with a wrist band to indicate you are above the drinking age, and when the 'Admiral' popped over to the bar to pick up another couple of tins the bar attendant had to deliver Skip's can personally to him - the 'Admiral' was not allowed to take it herself. That's the law here.
Enjoying the live music in the car park....... you can appreciate why it's called Silos because they were old silos in use at one time
Halfway through the concert there was a pizza eating contest with some local lads game to fill their stomachs with considerable quantities of Silo's famous pizzas. The crowd shouted encouragement - many having already consumed one themselves in the restaurant. Surprisingly it was the thinnest lad that won much to everyone's surprise.
Can't remember the finish time but who would have thought the thinnest lad at the table would take the prize
We look forward to Wednesday evenings at Silos when various musicians turn up from around the area to entertain the patrons. The place is usually packed out and getting a seat can be chancy if you leave things too late or don't have any kind friends to reserve a spot for you.
Wednesdays at Silo's 'Open Mic' - a variety of good talent and exceedingly good food (sounds like an advertisement)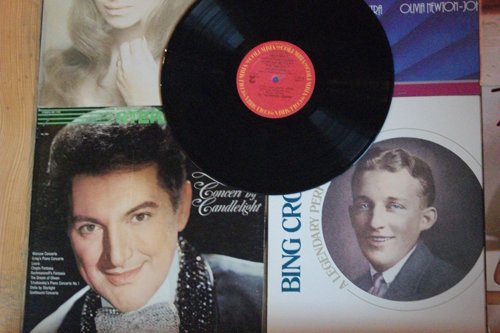 Interesting collection of album covers ...... no prizes for guessing Liberace and an old Bing Crosby cover dating back to Neolithic times.
'Saltwater Gold ' played a gig quite close to our marina last Saturday. This turned out to be great fun and we joined in the activities on the dance floor when the band were in full swing towards the end of their set. Being a little out of practice and with a few beers down the hatch Phil provided some additional entertainment on the dance floor by falling over whilst attempting to get real low on his haunches during one particular dance. He was left floundering like an upside-down turtle until helped up by the 'Admiral'. Having already dumped the flip flops he was wearing to avoid the risk of tripping over it was a miracle that he wasn't picking splinters out of his feet the following day - but they were certainly rather shabby from the rough wooden floor.
Band in full swing - as is the 'Lady in Red'! Yawn Yawn.... 'Skip' boring the pants off friends before he had his dancing mishap
On several occasions we've attended a Friday evening get-together in a near-by marina where friends have their boats moored. After a long week of boat chores they meet up to jaw, jam and have a few beers and nibbles and let their hair down.
Loads of fun............... ......and even some ad hoc dancing (is there such a thing?)
Around the time of 'Skip's' Birthday some kind friends also made two delicious Birthday cakes to share. This celebration was attended by about sixteen people and five dogs making it quite raucous at times. But when a impromptu jam session broke out on two guitars the dogs all settled down and fell asleep for a while.
That shirt makes it's annual appearance....and a table full of dishes and cakes to be picked over whilst for Molly the Australian Cattle dog it's home time (in the pannier))
As we had not been out for a meal by ourselves since arriving we celebrated with a meal at M&M's Restaurant just down the road from the marina. The Birthday Boy ordered a big steak with potatoes and spinach. We started with sharing a starter of Buffalo Shrimp. Lots of foods these days have 'Buffalo' as a precursor to the food item - we've never ordered any of them. But Buffalo Shrimp was a concern as it would seem to indicate a type of 'surf 'n turf' dish which, for the 'Admiral', would certainly not do! As a little jest we asked for the Buffalo Shrimp without the Buffalo which brought about a polite chuckle from the waiter before heading off to the kitchen no doubt muttering under his breath about crass British humour. We needn't of worried though as 'Buffalo' indicates the strength, i.e heat, of the sauce surrounding the shrimp which in this case had us both gasping for jugs of water with Skip fighting off hiccups as no doubt the kitchen staff were doubled up laughing behind the kitchen door. We'll know next time. But actually they weren't that bad at all after burning a route down the throat.
So smug - meat at last !!! Happy 61st 'Skip'
We recently 'escaped' Oriental courtesy of a loaned Toyota land cruiser type thingy to play at shopaholics with two friends in a nearby town called New Bern. We managed to drive the sixty mile round trip without mishap despite the pretty awful weather conditions at times. We were a two trolley customer at Wal-Mart as we stocked up on cheaper goods, new bed linen, oil for the engines and bulk buys of tin foods, UHT milk etc. A worthwhile trip and a very kind gesture by friends in the marina who insisted we borrow their vehicle. Needless to say we drove at a funereal pace and were overtaken by just about everything on the road except John Deere tractors.
Serious concentration required keep to the right, keep to the right.......
and finally to end this playtime blog... some interesting observations from our wanderings.....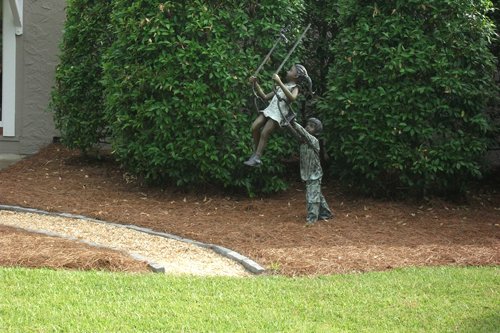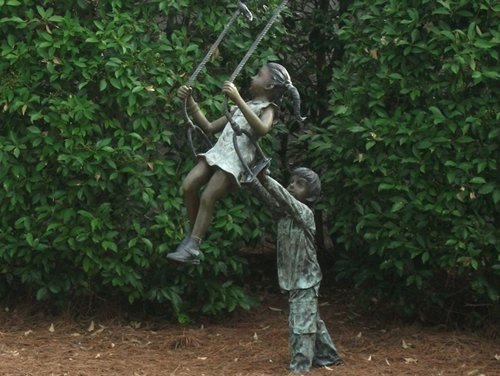 We loved this bronze statue of two children playing with a swing situated close-by in the marina gardens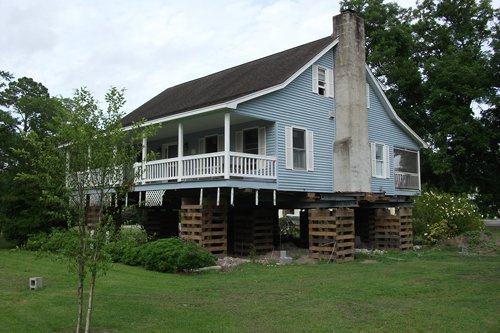 This property had been jacked up to get it above the flood plain level - we'll keep an eye on it and see what happens next
..and this house? ....not sure it's worth doing anything with............ but this view from the marina boardwalk takes some beating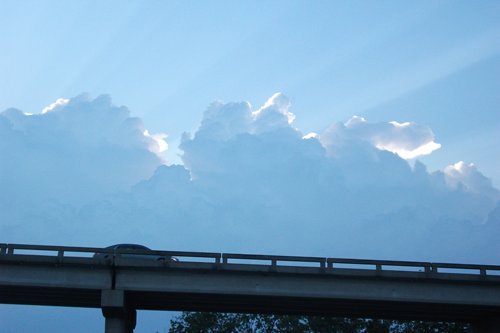 A cold front approaches from the northwest late afternoon with incredible rays of sunlight bursting from behind the cloud
and views of our marina location
and finally, finally... we loved the description on this package containing a Scotchbrite type pad (bought in Mexico) - we'll just use it for cleaning purposes if you don't mind.....................
(* Palooza - by the way is a big crazy party)
---