George Town to Long Island

AJAYA'S CRUISE
Phil & Nikki Hoskins
Thu 27 Feb 2014 00:00
23:21.76N, 075:08.33W Thompson Bay, Long Island
Having sat through two frontal systems in George Town we were itching to go deep water again. Long Island, some thirty miles from George Town, offers a complete contrast and a chance to visit one or two new locations. Before leaving we enjoyed one of the several good treks across Stocking Island to savour a glimpse of the ocean. We trudged along the thickly bushed pathways where a screaming 'Admiral' almost stepped on a small snake that was sunning itself (brown type, non life threatening) which if it had a voice would have also screamed!....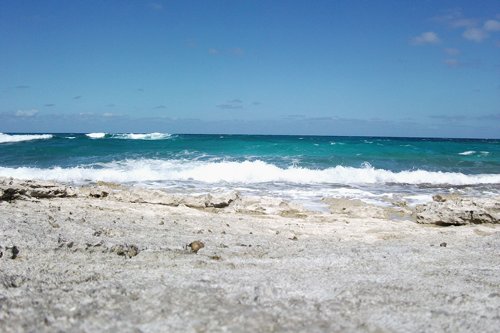 Ah!..breath that sea air... I see no ships....
Snake country !! thus the intense downward casting of the eyes and this photographer's reluctance to follow too closely
No - not a snake - not even a giraffe's neck, It's a Poison Wood tree which you need to be very careful of as the (blank) warning sign mentions - maybe the tree got the sign writer!
We were kindly invited by friends to join a dinghy expedition to a bar ashore (alcoholic, not sand) where it was hoped we would catch the chef in residence for a Happy Hour snack. To be absolutely sure we didn't go hungry we all took nibbles and cocktails with us and it was a happy bunch of 'dinghyists' that set off from the anchorage sipping our drinks and scoffing nibbles. What's Happy Hour if you are not happy. The nibbles were certainly needed as the chef wasn't in when we landed ashore. So it was one expensive beer and G&T and back to the dinghies for the long motor back to our respective motherships. It was great fun exploring though - like being kids again.
Off we all go.... still going........
Tethering the dinks to the mangroves western style...............................very useful Bahamian 'road' sign
So on to Long Island. First stop was Hog Cay, an idyllic anchorage off a privately owned island situated just off Long Island itself. We trailed our various fishing lures on the way over as this is Tuna country. A nice fat Blue Fin Tuna would be a nice change from Mahi Mahi although either is always acceptable. Barracuda is certainly not - which is exactly what we hooked in some two hundred feet approaching Long Island. It was a good size which increases the possible risk of Ciguatera poisoning should you choose to eat the thing. The larger the fish the longer it's been hanging around the reefs eating other toxic species. So that went back in as did all the others we've caught. We had heard several reports that with Groupers being harder to come by around the islands a restaurant in the Abaco had been using Barracuda for their 'fish' dishes instead of Grouper. Sadly some people had contracted the life threatening illness due to such practice. If this is the case then we will certainly be very cagey about what we eat ashore in that area in future. Unless the Groupers are very toxic up there as well!
We stayed two days at Hog Cay (one of many Hog Cays to be found in the Bahamas) spending time in the dinghy exploring nearby Joe's Sound. A few yachts attempt the perilously narrow entrance to enjoy the full all-round protection offered by this anchorage in beautiful surroundings. But you need nerves of steel to negotiate that entrance and if in a catamaran, far far more bravery than we can muster on 'Ajaya'! We hooked up with our pals on 'Bonnie Lass' again to enjoy sundowners on the 'Lass'. Graham and 'Skip' joined forces the next evening to terrorize the local fish population that were feeding in the anchorage cheered on their 'Admirals' of course.
Hog Cay anchorage with............. ....... two crazy men chasing feeding fish around the anchorage at dusk!
With more bad weather on the way we chose a more remote anchorage on our next stop, way down in the Channel Cays south of Thompson Bay where most cruising boats spend their time in Long Island. The best depths are around the north of Lower Channel Cay, a small islet measuring just over half a mile long, near a small sandy beach. This has protection from winds with any south in them. This is the pre-cursor to any frontal system before the winds clock into the west and then north-west. At this point it would be time to head to Thompson Bay where, not only is there good shelter from west through north to east but excellent provisioning and a very pretty ocean beach walk. Anyway, we chose an awkward route into the anchorage at Lower Channel Cay almost going aground at the eastern tip of the island which must have sent the crabs scurrying for safety from being crushed by our twin keels. (Horrible death).
We duly sat out the front but mistimed our departure from Lower Channel Cay. The wind did not clock around when predicted but stayed blowing strongly from the southwest giving us and the other cruising boats around us a torrid night at Thompson Bay bouncing up and down in two-three foot short waves. Not nice. But after the front had cleared we did have a few nice days. We did take our walk over to the ocean side where the last few remains of a crashed light aircraft from many years back can still be found nestling in the undergrowth just off the beach. It's one of the nicest of the ocean beaches we walk despite the ever present plastic debris from across the ocean. It's heartening to see that over time even the plastic degrades and breaks down into smaller and smaller pieces. But, more large stuff is always on the way as part of humanity on the other side of the Atlantic continues to use the sea as a dumping ground.
Our favourite ocean beach so far - but there's a few more to explore yet
We attended another beach sundowner meet-up (it's all go) with other cruisers that were anchored in Thompson Bay meeting many folk that we had only heard on the radio. It's good to put faces to names. Those that had sweated all afternoon to create hors d'oeuvres to share on the beach were not best pleased when a very excitable dog arrived. It loved meeting people whilst simultaneously dancing around in the sand. You can guess where most of the sand went... into the food. One unpopular dog!
Naughty dog !!!! Guess who took the piccy !
With a further frontal system due in the coming days - yes, they roll relentlessly in throughout the winter months, we decided to head back to George Town again to sit the next one out.
Our first 'Selfie' or should that be an 'Usie'
---