Back to the UK

AJAYA'S CRUISE
Phil & Nikki Hoskins
Sat 14 Sep 2013 21:38
In position 38:46.56N, 76:33.86W
Whoops, we're a little behind on the blog again as we left Annapolis with just one more stop at Edgewater before sailing the final few miles into Herrington Harbour North to begin our preperations for hauling out and storing ashore prior to flying back to the UK. In fact we are now back in the UK catching up with family and friends and not enjoying some early autumnal weather. Did we ever complain about the heat??
We lifted a day earlier than planned and were glad we did as we needed every day out of the water to carry out the planned jobs. All went well and we were in good time for the arrival of the shuttle bus to take us to Baltimore airport. The last job we undertook was to tape off all cockpit and deck lockers to ensure the wretched stink bugs didn't move in whilst we were away. Not too confident about the tape used though - didn't seem very sticky but time will tell.
Flight home was pleasant enough. Skip never sleeps well due to the seats and legroom in 'cattle class' and we he did actually manage to drift off he woke himself up by snoring loudly - and that was that! Terminal 5 is still not fully functioning and so we were couped up for 20 more minutes waiting for the boarding steps to arrive, but all in all there wasn't much to complain about.
We are back on the boat October 1st and plan to re-launch the following day and move southwards a day or so later. We will be bringing parts for the Webasto heater back so we won't freeze if winter kicks in earlier although with the way the weather is here at the moment it won't be such a shock.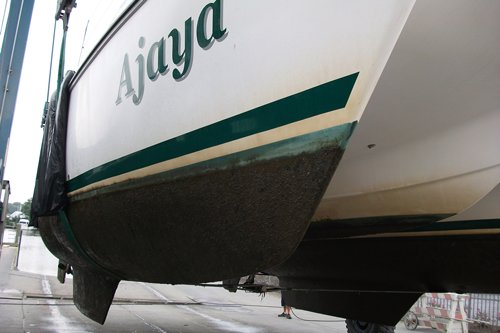 Into the lifting bay....... up she goes........... my, what a dirty bottom you have!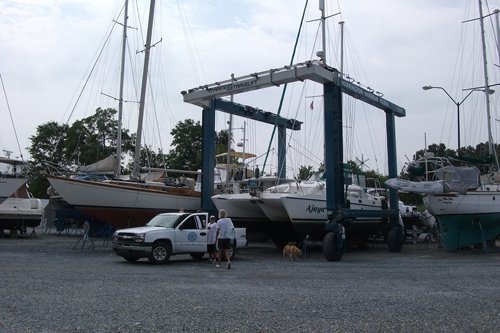 Herrington has won awards as an Eco resort. Lots of fountains and plants and definetly NO dry sanding allowed. But a great place to stay!
---