Out and about in Isla

AJAYA'S CRUISE
Phil & Nikki Hoskins
Tue 30 Apr 2013 18:40
Isla Mujeres has become our home port these past months as our second spell this year is now through the two week point with no likelihood of getting out in the next week either. There was a weather window of sorts in the last few days but the forecasters and the computer models were uncertain about what the Gulf of Mexico would offer. Talk of 40-50 knot winds in thunderstorms between here and Florida did not have us racing to the Port Captains office to obtain clearance papers. There lies another problem as, once cleared, boats and crew have 48 hours to leave
town otherwise you are expected to clear in again and bang goes another $100. Failure to do so and a $1000 fine and/or boat confiscation are a real concern. They play hardball here! So we sit and wait for a better forecast along with numerous other cruising boats also waiting to head north.
In the past two weeks we have been out for a few meals with friends. Although eating out here is relatively cheap we restrict such treats to one or two times per week. At this time we are still in Marina Paraiso where we have the nice swimming pool, the convenience of showers and a laundry service to make life a little more comfortable. In between the fun and games Ajaya has also been lifted out of the water in a nearby boat yard to repair the saildrive legs. That little episode is covered in the next blog.
A few days back on a calm day we dinghied out of the protected anchoring area into the stretch of water between Isla and the Mexican mainland. We stopped to watch the antics in the Dolphinarium for a while before motoring southwards towards the end of the island. On returning to the entrance to the lagoon Phil explored one of the cordoned off snorkelling spots whilst the 'Admiral' sunned herself in the dinghy. A pleasant afternoons diversion although we didn't take the camera on that occasion.
Some pics of our recent exploits..........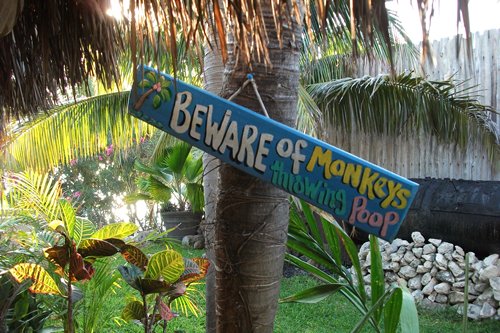 Marina 'El Milagro' next door hosted a fish barbecue for its guests - we crept in on a technicality, being invited by Andy & Claire on the yacht 'Eye Candy'
An unhappy looking Red Snapper was to be the dinner 'guest' - suppose we would feel the same way if our fate was to be cooked over hot coals in coconut leaves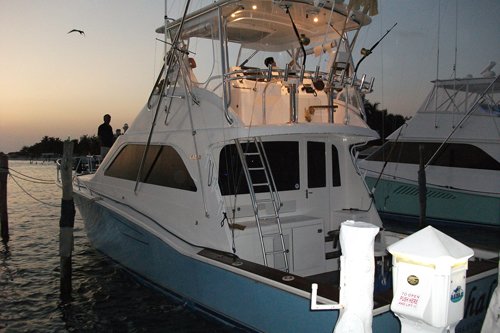 A 'Grouper 'n' Chips' supper at the Ballyhoo Bar in town - located right on the fishing dock where the sports fishing boats land their catches in the early evening
A hive of activity, and this is just one boat's haul - from top : Wahoo, Bull Mahi, small tunnies, and then three female Mahis - mouth-watering stuff!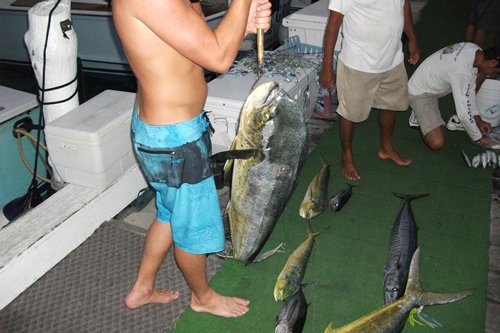 Female Mahi weighed in at 38 lbs - the Bull was a little less at 37 lbs. ... and preparations for tomorrow's fishing already underway with Ballyhoo bait having hooks installed!
.......................as the sun sets on another day in Isla Mujeres
---