Moving northwards - slowly

AJAYA'S CRUISE
Phil & Nikki Hoskins
Tue 20 May 2014 22:16
In position 24:42.79N, 076:49.75W
Today we find ourselves at Highbourne Cay. In fact we've been lying uncomfortably at anchor here for the last three days being blasted by twenty-plus knot winds and rolling with the swell that creeps round from the Exuma Sound. It's worse when the tide is high as we lose protection from the reefs. Still, better to be here than out there. The forecast is for winds to moderate steadily towards the end of the week when we hope to move northwards to the Abaco islands.
Since the last blog quite a lot has happened. Much of the last week we seem to have been either preparing for or enduring the transit of a 'tropical wave' passing south of us over Cuba heading westwards. Boy! did it seem to move slowly. Tropical waves can form into tropical storms and hurricanes if the atmospheric conditions are right which they thankfully weren't for this one. However, depending which side of the wave you are located on will determine what your weather is like. 'Wiki' has a good description for this weather situation if interested. Needless to say we are not talking about idyllic weather here unless you are a thunderstorm and squall enthusiast, in which case you probably reside ashore!
Oddly enough, Staniel Cay seemed to miss the worst of the weather for some reason. We could see squalls hitting areas north and south of us but rarely did we endure a real good downpour and more importantly not one good thunderstorm as this weather system edged over Cuba before lifting northwards. The downside of this was that we were unable to collect very much water from the deck dams that divert water into our keel tanks for washing up and washing us. Drinking water we make from sea water via a 3 gallon per hour watermaker.
So the Staniel Cay area became our home for much of that week. We did what we haven't done before - walked most of the island which is split in half by the airstrip runway and some large saltponds. It's not the most beautiful of islands - none of the Exumas are but there's a lot of development happening on the east side as could be seen by a large bull dozer nicely parked on the highest point visible to all. Its the stunning beaches and colourful waters that provide the 'wow' factor.
Views of Pirate Beach at Staniel Cay....
.
..and the 'ocean side' showing the extensive coral reefs just offshore
Whilst there we finally celebrated our seventh wedding anniversary at the famous Staniel Cay Yacht Club. It wasn't our actual anniversary on that day but on May 4th it had been too rough to consider getting off the boat into the dinghy to go ashore so deferred the meal for another time. The next day was 'Cinco de Mayo' and slightly calmer. There was a good atmosphere in the yacht club with a celebratory Mexican theme. We enjoyed the fayre but 'Skip's' digestion system was challenged when he had to bodily extract our dinghy from a dried out melee of small craft grounded in the dinghy park. The tide had long since departed and wasn't due back for quite a few hours.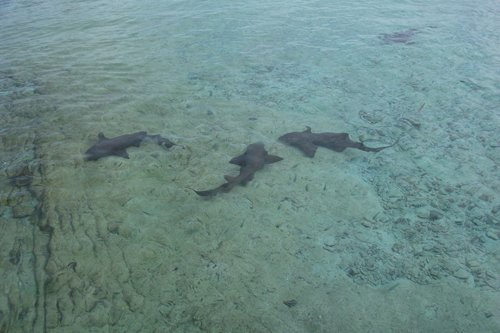 Sort that lot out! Ours being the green one. Ever-present Nurse sharks waiting for some food at Staniel Cay Yacht Club
Speaking of weddings. One casualty on board around this time was the glass in the barometer (a wedding gift) which crashed to the floor in the navigation area shattering into pieces - yes, we thought about the old saying about the glass falling indicating bad weather - but surely not like that! We spent an interesting few minutes tracing the slivers of glass that were lying in the carpet but seem to have gathered it all.
Glass-less but still functioning... ...but not much to be done with this little lot
The following day we moved location to protected Big Majors Spot island, one of our favourite Exuma anchorages. This was mainly to get some weather protection but we are always happy to see the ever present family of piggies on one of the beaches. It's been three years since our last visit which means that the young piglets at that time are now the big sows of today and the old sows at that time are ...er? Bacon? We cast these thoughts aside and settled down to watch the hilarious sight of these friendly but always hungry creatures swimming out to any approaching boat that may have a bag of old vegetables for them. The rules are - either feed them on the beach if they allow you exit from your dinghy or out in deeper water, say five feet or so. Any shallower and you will have a very large hungry pig with its trotters firmly perched on your dinghy tubes or worse, in the floor of your boat. More close up and personal than is desirable really. We gave the feeding a miss this time and watched others instead. Around sunset we were astonished to see on our neighbouring boat, a Nauticat 36 motorsailer, just fifty yards distant a lone piper blast out a couple of laments earning the player a round of applause from the immediate vicinity. We learned later that this was a lady piper. And very good she was too. The night before they left she was seemingly unable to perform due to the windy conditions - possibly fearing a 'blow-back' in the drone department!
Our entertainment at sunset
... and our entertainment throughout the day !!! remember being tickled pink?
We are ever mindful, being in a chain of remote islands, of the need to try and avoid any medical incidents onboard as the nearest hospital is in Nassau some seventy miles north. There is a private clinic at Staniel Cay but nothing by way of specialist treatment. This is how 'Skip' found himself decanted off of Ajaya at short notice onto a friends yacht to accompany the couple to Nassau. The owner of the boat had been ashore to see the nurse at the clinic with a suspected detached retina. They advised he travel to Nassau as soon as possible to have it checked out by a specialist there. Given it was an eye problem our friends were keen to have someone accompany them just in case of further deterioration. We were anchored nearby and of course willing to help if we could. The 'Admiral' agreed to hold the fort for a couple of days as 'Skip' packed a bag, screwed on his monohull legs and rapidly disappeared over the horizon northwards in the direction of Nassau. They say absence makes..........etc. It's true.
The trip was not undertaken in ideal conditions. A motorsail up to a very rolly rough Hawksbill Cay took care of the first night with 'Skip' still tottering around the deck like a new born giraffe. Some help! The next day dawned a little brighter which was fortuitous as we had some nasty reefs to negotiate on the last leg and good sunlight was essential to avoid these patches of coral. This was a yacht that drew 6' 7", almost twice Ajaya's 4ft draft, meaning that water depths that do not concern us as we bumble our way around the Exumas become a real show-stopper for this boat. Despite the disappointing weather we arrived with no incidents either eye or boat related and 'Skip' just enjoyed the ride as at no time was there any real need of his experience.
We arrived in Nassau last Thursday afternoon. 'Skip' gave the 'Admiral' a call to make sure all was well onboard. All was good. The remainder of the day was taken up with our friends heading off to an eye specialist for a detailed examination which resulted in a diagnosis of posterior vitreous detachment (hope we have that correct) which is different and a little less serious than a retina detachment. But a worrying event all the same. A final meal out at the Poop Deck restaurant and then an early night ready for the 0530 alarm the following morning. It was strange to hear emergency sirens in such quantity again but Nassau's a busy place.
Busy Nassau Harbour Club Marina
This left 'Skip' with his own personal nemesis to overcome - the trip back to Staniel Cay in a very small commercial aircraft where even the passengers in the back seats can probably read the flight gauges at the business end! But it did have two engines which was certainly on the plus side of things.
The last encounter with Flamingo Air was a few years ago when friends Steve and Sheila flew out of Staniel Cay back to Nassau after enduring a week with us on Ajaya. Sheila ably demonstrated and astonished us with her 'pig tickling' skills at Big Majors. At that time a very large lady (certainly not Sheila) had boarded the small aircraft and sat in the back seat causing the plane to tip up with it's nose wheel in the air. Not a problem known to be suffered on anything Boeing or Airbus make. On the plus side again this particular excursion, provided the weather was clear, could offer spectacular views flying over the island chain during the thirty minute flight to Staniel Cay.
So at 0600 Friday morning, as previously arranged, Mr Hezekiah McPhee was duly waiting outside the marina in his taxi van. With some 220,000 miles already clocked driving around New Providence Island on which Nassau sits. He is to be recommended if you need transport in that area as he is a considerate driver. (His name needs some pronunciation practice though).
Nassau airport is as modern as any international facility and check-in took just one minute. No seat number is allocated - sit where you want, including the front right-hand seat next to the pilot if you ask nicely (as somebody did). But it was still a full security check-in, shoes off etc.
The flight was 'on time' according to the airport information display. In fact all the early flights were indicated as such which was encouraging but also overly optimistic as 'Skip's' 0800 flight wasn't anywhere to be seen at that time nor was the boarding desk manned. But at 0820 a lady showed up and took the vouchers from all six passengers before leading us down to the concourse where there were two Flamingo Air flights parked up awaiting their passengers. The pilots were carrying out their pre-flights, counting wings, engines, propellers, dipsticks etc.
Not that one..... (that's Turks and Caicos Air) .... but this one - a 9 seat Cessna 402Cs operated by Flamingo Air
Surely not the co-pilot for goodness sake - no, just another passenger, but our pilot was a veteran flyer and a suspected regular patron of 'Dunkin' Doughnuts' at the airport departure lounge
Our pilot was a scream. In fact 'Skip' didn't believe he was the pilot at first but merely a local pretending to be a pilot just to wind up the passengers. It worked! But he then secured the passenger door from the inside meaning he WAS the pilot and asked why everybody was sitting at the back! Nobody bothered to move so he manoeuvred his considerable bulk up to the front left hand seat and commenced having a chat with everybody behind him before starting an engine and opening his side window to get some prop wash blasting into the cabin. Air-conditioning of course. Suggestions about in-flight drinks and meals were met with a loud guffaw as he proceeded to start his other engine. He then taxied towards the runway programming his in-flight computer with his right hand, holding the window open with his left whilst steering the plane with his knees. We've all done that of course - but in cars. 'Skip' asked if he could possibly fly over Ajaya on the way into Staniel but he didn't promise anything. (is off de' track mon).
We were next for take off and 'Skip' grovelled around the adjacent floor space looking for a seat belt, eventually finding one. The pilot's window was still wide open and we continued to be blasted with port engine prop wash before he obtained the 'all clear' slammed the window shut, taxied onto the main runway and shoved the throttle forward. We were off!
Smooth take off on the international quality runway........ heading S.E over New Providence Island towards the Exumas
Exhilaration. Total exhilaration. An amazing thirty minutes. With a number of cloud breaks many of the islands we are so familiar with at sea level could be seen in all their aerial beauty. But not only islands, even the sand bars that form at the cuts (small entrances where the waters of the Sound meet the shallow banks) could be seen in a their natural sculptured shapes.
Shroud Cay - southern point Hawksbill Cay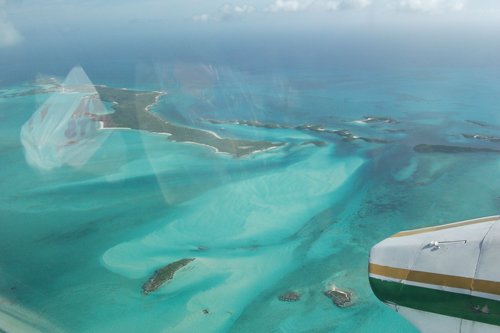 Halls Pond Cay Warderick Wells (with (reflected) large carrier bag at anchor!)
In-between taking pictures out of the window 'Skip' was watching the gauges and controls mindful of looking for needles staying firmly in their green sectors! Then our pilot turned round and shouted above the considerable noise "Where is your boat?"- "Big Majors next to pig beach" was 'Skip's' reply leaving his seat to hover behind the pilot (no seatbelt warnings on this flight). It was clear he was going to grant one of his passengers a special wish. "Which one! Which one is yours?" "That one" 'Skip' pointed out of the windscreen as Ajaya could be clearly seen in the distance.
Pipe Cays Big Majors Spot with Ajaya nearest to shore in line with the large powerboat after our flyover
final approach to Staniel Cay.. & ...Safely back on terra firma at Staniel Cay - collect your own bags please
Locked onto his 'target' the pilot dropped to about two hundred feet flying low over the anchored boats and straight over Ajaya before turning into a steep (very) left-hand bank round the island and lining up on what his correct track should have been for landing at Staniel Cay. An amazing experience leaving 'Skip' to almost plant a kiss on the pilots right cheek - he didn't of course. Just a good old shoulder slap - man to man like. And of course the 'Admiral' now knew that 'Skip' was home again. And that we still mercifully had a mast standing. She launched the dinghy, started the engine and motored the mile or so to collect the still euphoric 'Skip' who didn't stop prattling on about the trip and the flight back for some time. His body was on the ground but his head was still in the clouds. Actually when the 'Admiral' arrived, saturated from her wet ride in the choppy water off Staniel Cay he was standing on a brand new Lagoon 45 catamaran which was to have dropped him back at Ajaya had the dinghy engine not started - but it had.
We decided to haul anchor and head north ourselves. There was a break in the weather that would give us a gentle sail up to Warderick Wells giving 'Skip' chance to regain his multihull legs - not that he ever really mastered the monohull ones over two days. That boat sailed beautifully compared to our old plodding Ajaya.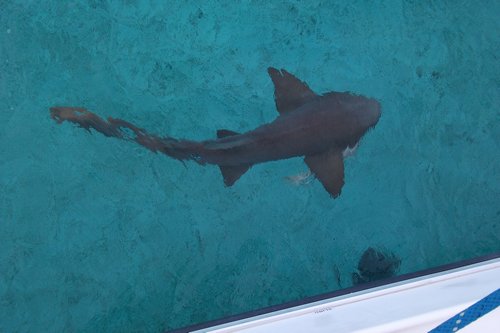 Soon as we dropped anchor the 'nurse' arrived ! Pays to know your shark species here but the 'Admiral' declined a swim all the same. Sensible.
No sooner had we dropped anchor at Emerald Rock at Warderick Wells we spotted (difficult to miss really) this inquisitive Nurse Shark which seemed to think we might be about to gut some fish. It took some time for it to realize that we weren't. It circled the boat for about twenty minutes before disappearing. 'Skip' went in for a swim after it had swum away and just after he had emerged for a shower the thing was back in circulation. Obviously didn't want to risk swimming close to the boat when there was a human around! An amazing specimen (the shark was pretty good as well).
From Warderick we left early to get to Highbourne before the strong twenty plus knot winds were due to kick in from the northeast. We failed by about one miserable hour as we pounded into short steep seas that came up from nowhere to make the last three miles hard won. The anchorage was hardly any better but that's where we started this blog so there we will finish for now. .......................
---