Ashore in Portobello

AJAYA'S CRUISE
Phil & Nikki Hoskins
Wed 15 Feb 2012 20:36
We have finally cleared into Panama through the Port Captains office here in Portobello, although that's not the end of it. We now have to go to Colon, probably on the local 'Chicken' bus as they are affectionately known, to obtain our years Cruising Permit and our visitors visas. Then, when we leave to go to San Blas 50 miles up the coast ,we have to obtain a 'Zarpe' (boat clearance papers) from the Port Captain here before the Kuna Indians will allow you to clear into Kuna Yala which is their self governed homeland in eastern Panama. In fact whenever you change provinces in Panama you have to clear in and out, rather like Cuba or Mexico. And without the cruising permit you are going nowhere!
Our check-in was delayed due to our good deed of the day helping to save our Spanish neighbour's boat behind us from dragging anchor onto the one behind that as we suffered some very strong wind gusts on the second day here. They had gone to Panama City for the day leaving their boat at anchor. Always risky but sometimes unavoidable. Out of our locker came our kedge anchor (ex Bavaria) and about 300 meters of stretchy nylon warp, the bitter end of which we attached to the bow cleat of the dragging boat. Then anchor and warp was motored out to its extremity by dinghy, a considerable distance, at which point the anchor was heaved over the side of the dinghy hopefully to take up. It all held securely and the couple on returning to their boat rewarded us with a bottle of wine for our efforts.
Our next good deed was helping an irate lady extricate her dinghy from the usual tangle of lines at the dinghy dock. She then had problems in the shallow water getting her engine to work. In the meantime her shaggy dog had decided that being onshore was preferable until she had sorted herself out. Eventually Skip leant a hand and towed her off the shallows back to the dock and then dutifully went back to collect the shaggy dog waiting patiently for rescue. All good fun!
Shaggy dog story! Colourful Panamanian 'Chicken' Buses
Having moved eastward a few miles we are now back on 'USA' time i.e 5 hours after GMT although it took us a couple of days to realize this. We did wonder why places were shut when they ought to have been open. Provisioning here is either through any of the three small Chinese run supermarkets or by a trip to other towns. Fuel has to be bowsered out to your boat in 15 gallon increments and water collected from local shore side taps. A pizza cafe bakes fresh bread of the roll variety, the only other loaves being the 'Bimbo' type which is a come down from the wonderful bread we were used to in Roatan.
Portobello has a colourful history having been 'discovered' by good o'l Christopher Columbus back in 1500 ish. This wonderful harbour has been fought over throughout its history having been ransacked by that nasty pirate Henry Morgan and other bad chaps from days gone by. At one time half the World's known gold was held in the Customs House here. Consequently the fortifications are considerable the numerous forts have massive canon still in evidence. If this was the UK no doubt they would all have been hauled off to the scrap dealers under cover of darkness.
Ye Old Customs House - now partially restored? 'Admiral' inspecting the canons
Fortifications everywhere............
.....Still the odd canon ball finding it's mark!!
The local church which dates back to the 1600's has a unique statue of the Black Christ which is the subject of pilgrimage every year with, it is said, worshippers from as far away as Costa Rica walking on their knees all the way to pay homage (about 3-400 miles?). Now without being too cynical we would have thought this would be a full time homage vocation as it would take the best part of a year to travel that distance on your knees. And who is to say they don't walk or run a few hundred yards when nobody else is looking. We suspect the local clinic is regularly inundated with cases of sore or swollen knees at that time of year.
The church of San Felipe de Portobello dating back to 1800's ... containing the wooden statue of the Black Christ of Portobello
From a cruising perspective this harbour is a hub with comings and goings on a daily basis - far more so than in Honduras where the arrival of a newcomer to the harbour was greeted with a virtual fanfare. Also we are now in a more multinational cruising environment, with flags from Britain, Ireland, France, Spain, Germany, Switzerland, Sweden, Holland, Belgium and Australia adorning boats as well as the Americans and Canadians that were in such large numbers in the North West Caribbean. It's strange to hear British voices wherever you happen to be in town. Some are going through to the Pacific but most just cruising the waters of Panama which is safely out of the hurricane belt, thus acceptable to insurance companies. Not forgetting that this coastline is scenically outstanding with the cruising grounds of Bocas del Toro to the west and Kuna Yala or San Blas as it is known to cruisers in the east. We hope to visit both but in the meantime we need to re-fuel, re-provision and sort a few problems the boat has developed. So work now - fun later.
Some pics from the trip south..........
Back to wild dolphins again A shrimper at anchor on the Hobbies banks resting up A remote atoll on the banks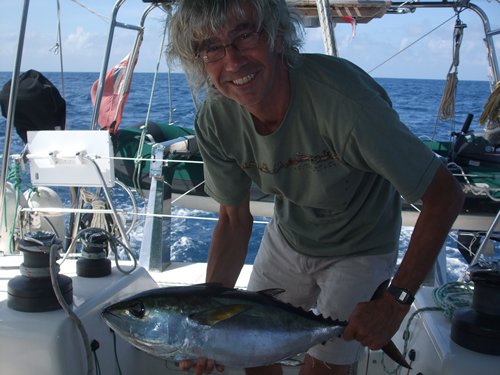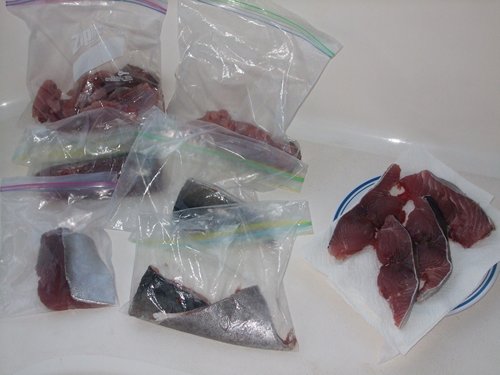 15Ib Tuna he groaned ....... .......which became this lot then we caught a 10lb Bonito!
Approaches to Portobello just round this headland each arrow represents a merchant ship at the Canal entrance Ajaya is the black boat in the top right bay of Portobello
---