Mayan Ruins galore (2)

AJAYA'S CRUISE
Phil & Nikki Hoskins
Fri 9 Sep 2011 19:42
We had engaged a local guide to show us the ruins at Copan. Our agent there said he was very knowledgeable and with a huge personality so it was no surprise when we all met up at the Agent's restaurant for breakfast to find out that it was Saul who had given us so much entertainment the previous evening at the German Bar. A 'Man for all Seasons' is our Saul! Breakfast wasn't bad either!
Having settled the breakfast tab we were all set, the seven of us, plus a local stray dog called 'Happy' that had walked through the door of the restaurant and latched on to us. So off we trudged to walk the short distance to the ruins. We thought that 'Happy' should really have been called 'Loopy' as he darted backwards and forwards between us suddenly darting away then back again. That was quickly amended to 'Lucky' as he casually sauntered across the main road oh! so narrowly missing oncoming traffic and then did the same thing re-crossing again.
'Happy' makes his appearance this mural in Copan was painted by Saul's son seen on our pleasant walk to the ruins......
He followed us all the way to the ruins (we suspected it wasn't his first visit there) at which point he was sent packing by Saul as dogs are not allowed into the site itself. 'Happy' looked unhappy as he watched us from a short distance whilst we purchased our entry tickets then moved even further away as a local indigenous lady working at the site threw some small stones at him. He finally headed off in the direction of town. (Just hope he made it safely as we never saw him again after that day).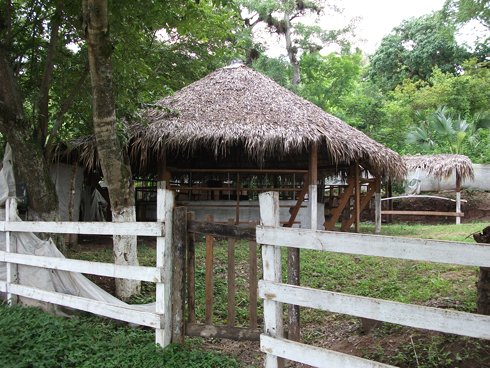 .....past the cock-fighting ring (illegal but big business in Honduras) arriving at the ruins still escorted by 'Happy'
At the entrance, sitting on the fence were some beautiful Scarlet Macaws, the national bird of Honduras, including one with a slightly balding head. These birds along with other species were common to the area in Mayan times, being kept as pets but had become scarce over the centuries with deforestation. They are now being re-introduced to live freely in the park entertaining visitors whilst making ear-splitting squawking noises. They made for an amazing site as they flew between trees revealing their enormous wingspan their vivid colours of red and yellow clearly visible amongst the green foliage.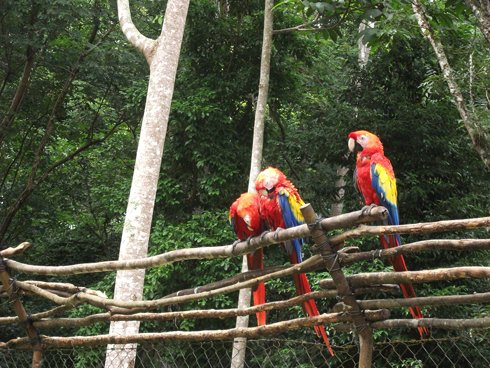 Saul starts his enthusiastic explanation of Mayan sites in the Yucatan and Central America region whilst the Macaws merely Squawk amongst themselves
Everything you want to know about the Mayan civilization and its decline is on the internet although as we began to realise there is so much speculation as to why they died out as a race so quickly. We don't even really know where they came from originally although popular belief sites this to be from the Pacific Islands. Their history at Copan is recorded in stone carvings which are visible throughout the site although careless archaeology carried out many years ago along with the pillaging of stones by the local community to build homes (understandable perhaps) has robbed the site of many valuable relics and artefacts. The entire area has become a giant jigsaw puzzle with no accurate picture to go by. Archaeologists are slowly and painstakingly piecing together identifiable parts of buildings. A look round the ruins indicates that they will be there for hundreds more years. Not only are the buildings and temples visible above ground but due to the Mayans re-building their cities every 55 years on top of the previous buildings means much of the site including miles of tunnels are yet to be discovered. Looking around we deduced that to be involved in archaeology demands a level of patience that probably few people are blessed with - us included!
Coming on nicely! just a few million more stones to find homes for .....& the East Court where tunnel entrances can be seen
We were lucky as there were so few visitors on site to spoil the ambiance
Ceiba Tree - Mayan tree of life - the roots deep in the underworld, the trunk in the current life whilst the branches reach to the heavens.
Mayans were big on ball games, 1000's attended, losing team sacrificed (not sure about the referees!)
This staircase depicts the history of the Copan site in hieroglyphics - 63 steps 2000 carved stones each with a story to tell
Away from the main site there are many ruins left untouched by archaeologists who have more than enough on their plate at Copan!
We enjoyed our few hours with Saul who finally left us on our own to enable us to look at parts of the ruins he had not covered and take in the tranquillity of the site which due to very few other visitors being present enabled us to do just that.
We took Tuk Tuks back to town for a late lunch break and ended up at Jim's Pizza where, eyes bigger than bellies, we over indulged to such an extent that we were giving pieces away to a small local boy who was trying to sell us some more corn husk dollies. The Admiral's offering of a slice of her pizza with olives was initially gratefully accepted until he was spotted outside the restaurant picking of the pieces of olive. Probably would have done the same at his age! In an attempt to walk off some of the pizza we went shopping and visited the local market which seemed to consist mainly of fruit and veg stalls downstairs and shoe and hat stores upstairs, including hundreds of pairs of leather cowboy boots and Stetsons.
Just a few hours later after more activities such as snoozing in the room, watching CNN cable TV and cooling off in the hotel pool it was back out to a local restaurant where again over indulgence was our Achilles heel - this time one of the local skinny mutts being the beneficiary of a fair sized lump of tender beef (medium) from the Chanticleers plate. It was a small miracle that the dog didn't die of shock as the previous offering from another table was the end off a small bread roll! Having consumed this offering the poor dog could barely get up off the floor as it struggled to come to terms with its good fortune which was now sitting deep inside its tummy! Lucky Mutt!!!! 'Skip' could only manage a plate of vegetables being still full from lunch otherwise it would have definitely been out of luck!!
---