Key Biscayne to South Bimini

AJAYA'S CRUISE
Phil & Nikki Hoskins
Fri 25 Dec 2009 18:03
25:42.57N 079:17.94W
Hope you had a great Christmas Day. We did, but very different from the family events we have grown up with in past years. However, put 12 or so cruising boats together in an anchorage with an excuse to celebrate something and its guaranteed that there are some 'dooers' that will get something going to ensure the day is not without special memories.
Most were waiting to cross to the Bahamas and so it became an information gleaning exercise - especially as the Florida Straits tend to have a reputation for rough passages.The herd instinct kicks in and previously confident departure timings are suddenly called into doubt when maybe 2 or 3 other cruisers decide that your timing is out of kilter with theirs. Many like to cross in company, virtually roped together to create a safety net should something go wrong. That's fine if a breakdown or sinking occurs but if bad weather strikes then you really should consider that you are on your own as there's little to be done from one boat to another except words of encouragement over the VHF.
No Name Harbour - yes, that is another Prout behind us........ Top left you can just see the masts hidden in the mangroves..... The entrance (& skipper).
Our passage went well which was a relief, but back to the Christmas festivities which started by some boats adorning themselves with colourful LED lights from top to bottom which gave a very festive feel to the enclosed anchorage, called No Name Harbour, which is situated in the Bill Baggs Park on Key Biscayne just a few minutes drive from Miami. The signs mention that dolphins and wait for it - Manatees - visit the parks every day - well all we can deduce is that they must arrive by bus as we didn't see any in the water. We did see a good sized Iguana though which proved to be camera-shy.
Beautiful views from the park walks.... An egret......and that camera shy iguana....
Then Christmas Eve we were visited by Mr & Mrs Santa Claus in a dinghy, ringing 'sleigh bells' as they approached Ajaya, but unlike the real Santa they reside on an Island Packet sailboat. We were the last boat they visited which meant they had been plied with so much festive spirit from each boat that all they asked for was some diet Coke to water down the copious amounts of liquor sloshing around in their glasses. It was also noticeable that the 'cardboard antlers' Mrs Claus was wearing had a one up-one down configuration. Unfortunately, the coke proved too little too late for Mrs Claus who reportedly fell into the water getting back onto their boat after their harbour tour, presumably destroying the antlers once and for all.
Christmas Day was memorable. We exchanged the Christmas cards we had given each other last Christmas (they need to last many more years yet) and then having spoken to family back home we set off for a walk through the park and along the beach, aborting the idea of a Christmas Day swim. The park was full of visitors that had brought food to barbecue and not surprisingly we caught our first sight of a raccoon feasting on some leftovers! It was then back to the boat to rustle up some booze and nibbles to take to a cruisers meet-up in one of the barbecue areas. A group photo later ...............Courtesy of Joyce on s/y Joy2Sea..........
and some of us set off for the restaurant where our own Christmas Day meal consisted of Grouper and Chips with a glass of wine to wash it down. More group pics before we all departed to our various boats - some were staying until New Year, some leaving around midnight and some earlier. We were the first to up-anchor at 1930 and slowly exit the harbour and feel our way out of Biscayne Bay to the Channel leading out into the Florida Straits.
We climbed to the top....... walked the beach on Christmas Day.... and saw the Racoon
decorated Ajaya....... ignored the no alcohol sign.................. and had fish & chips for Christmas dinner!!!!!!
With a cold front due to sweep through sometime overnight which would bring NW winds to blow over the north setting Gulf Stream we wanted to get as much mileage as possible under our belts, although the forecasters had mentioned that this was not a strong front with much wind on it. After a lumpy start with wind over current for the first 5 or so miles the seas evened out with a south-westerly wind of 12 knots 3 hours out and we could clearly see the approaching frontal boundary in the distance. On Nikki's watch it went through with an associated squall which then sent the wind into the Northwest with immediate effect. Then the boat settled down with the wind at 15 knots and the only concern then was keeping an eye on the approaching cruise ships heading back from their Caribbean Christmas excursions. Once again, having AIS we were able to accurately track their course and speed. But with so many sailing boats crossing that night it must have been a difficult task on the bridge of these enormous cruise ships to pick a path through the line of 'ducks' crossing their pond. There would always be one boat that would be the closest to their passage through the fleet and they picked the one without AIS to come closest to. So, a concerned skipper bringing up the rear of a column of crossers shouted over the VHF "Cruise ship, cruise ship - this is yacht xxxxxx - can you see me" or words to that effect. The ship in question just happened to be the largest cruise ship ever built - Oasis of the Seas.The calm response from the bridge obviously indicated that he was well aware of the presence of the yacht as with its up to the minute radar system it could probably sea a small seagull floating in the water 5 miles away let alone a yacht. An hour later and our tail-end Charlie was on the VHF to the next cruise ship with the same concerned edge to his voice - guess it just wasn't his night.
When it became apparent that the weather was consistent we slowed the boat down to try and avoid a night landfall but still anchored in Nixon Harbour on South Bimini just as first light was looming -some boats had already arrived. We picked a safe spot to lay the anchor and went below to catch up on some sleep for a few hours.
27th Dec - We are now safely secured in Bimini Sands Marina for a few days, having motored round from Nixon Harbour. This trip of a mile or so wasn't without some drama as the starboard prop picked up a bag or line and massive vibration at cruising revs meant we had to run at low speed through some shallows in roughs seas to get into the narrow marina entrance. Here we are re-united with some OCC (Ocean Cruising Club) members who also made the crossing. Interestingly, boats that delayed their crossing until the following morning had a very uncomfortable Gulf Stream passage so we were pleased to have made the night crossing. The marina is practically empty of craft so space is no a problem even for a catamaran. Tomorrow we intend explore North Bimini, but for now we have the delights of some fresh Wahoo to savour on the barbecue as a fishing party arrived in the marina with no less than 11 good sized fish which Nikki negotiated a large filet (2lbs weight) for no cost. Yummy!!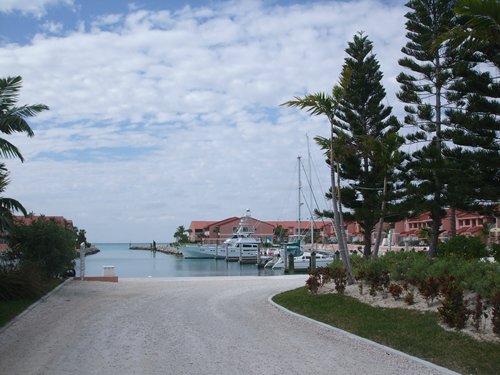 Nixon Harbour -S.Bimini - our first anchorage Bimini Sands Marina
Bimini Sands Marina looking empty Those Wahoo !!
---