Back to Penobscot Bay with a bang!

AJAYA'S CRUISE
Phil & Nikki Hoskins
Sun 8 Aug 2010 14:43
In position 44:05.90N, 69:05.91W
On leaving Northeast Harbour we spent a peaceful night in Somes Harbour, a tranquil backwater at the northern end of the, quote, 'only fjord in mainland USA'. Not wishing to be controversial about our host country but we suspect that any Norwegian visitors would be carted off to the local hospital having split their sides laughing when feasting their eyes on this only 'fjord'. But Somes is truly beautiful and doesn't need a 'fjord' label to add to its attraction. On the way up the 'Admiral' who was duty watch at the time was faced with aiming Ajaya through a large oncoming fleet of one design yachts heading out for their days racing. It was very intimidating (for them).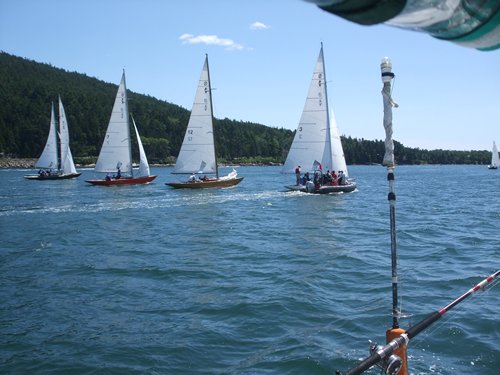 Here they come........ ..........there they go
Somes itself contains lots of nooks and crannies on small surrounding islands hiding campsites the presence of which could only be identified by the many colourful kayaks lining the shore and the dubious cooking smells emanating from that direction in the early evening. Kayaks are very popular in east coast waters - many of our friends have them onboard their yachts. They make great sense to carry with you to explore all the little creeks and backwaters you can't get to in the mothership, however some kayakers seem to take great delight in quietly paddling up the side of your anchored boat scaring you out of your wits and spilling your sundowner. We hear dinghies with outboard motors coming a mile away and even the rowers make sufficient noise to alert you to their presence but we haven't yet perfected an early warning system for kayaks. Sometimes the first we know of their presence is a cry of " Hey! guys have you seen where this boat is from! All the way from the Portsmouth UK - that's in England - Hey everyone look at this !!!" and the next minute we are surrounded by faces peering up at us. Guess it's seems a long way away when you are paddling a kayak. Maybe we should get a couple to keep onboard.
The builder of this house wanted it exactly on that rock! Kayak country!
It was time to head back to the Penobscot and explore some more of the protected coves and anchorages in this beautiful bay. An overnight stop in Mackerel Cove on Swan's Island broke the trip into two having aborted a planned lunchtime stop at Frenchboro on Long Island where we amazingly dragged the anchor and 30 metres of chain for a short distance before hauling it back onboard with a harvest of kelp and small rocks festooned around the anchor, which took the 'Admiral' a long time to clear and Skip a long time to stop laughing at! The pilot book had suggested this particular spot however we suspect they hadn't actually tried it for themselves.
Mackerel Cove rewarded us with another perfect setting. With beautiful clear air for a change we could still see the mountains of Mount Desert in the distance from one angle and from another the mountains of Camden before we quickly retreated inside, shutting the doors and putting both heaters on full blast! Yes, clear air is chilly air in Maine when the sun has disappeared for the night. Still it is early August after all.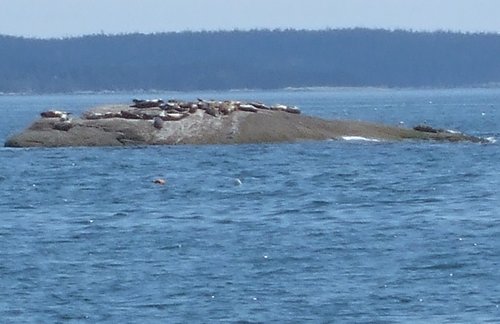 Basking seals looking like very large slugs typical Maine shoreline scenery
Our first anchorage back in Penobscot and nearly our last, was Seal Bay on Vinalhaven, which is the large island roughly centred in the southern sector of the Bay. Lots of room to anchor, good holding in mud and a backdrop of granite and trees to gladden the heart. Maine is a wonderful cruising area when you are not enveloped in fog or tangled up in lobster pots. As one cruising friend put it - if only you could move it southwards it would be just perfect. Yeh - that's what they say about Scotland too - and we suspect the locals in both locations want to keep things just the way they are.
Our exit from Seal Bay was pretty disastrous to say the least. We hit the hard granite stuff just as the anchor was up, although fortunately we were under idle speed. The poor 'Admiral' was thrown around the foredeck and looked pretty dishevelled as she re-emerged looking shocked. Having placed a waypoint marker on both of the two hidden rocks that are charted so that we wouldn't fall foul of either we hit one without actually being where the waypoint was! A mystery, but more importantly at this point was ascertaining the damage skip had just inflicted on the two ladies in his life! Both are rather bruised it has to be said. Down below everything not bolted down was launched forwards.
We decided, having checked that we were not flooding below that we would make as graceful an exit from Seal Cove as possible and head to Carvers Cove where Skipper donned appropriate diving gear and entered the chilly water to see what disasters lay beneath. He returned with a sorry story and we decided to head to Rockland to obtain some products to stabilise the damage to enable us to get back to the Chesapeake. As the wind was up we decided to stay the day and with regular checks of our starboard underfloor water tank where the damage was located we spent the day quietly contemplating the disastrous event. We had the cove pretty much to ourselves until mid afternoon when Nikki noticed two or three yachts heading in - then more arrived, and even more until we were surrounded by almost 40 boats forming part of a Corinthians/Little Ship Club Rally with the sound of many English voices carrying across the VHF airwaves. These were the many guests of American boat owners on a week-long cruise of Maine. Our anticipated quiet evening went by the board and even the next morning at 0800 somebody sounded reveille followed by the 0800 gun being fired from somewhere very close-by scaring Phil who was enjoying a lay-in and the Admiral who was contemplating life and the universe in the heads.
The morning dawned misty with visibility around a quarter mile. By the time we were in the busy Fox Island Thorofare the viz had dropped to 50 yards and it was hell trying to look at the radar, keep a look ahead and concentrating on a course through the myriad of lobster pots. Yachts under full sail loomed out of the murk first one side of us then the other their crews cheerfully waving. We certainly weren't cheerful. Having cleared the Thorofare we headed across towards Rockland Harbour some 5 miles distance across the main channels heading north and south up and down the western side of the bay. About half way across we had our closest shave when a fast oncoming target on our radar on a collision course necessitated a meaningful turn to starboard to avoid the danger. We turned hard to starboard as the collision regulations stipulate. Horror of horrors the target turned hard left and out of the dense fog a 45 foot motorboat emerged heading for our port beam with us still trying to find more space to run into. He in turn thankfully turned to starboard as he should have done in the first place and a second disaster was avoided!
We arrived at Rockland with the fog now clearing enabling us to see the warship anchored in the large harbour showing the flag for the Maine Lobster Festival where the lobster population takes a bit of a hit as thousands of visitors tuck into ...well, thousands of lobsters. We were directed to a mooring ball. In fact so far away from the town was the mooring ball that the harbour master gave us the GPS coordinates to get there! We guess it made sense.
Once the fog started to clear we could see what was around us again
Once secure we checked the damage situation. It wasn't good. We were taking on water albeit into our fresh water tank which forms a double skin enabling the boat to stay afloat even with substantial keel damage. We needed to get hauled as soon as possible as things would not get any better and we hoped that Rockland had a good yard to get the work undertaken, if not we would have to move somewhere else because we certainly weren't going to make it further south as we were. Oh! the joys of boating.
---