Voyaging westwards from Grand Cayman

AJAYA'S CRUISE
Phil & Nikki Hoskins
Wed 17 Apr 2013 02:28
We motored away from Grand Cayman with little wind and a residual swell from the recent cold front. In fact there were swells from various directions, but mainly from the northwest, north and northeast. Had we not been on the last day of our month long visa we would probably not have left the day we did. We knew we would be motoring for over 24 hours before any breeze was found to sail by. Before leaving Governor's Creek we had to meet up with the Customs official who was delivering our spear gun and Hawaiian sling back to us which were taken into custody on our arrival in the islands. They don't take kindly to their fish being speared in the Caymans. He kindly agreed to meet Skip near the anchorage to avoid returning to George Town some three hours away and decidedly untenable in the current swell conditions!
Sunrise over Governor's Creek on the morning of our departure & motoring out of North Sound, the large area of shallows behind George Town & 7 Mile Beach
Day two saw a gradual increase in wind from the east. The fishing also improved. We landed a modest 7lb Yellowfin Tuna which had already given up the fight on the end of the line. Actually, that's a good size for us to deal with as Yellowfins can tip the scales at over 400 lbs or so. We would have known if it was that size as it would have been towing us backwards and we would have quickly cut the line and wished it luck. The fish arrived early afternoon which gave us enough time to deal with the grizzly side of things, wash the copius amounts of blood and gore from the decks and enjoy a fish supper before turning in for the night - or at least one of us turning in that is.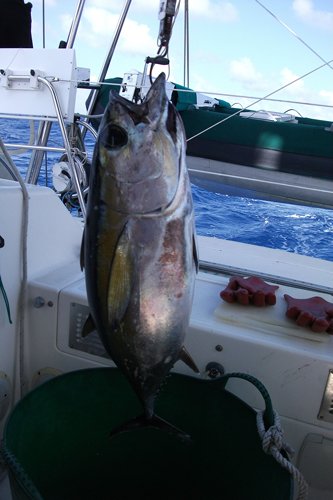 Yes - 7 lbs and that's your lot! but lots of good meat - enough for four meals
Night watches are long when not much is happening on the water. Motoring along for hours on end is not the easiest way of passing four hours especially when there is no moon to shed some light on your surroundings. We each have our own watch routine to get through those night hours which not surprisingly is often based on a 'reward' system. The alarm sounds at 20 minutes to the hour when we are due to take over from each other. The kettle goes on at around 10 minutes to the hour so the incumbent has a hot drink to start the shift. A handover with information on any shipping there may be in the vicinity and the off watch crew heads off at some (jubilant) haste for much needed rest below. In Skip's case, along with sucking on a Werther or two and plugging his ears into the MP3 player the watch from 0200 until 0600 also carries the dubious 'self reward' of a pot noodle snack at exactly 0400, the half-way point. To some it may be an odd hour to be scoffing the contents of one of those ghastly polystyrene containers. It's a known fact that yachties develop some very odd cravings for things in those lonely night hours. Not so much from genuine hunger but more out of creating an event to break up the tedium of a watch where nothing much happens. That Skip maintains this dark hours tradition is mildly surprising given that he failed to look closely at the contents of one particular pot noodle which had a very odd taste. This was explained the following evening when shining a torch on the contents of the next evening's pot. Close scrutiny under torchlight showed a huge growth of furry fungus covering the whole surface. Presumably the previous evening's meal had been of similar quality! Gross.
Shrimp Cup Noodle - the shrimp are just visible but it's more like Pea Cup Noodle really
Day three and we were running under a double reefed mainsail and triple reefed Genoa in 20-25 knots of wind. Our next delivery of food on this voyage was much fresher than any pot noodle. The largest flying fish to ever land onboard flew out of the seas around us. This was a super jumbo 747-400 of the species with an impressive wingspan enabling it to glide for amazing distances to escape from predators below the waves. It's not that these fish fly so high so as to clear our topsides and land in the cockpit but that as we are down in the trough of a large wave they come flying off the top face of the next wave putting us in it's flight path. Skip thought that something had fallen off the boom as he heard a crash from above followed by something landing just short of the helm seat where he was sat. Then it started flapping and simultaneously a smell of wet fish wafted from the vicinity of the large object. Later we took measurements and found that it was a very good size weighing in at 1lb with a length of 14". As we had never tried flying fish we cooked it up as an hors derv and found it quite tasty.
Just landed!...................
Just cooked !
Our final approach to Isla Mujeres proved difficult in the conditions. With 25 knots of wind from east or just south of east we were sailing across a current that was at times flowing at 4 knots moving in a northerly direction to Florida and beyond. This combination of forces meant that at times we were heading in one direction but actually tracking 60 degrees to starboard of that heading which can be most disconcerting. The wave heights were imposing until we closed on Isla Mujeres when the sea state became more acceptable and things settled down.
Isla is certainly more crowded than when we were here 6 weeks ago as there is a backlog of cruisers waiting to get up to Florida and beyond before the hurricane season starts in June. We have some saildrive issues on our engines which may mean we have to be lifted to replace some oil seals. Whether this happens will depend on a number of factors and we will know more in the coming days. In the meantime we are back in Marina Paraiso for a few days.
---