Tour Providencia by Mule

AJAYA'S CRUISE
Phil & Nikki Hoskins
Sat 15 Dec 2012 21:27
We are approaching the two week point since our crash bang wallop sail from Panama. Finally we took off to tour the island and see what delights it has to offer. The 'Mule' was of the four wheeled variety - did you think we would subject some poor baying flea-bitten quadruped to a days torture lugging us around on its back - you did?
These Kawasaki things look like a Friday afternoon doodle on a fag packet by some bored 'chappie' in the design office failing in an attempt to cross a golf cart with a jeep. The layout is quite simple, two rows of seats and a cargo space behind - perfect to stick fuel cans, backpacks or unpopular members of your tour party into. Our plan was for six of us to hop into or onto this thing and to hell with the discomfort. After all the island is only about 12 miles round by road so no great distance to endure the warmish proximity of one's friends or partners. There is no windscreen or indeed any windows whatsoever so any flying insects that would normally be mashed onto the glass in front of you continue on unhindered to hit your face. It has to be said that these little vehicles reach their theoretical top speed only when driven off a high cliff and the quality of the road surfaces leaves much to be desired. Just how many times we would circumnavigate the island was open to speculation - three or four times maybe, switching from anticlockwise to clockwise no doubt to refresh the view from one's seating position. In reality, due to a severe case of the 'turkey trots' there were just the four of us. We bounced just the once round the island as the lure of morning coffee along the way and a long lazy lunch on what could be described as one of the nicest beaches we have left footprints on meant we arrived back in town with no time to go round again.
We hired the 'Mule' from the Ferreteria (hardware shop) at a modest cost of 100,000 pesos. (Approximately 3000 to £1). Make a £400 withdrawal from the bank here and you become a 'Peso millionaire' - until you buy a loaf of bread. After a short introductory driving lesson on our 'Mule' and with our 'ferret man' having topped up the fuel tank with a few teaspoons of petrol we were free to load up and drive away with our newly met Kiwi neighbours on the yacht 'Balvenie'. So without further ado here are our day's memories in pictorial form...........
Our 'Mule' complete with camouflage paint job - why?............We got in and waited, .....and waited... for the road to clear - no horn you see
Quaint old church alongside a new one........the 'Kalaloo Point Coffee House and Boutique' could be in the New Forest....... time for a coffee stop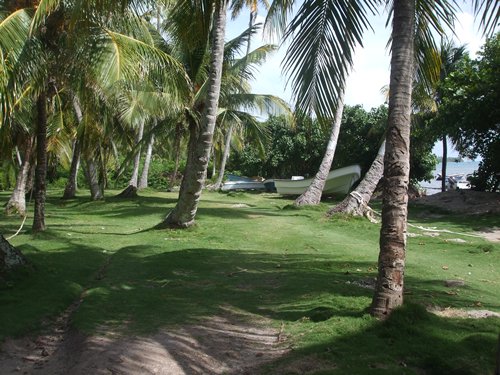 The island is the cleanest we have visited - spotless in fact. It would win any award in any country for it's cleanliness
Unspoilt beaches...........just paw prints and 'dog-ends'.........southern end of the island from an 'Admiral's' view point
And so to lunch.......cooked on open fires in an open kitchen ..........2 huge fish platters for 50,000 pesos (£17)........we were stuffed
Not sure what's going on behind......but the 'Admiral's caught by an octopus ...the dog walked all the way down to the beach and back with us having first jumped up and put filthy paw prints on Phil's fresh clean white t-shirt!
Our day came to an end with a visit to the fuel station (the only one on the island) where we replenished diesel and petrol cans before handing back the Mule. Providencia is the sweetest of islands. Some beautiful scenery with great friendly people. Sometime in the recent past an awful lot of money was spent around the island creating a municipal theatre - now derelict, as well as many features including some dubious concrete animal sculptures like the octopus in the pics. Elsewhere a large manta ray, an iguana, a crab, a turtle seat and a pirate lady and galleon could be seen. Considering the island's low level tourism it's strange to see these objects as playing a critical role in the island's tourist trade. Still, never mind!
---