Anchored off the Bitter End Yacht Club - Virgin Gorda 18:29.73N, 64:21.48W

AJAYA'S CRUISE
Phil & Nikki Hoskins
Mon 27 Apr 2009 23:27
Well the wind didn't die and the sea didn't abate overnight so we had a gruelling 5 hour bone rattling, rig shaking bash up to Virgin Gorda. To add to the discomfort we had a flooding tide against the sea state which piled the water up into short steep waves.. WE thought about calling it a day but perserveered. I stuoidly decided to head right through the middle of the Sir Francis Drake Passage instead of sticking close by the outer islands so we took more of a hammering than perhaps we would have suffered taking a more circular route. Once again the wind instrument lost its readout - a problem we've had for some months and which looks to be caused somewhere at the masthead transducer.
At the top end of Virgin Gorda through a large coral reef which is well buoyed we finally anchored off the point near the yacht club. The wind has abated slightly but still gusting. Very pleasant location although most of the anchorages here are now full of white mooring buoys at $25 per night - anchoring space is limited unless you have a mile of chain - which we don't!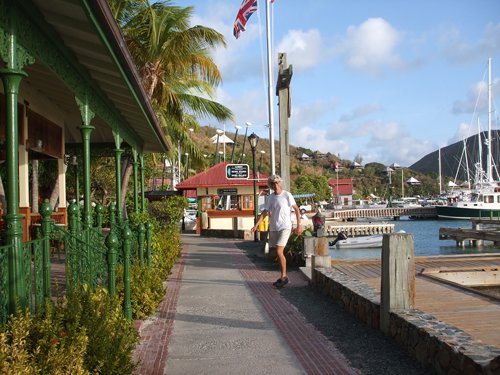 The waterfront at the Bitter End Yacht Club complex- Virgin Gorda
No, Nikki didn't tie Phil to the post - just looks that way! - Virgin Gorda
Same post
Waterfront at the Bitter End complex - Virgin Gorda
Pelican taking off after catching fish - no it didn't drop its hankerchief on take off!
At the Biras Creek resort across fthe bay rom Bitter End resort - Virgin Gorda
View over the Bitter End Yacht Club anchorage - Virgin Gorda
---