Halloween time - Oriental

AJAYA'S CRUISE
Phil & Nikki Hoskins
Sat 2 Nov 2013 17:35
Any regular readers of this missive may be forgiven for thinking we have given up travelling anywhere more 'exotic'. But we are still waiting for the upholsterers to take our foam saloon cushions away and make any adjustments before re-stuffing them into the brand new covers we brought back with us from 'Blighty'. And, as previously mentioned, we like Oriental but not the cooler weather to come if we stayed here.
In the meantime we continue to enjoy whatever events are running and it being the Halloween season we ventured over to the Tiki Bar for some music and laughs. A good time was had by all and some of the costumes for the fancy dress competition were hilarious. Here they are....
Starting with the seafood entree - this was Neptune with his Prawns who spent the evening having their long tails trodden on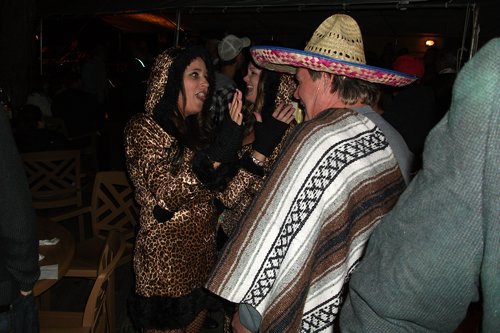 Talking of tails..... the 'meat' course, a couple of 'cheetahs' chatting to a Mexican
Any Halloween bash needs a good display of pumpkins (and beer cans)
It was a chilly night but Skip's got his hair to keep him warm
On with the dancing.....there were some pretty frightening characters on the floor, and a couple with very good 'ducting' costumes
The band - 'Saltwater Gold' joined in the fun with a disgraceful looking bovine outfit donned by Mark their lead singer.
Winners of the fancy dress competition were Neptune and his Prawns which was well deserved we thought. But all the udders were very good.
On our way to the next Halloween bash we passed a scary front garden....glad it was still daylight!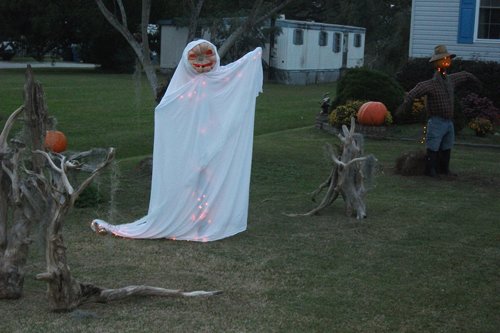 and to the Silos party.....different venue - pretty much the same costumes....
'Marilyn Monroe' in fetching footwear and the 'udder' costume makes another appearance.
also featured were ....
two of the 'prawns' from the last party and a 'raven' chatting with a 'whoopee cushion'
all too much fun!
Good news...our upholstery foam has been taken away for 'stuffing' and adjustment along with our staysail, mainsail and two of the bimini sections which are in need of new zips. Should be on our way maybe next week although the weather has now taken a turn for the worse again making a sea voyage rather unattractive at the present time.
Stop press
and here it all is....
In all it's glory. Unstuffed..............and stuffed. 'Skip' kicked off the spillage account the same evening with some nice chocolate Kit Kat shards. Yikes!
---