Long Island road trip Part 1

AJAYA'S CRUISE
Phil & Nikki Hoskins
Thu 16 Feb 2017 21:10
In Thompson Bay, Long Island
Having arrived and settled into the Long Island boating community friends kindly agreed to upgrade the car they had hired to accommodate us and make up a six-some + dog. We were all set for a road trip to explore the island. We used the afternoon of one day to head north and the morning of the following day to head south. There is only one main road named the 'Queen's Highway' as the island is basically long and thin and we guess 'Thin Island' didn't sound romantic enough. The idea was to drive north to the very top of the island near Cape Santa Maria then drive back towards Thompson Bay and stop at a much respected French restaurant called Chez something to sample some excellent food. The day proved to be pretty windy from the north so it stood to reason the northern end of the island would be extremely breezy and somewhat (relatively) chilly!
The Sound at the far north of Long Island near Cape Santa Maria and close-by hurricane damage to the small concrete bridge. The tide is ebbing fast out of the mangroves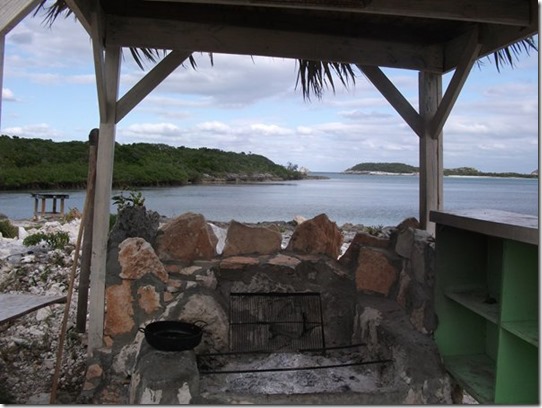 They use this area for cooking for celebrations, weddings etc. It's a beautiful location when the sun's shining! At low water the Sound is pretty much all sandbanks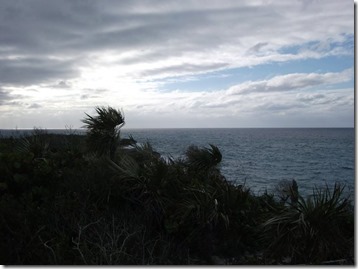 Columbus Monument at Cape Santa Maria, with the abandoned light tower and views to the west over Exuma Sound
The Monument dedicated to Columbus adorned by the 'Admiral' Views from the same location
Arms folded for warmth!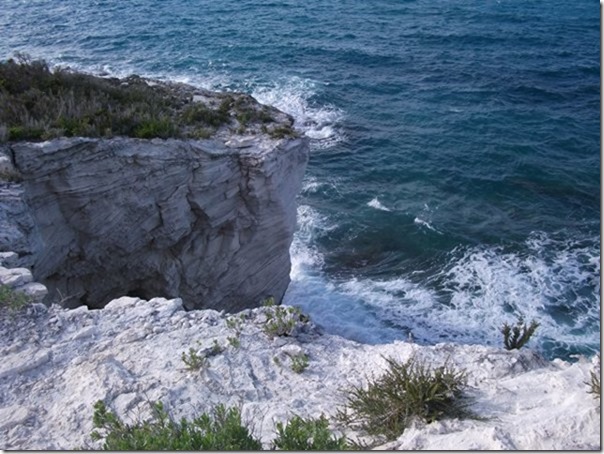 Lots of natural beauty here that we wouldn't see (or want to see!) from the boat – much better visited by car
Cape Santa Maria Club in Calabash Bay. Really nice development
Having spent the afternoon exploring the north of the island it was time to eat and as mentioned earlier a restaurant at Millers further south was the destination for dinner. Chez Pierre is a renowned small exclusive resort with a restaurant to rival the best on the island. Pierre the chef pretty much runs the whole place himself. He appears from the kitchen to greet you (never be late or too early – he gets a little upset at such social misdemeanors). You are then left to get your own drinks from behind the bar on an honour system and the food that appears from his kitchen is top class. To be recommended although it will eat into the week's pension somewhat!
Looking forward to a good meal oh! oh! – Pierre appears from the kitchen to keep watch on his bar stocks
Not often he's let loose behind the bar! Greek salad with real feta!!! One dessert portion, 6 people, only 3 spoons (that's all he would give us – honest!)
Cheers!
Part 2 to follow....
---